Nation's ease of travel benefits hospitality
By Zheng Xin | China Daily | Updated: 2018-11-29 09:51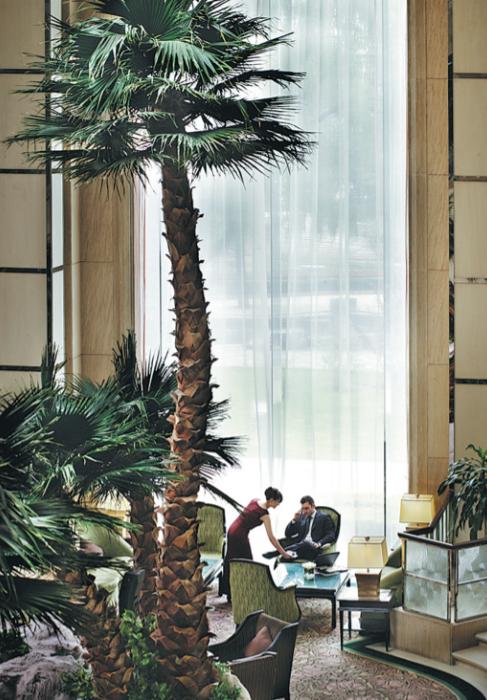 Preferred Hotels & Resorts attributes success in China to reform, opening-up
Editor's Note: This year marks the 40th anniversary of China's reform and opening-up. China Daily interviewed top executives of well-known multinational companies for their views on the country's socioeconomic development.
Please use three words to describe China's changes in the past 40 years.
Connected. China is becoming more and more connected to the outside world, especially in terms of travel. Chinese people now have a footprint outside of China, travel to various global destinations, contribute greatly to the global travel industry and also originate creative travel peak seasons, for example the Golden Week and the Spring Festival.
These are all very popular seasons and also the most important seasons for global travel destinations just because Chinese people are traveling.
Proud. The power of China, voice of China and influence of China are recognized worldwide, and this is reflected through the travel and hotel industry. In recent years, due to the importance of the Chinese outbound travel market, many hotel groups are developing packages and programs to improve services for Chinese guests, in terms of language and payment.
Preferred Hotels & Resorts has been devoted to promoting China's outbound travel through our in-depth partnership with UnionPay International Co Ltd and Ctrip International Ltd to optimize Chinese travelers' overseas travel experiences. Preferred Hotels & Resorts' China team has been rapidly growing in the past five years, from only one person to 26 associates in five offices in Beijing, Shanghai, Guangzhou, Chengdu and Hong Kong.
Integration. As part of the travel and hotel industry, we have noticed the great conjunction of different areas with the concepts of industry plus, travel and culture, travel and sport, and travel and technology. The hardware of the travel and hotel industry has also been upgraded due to the trend of integration. Hotel decoration has been infused with art installation, and culture has been successfully used throughout hotel facilities, covering aspects such as furniture and interior design.
Chinese member hotels of Preferred Hotels & Resorts are a fantastic reflection of this trend. Twenty years ago, hotels in China stayed with the old and traditional way of managing and promoting themselves. Today, every fastgrowing and successful independent hotel or hotel group in China stands on the shoulders of massive systems and technologies.
What are the biggest achievements made in China since the introduction of the reform and opening-up policy 40 years ago?
The travel and hotel industry's contribution to GDP. As a major part of the services industry, the hotel industry has boomed during the past 10 to 15 years, making great contributions to GDP as well as employment.
Preferred Hotels & Resorts, as the largest brand of independent hotels worldwide, has also been helping our member hotels in China with revenue generation. By the end of August 2018, we had generated more than $6.5 million in reservations revenue on behalf of our member hotels collectively in China, a 37 percent increase over the same time period in 2017.
During the past 40 years, Chinese people have been communicating with the world in various areas. Preferred Hotels & Resorts provides our member hotels in China with an integrated platform to communicate with the world. With our public relations, marketing, global sales, global distribution system and loyalty programs, our member hotels can access the overseas market more easily and more effectively. Through the platform and branding awareness of Preferred Hotels & Resorts, member hotels in China can expand their presence on the world stage.
How has your company benefited from China's reform and opening-up policy?
Preferred Hotels & Resorts first entered the Chinese mainland after the country's reform and opening-up. Our rapid growth and successful development in China is also the result of the reform and opening-up policies.
With this policy, Chinese travelers can step out to explore the world, and more and more destinations now provide better visa policies for Chinese travelers. With the reform and opening-up policies, foreigners can also take leisure and business travel within China. Preferred Hotels & Resorts, as a leading brand dedicated to inspiring travel for 50 years and facilitating the communication of different cultures, is also benefiting from more Chinese going traveling, and more outbound travelers going to China.
How do you view China's role in the world today?
From the hotel and travel perspective, China is now one of the biggest countries for outbound travel and has a significant contribution to the worldwide travel industry.
Could China's experiences and practices be used to solve global problems?
In terms of the travel and hotel industry, WeChat Pay, Alipay, UnionPay International and Golden Week travel are all great features originating from China. Many of these are now influencing the world.
More and more destinations and overseas hotels have started programs working with Chinese companies to accept UnionPay, Alipay and WeChat Pay. Especially for Alipay and WeChat Pay, both are simplifying the payment process and optimizing the travel and stay experience for guests.
Through our social media initiatives, Preferred Hotels & Resorts has successfully brought WeChat to our member hotels overseas. More and more independent local hotels have recognized the importance of WeChat and are willing to invest in the facilities to accept WeChat payment.
It is the same for UnionPay. Through a successful partnership with UnionPay International, Preferred Hotels & Resorts has promoted Union-Pay payment to independent hotels around the world, helping global independent hotels solve the problems of getting China business.
Apart from economic development, what progress in other areas have you witnessed in China in the past 40 years?
The travel and hotel industry, the internet plus strategy, social media, the sharing economy, culture and transportation are all major areas in which we have seen huge progress during the past 40 years.