Road to progress
By Xu Fan | China Daily | Updated: 2018-12-06 08:13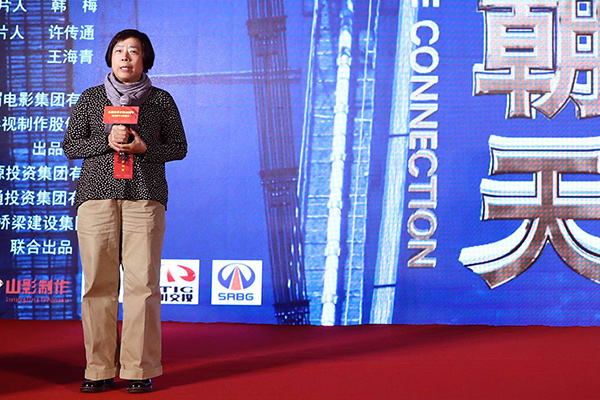 Li is famous for Zhang Yimou's Oscar-nominated Ju Dou and French director Philippe Muyl's The Nightingale; and Chen recently won the best actress award at the 34th Hundred Flowers Awards in Foshan, Guangdong province, for Hold Your Hands.
Speaking about the shoo, Miao says: "The filming on the construction site of Xingkang Bridge lasted more than 40 days, from June to mid-July this year. And ultimately, we all got used to wearing the hats, even subconsciously putting them on after we had moved to a safer filming site," says Miao.
Recounting her experience of making the film, Miao says that it is the spirit and sacrifice of construction workers, who are mostly migrant laborers from rural China and have endured the separation from family for years, that touched her the most.
"Their annual leave is only 12 days. And back in the early years they probably spent half of the vacation traveling to get home. They are the unknown heroes of our era," she says.
The Connection has yet to get a general release date. But for those who may be interested in seeing films reflecting China's transformation over the past 40 years, Hope of Road-depicting poverty alleviation efforts in the Ningxia Hui autonomous region-is set to open on Thursday; and Fighting Men of China-about the unprecedented expansion of the internet industry-will be released on Dec 18.
Contact the writer at xufan@chinadaily.com.cn