Sky's the limit for popular landscape documentary
By XU FAN | China Daily | Updated: 2018-12-06 08:16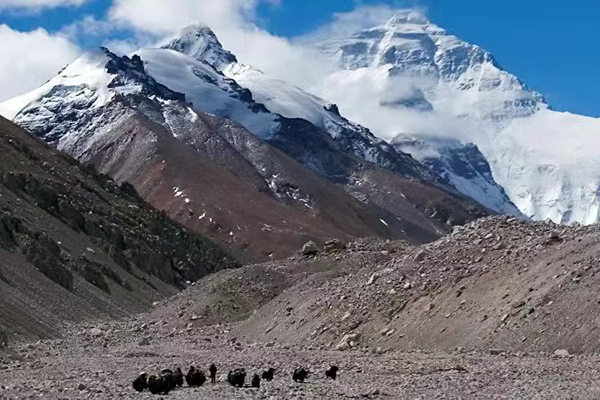 Apart from the occasional trip by an airplane, few people get the chance to admire China's magnificent landscapes with a bird's-eye view.
Other than attempting to obtain a pilot's license, or spending a fortune on plane tickets, perhaps a more economical alternative would be to just watch China From Above, a documentary series that mainly uses aerial shots to capture the country's mountains, rivers, cities and its people.
For domestic audiences, the two-episode second season of the show has been available on the streaming site, Bilibili, since Nov 10, and accumulated nearly 1.3 million "clicks" as of Wednesday.
As a joint production by companies from China, the United States, New Zealand and Singapore, season two also premiered on the National Geographic Channel on Nov 10, with the second episode airing the following day.
The first episode travels along China's 18,000-kilometer-long coastline, the fourth longest in the world, exploring its diverse environments, from the frigid Bohai Bay in the north to Hainan island in the far tropical south.
Shifting to a somewhat west-to-east route, the second episode embarks on a journey from the Himalayas to the Qinghai-Tibet Plateau, taking in multiple cities, including Chongqing and Wuhan, along the way, before finally reaching the bustling metropolis of Shanghai.
"China is a country of immense contrasts. While most Westerners have a very set idea of China, we wanted to surprise and intrigue them by showcasing the diversity of Chinese people and landscapes beyond the Great Wall," says Kyle Murdoch, managing director of NHNZ Ltd.
Based in Dunedin in New Zealand, NHNZ is one of the show's producers, which also includes China Intercontinental Communication Center, US-based National Geographic and Beach House Pictures in Singapore.
Murdoch reveals the idea to shoot China from the sky first came about in 2012.
"Back then, drones were not as widely available as they are today-so this was a very ambitious undertaking as we'd need to shoot mostly from helicopters," he recalls.
"It's unique because while many people could record from the air in many other countries around the world, the regulations permitting this in China make it very difficult for just anyone to do," adds Murdoch.