Vietnam gearing up to host Trump-Kim talks
By Pan Mengqi in Hanoi | China Daily | Updated: 2019-02-26 09:20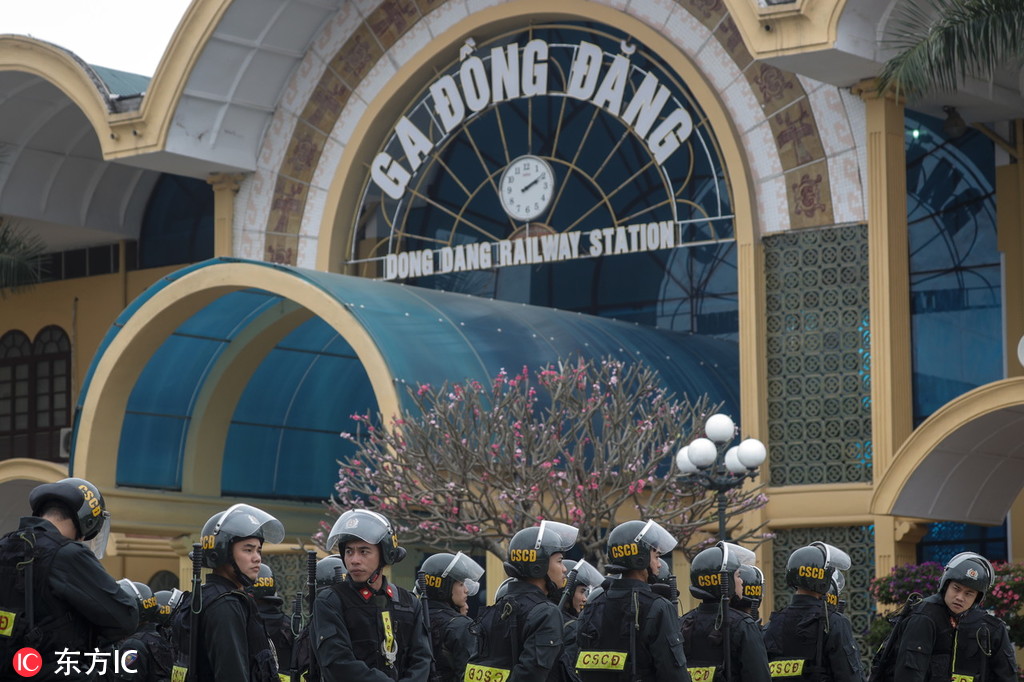 Hanoi airport, public spaces tighten security measures to highest level
Preparations are in full swing in Hanoi, as the capital city of Vietnam is gearing up to host the highly anticipated second summit between DPRK top leader Kim Jong-un and US President Donald Trump.
Talks between the two leaders are scheduled on Wednesday and Thursday in Hanoi. Sources said Kim and Trump will both arrive in the city one day ahead of the summit.
Vietnamese Deputy Minister of Foreign Affairs Le Hoai Trung said at news conference on Monday that both the Democratic People's Republic of Korea and the United States were keen to hold their summit in Vietnam.
"Vietnam's hosting of the high-stakes talks marks its emergence as a trustworthy, responsible member of the international community that has forged peace with old enemies, and can now help others to do so", Le said.
In preparation for the upcoming talks, security at Hanoi's Noi Bai International Airport has been raised to the highest level. Additional security officials have also been positioned in public and restricted areas across the capital.
Nguyen Phuong Hoa, a deputy director at Vietnam's Ministry of Culture, Sports and Tourism, said the effects of playing hosts not only to Kim and Trump, but also to the international media, would allow the Southeast Asian country to showcase its "dynamic development with a model of successful socioeconomic innovation, friendly people, rich cultural identity and history".
Mediator
Trump and Kim held their first summit in Singapore in June. According to Nguyen, Singapore spent about $14.8 million on organizing the meetings and reaped nearly 40 times that amount in economic benefits.
"But in addition to monetary benefits, the spotlight and excitement accompanying the high-profile talks are invaluable to Vietnam," Nguyen said.
A Reuters report, quoting a diplomatic source, said Vietnam is expected to become a mediator in the upcoming talks and to support any reforms they might usher in for the DPRK.
Those efforts could be enhanced by Vietnam's turn as chair of the Association of Southeast Asian Nations next year, and a possible spell as a nonpermanent member of the United Nations Security Council in 2021, the Reuters report said.
In addition, the summit has also become a major topic of discussion among locals of various ages and interests, drawing a wide range of responses.
It is reported that bars in Hanoi are serving drinks named "Peace Negotiations"; stores are selling T-shirts printing Trump and Kim's portraits; and even hairdressers are offering free cuts to those eager to replicate the hairstyles of the respective leaders of the US and the DPRK.
Bu Lieu, a Hanoi resident, said he is "excited and honored" that his hometown was chosen as the host.
"I've been staying updated on the summit every day through television," Bu said. "This event will also draw welcome attention to Vietnam and bring opportunities to boost the national economy."