My China Album: Meeting Yao, sensing a nation's spirit
By DONG LESHUO in Washington | China Daily Global | Updated: 2019-04-04 23:54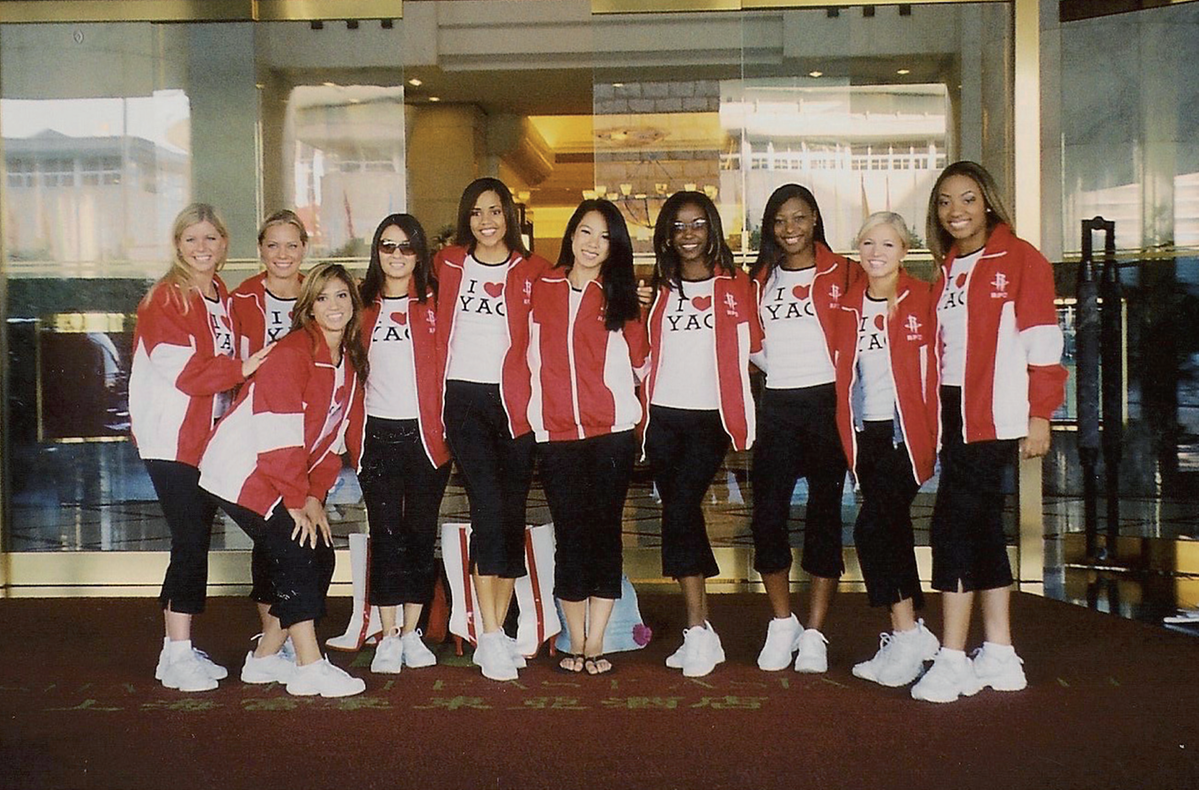 Kym Mosley, a kindergarten teacher in New York City, is a big fan of Hall of Fame basketball player Yao Ming.
She submitted three photos to China Daily's My China Album. The pictures were taken during NBA preseason games in Beijing and Shanghai as the first exhibition games in China in October 2004.
Mosley was one of the cheerleaders for Yao's team, the Houston Rockets. In one photo, she is with nine other cheerleaders wearing an "I heart Yao" T-shirt in front of Shangri-La Hotel before they headed to Shanghai Stadium in Yao's hometown for the game against the Sacramento Kings.
"I'm forever grateful to the NBA for being able to travel to Shanghai and Beijing, China, for the NBA China Games. This is a picture in front of our Shangri-La Hotel before heading to Shanghai Stadium. … Thousands of fans chanted Yao Ming's name during the entire game against the Sacramento Kings. It was a pure adrenaline rush! Yao Ming will forever be my most favorite player in the NBA," Mosley wrote in the caption.
"I just had a really good time in Shanghai, there were so many fans. That was the inaugural NBA China Games, we were selected (22 cheerleaders), and I was on the Rockets Power team, and they selected two girls to Shanghai. We first arrived at Shanghai and we flew to Beijing; this was only one week for NBA China games," said Mosley.
In another photo, Mosley is standing between Yao's parents.
"They were humble and the nicest parents I have ever met in my life," Mosley said.
"Grit. Determination. Respect. Patience. Gratitude. Respect. Courage. These words still come to mind when I think of our All-Star, Yao Ming. Yao Ming, of course, wouldn't be the man he is today without his parents. This is a picture of Fang Fengdi and Yao Zhiyuan, Yao Ming's mom and dad.
"I wanted to stand in the center, hoping to receive a pinch of their wisdom and spirit they instilled in their son. I felt so humbled to be in their presence. I put my arm around Yao Ming's mom," Mosley wrote in the caption.
"I really love Yao's mom and dad; his father said a few words, and he didn't say a lot, but he was so humble and very quiet but had great energy, I really loved this experience. I was so happy to meet his mom and dad after the game; it was a really memorable moment," said Mosley.
The third photo was taken before they headed to Shanghai Stadium. Mosley rolled up the window and saw the children and took a picture of them.
"They smiled, they were so happy and made me think how happy the children are in China. … I didn't know who they were and they didn't know who I was, but the warmth and inspiration just truly came from (them), the Chinese spirit I believe you can just see it from the children eyes," said Mosley.
Mosley's daughter is 6, and she plans to take her to China someday.
"I would like to go back to China one day with my family and have my daughter experience, just share how wonderful the China I know is. A lot of people in my culture, African American, they didn't have so much experience with China, but I would like to take pictures and encourage them to know more about China. We can have more diversity through visiting China. This is the 40th anniversary, this is a wonderful year for China and the US and people-to-people experiences," said Mosley.
Jiayi Wu in Washington contributed to the story.