Yang stresses economic nationalism
By WILLIAM HENNELLY in New York | China Daily | Updated: 2019-04-19 08:55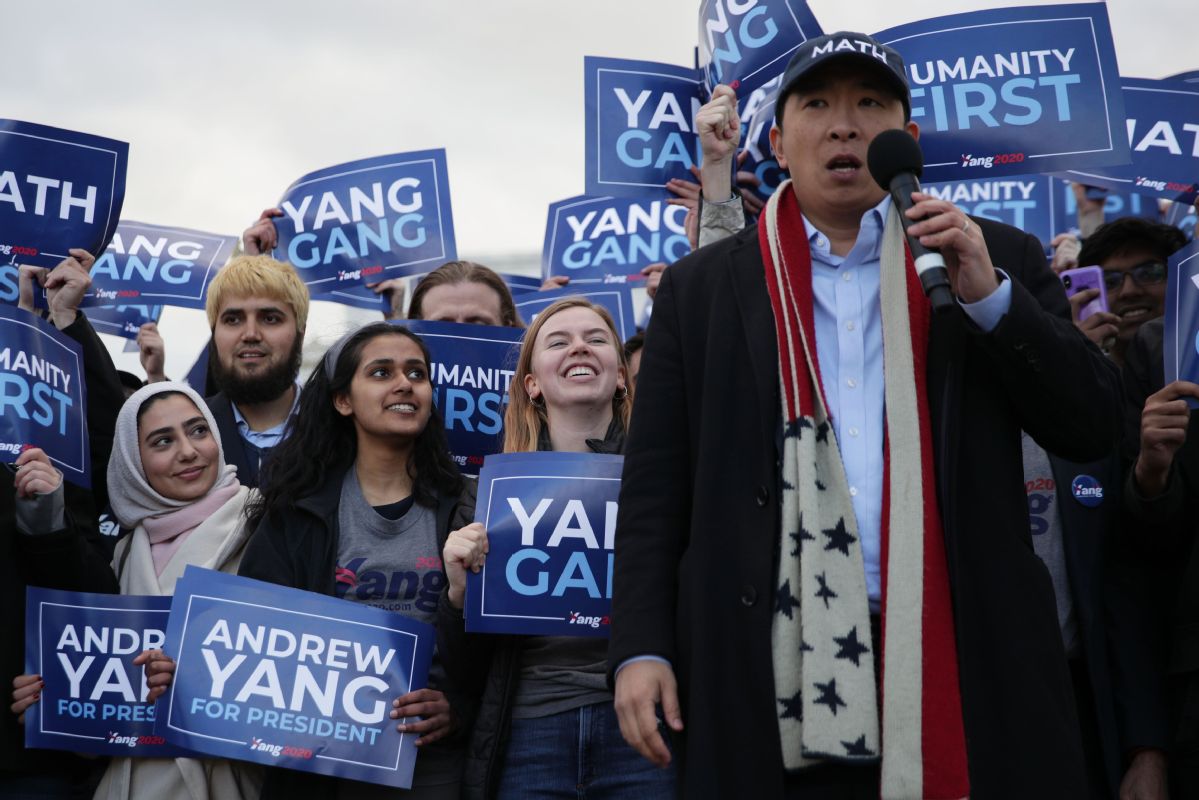 Andrew Yang seems to have an opinion about everything.
The New York entrepreneur is doing his best to make a name for himself in the bursting Democratic primary field of US presidential candidates.
One of the main tenets of Yang's campaign for the 2020 nomination is his proposal to pay a universal basic income of $1,000 a month, which he calls the "Freedom Dividend", to every US citizen age 18 and over, in response to workplace automation, which he dubbed the "fourth Industrial Revolution".
"We automated away 4 million manufacturing jobs in all the swing states ... and we're about to do the same thing to millions of retail jobs, call-center jobs, fastfood jobs, truck-driving jobs, and on and on," Yang told Business Insider in March.
Yang, 44, says on his website that he will fund universal basic income with a value-added tax on the companies that most benefit from automation.
"Our labor participation rate now is only 62.7 percent-lower than it has been in decades, with 1 out of 5 working-age men currently out of the workforce," Yang says. "This will get much worse as self-driving cars and other technologies come online."
Yang's other two main policies are Medicare for All and what he calls "human-centered capitalism".
Yang has almost 100 planks in his platform, some of which are: Get rid of the penny; limit terms for Supreme Court justices to 18 years; lower the voting age to 16; relocate federal agencies; make the NCAA pay college athletes; establish a local journalism fund; and prevent airlines from removing customers.
At a rally at the Lincoln Memorial in Washington on Monday, Yang taunted the media and their take on why Donald Trump was elected president in 2016.
He said that the mainstream media insisted that Russia, collusion, racism, sexism, Facebook and the FBI got Trump elected, but it was economic nationalism that was the determining factor.
Yang said that "there is a straight line up between the adoption of industrial robots in a voting district and the movement to Donald Trump".
"The reason he is our president today is we automated away 4 million manufacturing jobs in Michigan, Ohio, Pennsylvania, Wisconsin, Missouri, Iowa-all of the swing states he needed to win and did win," Yang said.
Yang's followers online, who operate under the hash tag #Yang-Gang, are crucial to his campaign. The candidate's facility with the internet is also a key reason why he will be on the stage for the first Democratic debates on June 26 and 27 in Miami, Florida.
He has surpassed the required number of campaign donations from 65,000 individuals(the standard established by the Democratic National Committee).
Small-dollar donors
Yang's campaign raised more than $1.7 million in the first quarter, with 99 percent of donations under $200.
Yang is the son of immigrants from Taiwan, who met while they were in graduate school at the University of California, Berkeley. His father graduated with a PhD in physics and worked in research labs at IBM and General Electric. His mother has a master's degree in statistics and later became an artist.
Yang attended Phillips Exeter Academy, a boarding school in New Hampshire. He went on to Brown University, where he received a bachelor's degree in economics, and later to Columbia Law School, where he earned a law degree.
He worked as a lawyer before starting Venture for America in 2011, a fellowship program that matches recent college graduates with startups across the country. He and his wife, Evelyn, have two young sons.
Yang is not the first Chinese-American to run for the White House.
Hiram Fong, who was one of the first US senators from Hawaii when it was granted statehood in 1959, ran twice as a Republican candidate for president in 1964 and 1968. He also attained the rank of major in the US Army Air Force during World War II.
Fong, son of immigrants from Guangdong province, was the first Asian-American to receive delegates for president at a major party convention-from Hawaii and Alaska-in 1964. He died in 2004 at the age of 97.