Magical performance highlights need to address climate crisis
By Du Xiaoying in London | China Daily Global | Updated: 2019-05-14 23:10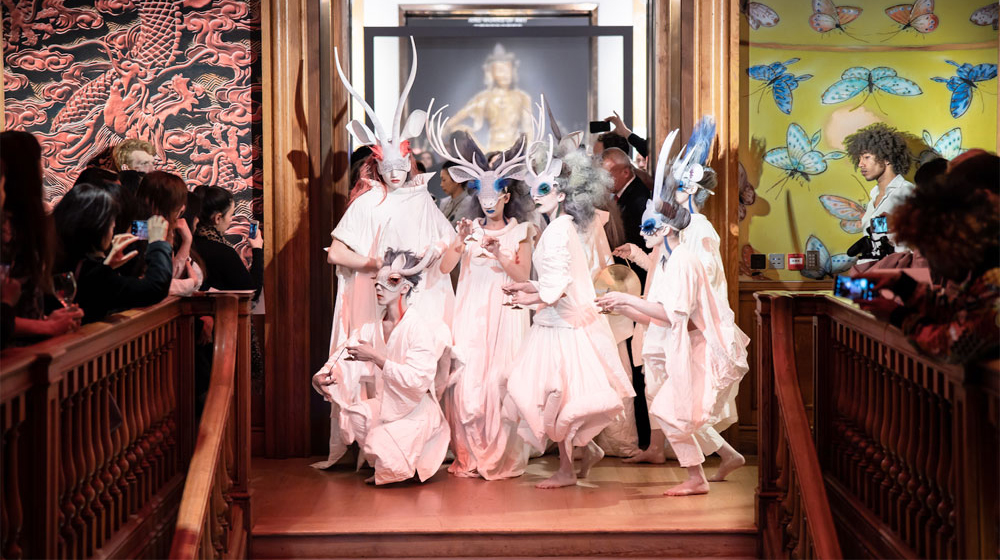 The Dethroning of Divine Beasts – A Sequel to the Classic of Mountains and Seas, a performance that highlights climate change by integrating ancient Chinese stories with modern themes, was presented on Monday in London as part of the Christie's Lates series.
Created by Chinese fashion designer and contemporary artist Xu Rui, the cross-disciplinary performance combines fashion, painting, choreography, and music to show the fragility of the divinity of nature, and to convey the artist's statement on the environment.
"The intention of this creation is to arouse people's attention to the beauty of animals, to reexamine our way of life, and to relieve a little pressure on our environment", said Xu.
Born and raised in China's Xinjiang autonomous region, which has breathtaking natural scenery that includes deserts and lakes, Xu said she has always responded to environmental issues.
Inspired by Classics of Mountains and Seas, a major source of Chinese mythology dating back 2,000 years, Xu's work tells the story of seven divine beasts that resided in an ancient and legendary realm.
The beasts – White Marsh, Torch Dragon, Chimera, Chenghuang, Water Unicorn, Nine-Tailed Fox, and Pale Deer of Flood – were formerly exalted and powerful creatures that were part god, part beast. But they are terrified to learn that they have lost their magical powers and that they have been transported to the mundane world of modern city life.
This performance is aimed at revitalizing the central question of how human activity impacts the natural world, and highlighting the essential need to reflect and react right now.
It took the audience on a journey from the magical to the everyday, to witness how the divinity of nature can disappear because of the shortsighted activity of mankind.
"Though it is almost unavoidable that we exploit, we construct, we consume, and we waste, all I wish is that we never forget that human beings are fundamentally natural beings. At the very least, we must slow down and make a change in our daily life," she said.
Inspired by mythical creatures featured in Christie's Dizang Studio Jade Collection, Xu invited seven exceptional dancers and choreographer Amy Grubb to bring her story to life.
Xu works from her London-based studio as a designer, contemporary artist, and painter. She was formerly head of the fashion department at the China Central Academy of Fine Arts, in Beijing.
Her exhibitions and performances have been seen around the world and include The Sky in their Eyes, which was performed at the V&A Museum in 2016, Beauty on Fire – For Zaha, which was seen at the Zaha Hadid Design Gallery in 2016, Chant of Breath, produced for the Saatchi Gallery in 2015, and From Xuan to Blindness, which was presented in 2015 at the Royal College of Art.
Xu's fashion designs and publication Xiang Wang Yi won her the Red Dot Design Award in Berlin in 2013.