Pressure intensifies on UK's May to quit as leader
By Earle Gale in London | China Daily Global | Updated: 2019-05-23 20:39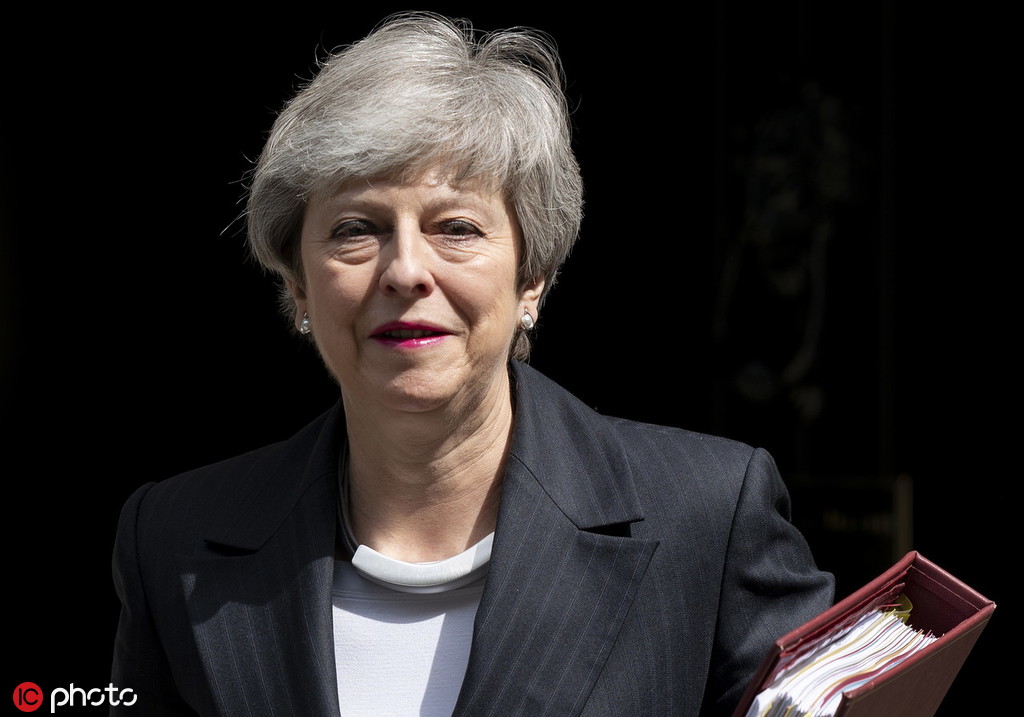 Britain's embattled prime minister appeared to be clinging to her job by her fingernails on Thursday after being attacked from all sides in the British Parliament for her handling of the Brexit issue, and following mutinous undermining from within her increasingly dysfunctional party over an anticipated pummeling in the European elections.
The Times newspaper predicted she could be forced to resign on Friday as a result.
But Theresa May insisted in the hours leading up to polling stations opening on Thursday for the European elections that she would stay on as prime minister and Conservative Party leader – for the foreseeable future.
The Financial Times said, in spite of the pressure on her, she still hopes to see her Brexit withdrawal deal approved by Parliament.
The proposed legislation sets out how the United Kingdom should extricate itself from the European Union, and lays out the sort of relationship they will have in the future, but, with MPs holding such disparate visions of what that future should look like, building a consensus among lawmakers has been harder than herding kittens.
The FT said senior members of May's Conservative Party were plotting to force her from office if she refuses to ditch her Brexit legislation, which has already been defeated three times and which is scheduled to return to the House of Commons for a fourth vote on June 7.
Andrea Leadsom, leader of the House of Commons and a prominent supporter of Brexit, became a touchstone for unrest in the Conservative Party when she resigned from Cabinet on Wednesday.
She said in her resignation letter she no longer had confidence that the prime minister would "deliver on the referendum result", and said May's proposed legislation has "elements I cannot support, that aren't Brexit".
Iain Duncan Smith, a former leader of the Conservative Party, told ITV News that May is doing all she can to remain in Downing Street and metaphorically has "the sofa against the door".
"She's not leaving," he added.
May was set to meet with Graham Brady, chairman of the influential 1922 committee, on Friday. He was asked on Wednesday to consider changing Conservative Party rules to allow a direct assault on May's leadership in the form of a vote of no-confidence. Party rules only allow once such challenge in a 12-month period and May survived one in December. The committee's executive held a secret ballot on the issue on Wednesday, the results of which have not yet been made public.
The Guardian newspaper predicted May could emerge from her meeting with Brady and announce a date by which she will leave office.
The paper quoted an unnamed MP as saying: "Graham hinted that he expects her to resign. We all expect her to resign."
The revolt against May flared on Thursday after she outlined what she called a "bold" offer to MPs that includes concessions on workers' rights, the Northern Ireland border, and on Parliament's role in future Brexit talks. The changes were clearly aimed at winning support from the opposition Labour Party but failed to do so and have alienated members of May's Conservative Party at the same time.
Ian Lavery, chairman of the Labour Party, said the time has come for a general election.
"While the Tories are ripping themselves apart, our country is in crisis," he said. "The government has made a catastrophic mess of the Brexit negotiations … For the sake of the country, Theresa May needs to go."
Were May to stand down, she would stay on as prime minister while a leadership contest is held. Such a contest, if started immediately, would conclude at the end of July.