Theater queen Matilda set to charm China
By JULIAN SHEA | China Daily Global | Updated: 2019-06-24 09:50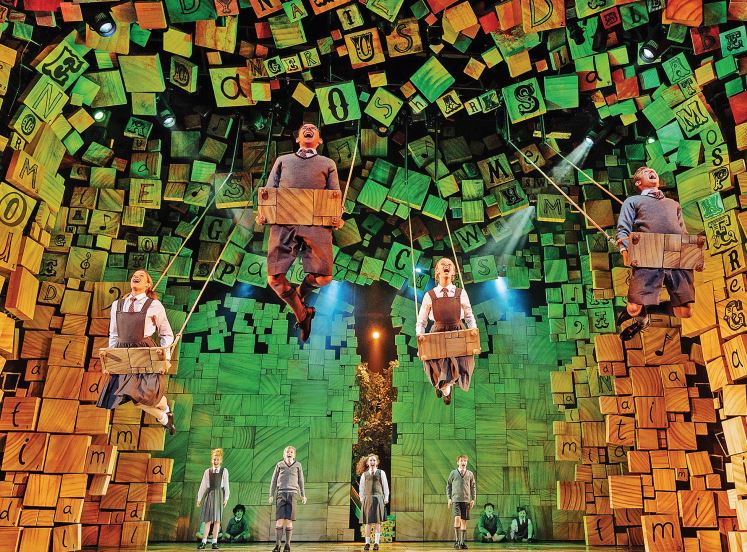 Award-winning hit musical begins major national tour
For generations, the books of British author Roald Dahl have been a bedside fixture for millions of children around the world.
His darkly comic stories, including James and the Giant Peach, Charlie and the Chocolate Factory, and The Twits, view the tough adult world through the eyes of children, whose innocence, wisdom, and imagination guide them to victory in an often challenging environment. In recent years, a new champion has emerged to surpass the rest-Matilda.
Although Dahl's original book was published in 1988, and a film version released in 1996, the thing that has taken Matilda to new heights is Matilda the Musical.
The stage version of the tale of a super-intelligent child whose talents are ignored by her parents and who encounters the harshness of authority at school before a caring teacher inspires her to triumph, is written by Dennis Kelly, and its songs by Australian composer Tim Minchin.
A multi award-winning success in London's West End and on Broadway, it is now touring around the world, and Matilda's next stop is China.
"It was just a matter of time before Matilda came to China- the whole tour has been built around our time there," producer Paul Warwick Griffin, of GWB Entertainment, the show's global stagers, told China Daily.
"Matilda's been a pillar of the global musical theater industry for the last eight years and is the UK's stand-out musical theater export of the last decade, so it's no surprise they wanted it, it was just a matter of finding a Chinese partner with the right long-term vision-and we're lucky to have found that in Seven Ages."
Ivy Yang, the CEO of Chinese theatrical adaptation company Seven Ages, told China Daily that bringing Matilda to the stage was the culmination of a long journey.
"When I first saw the show in London seven years ago, it was love at first sight," she said. "I then spent five years traveling the world and talking to the rights holders, before finally, I got the chance to bring it to China."