Consumption upgrading heats up cold chain logistics
By Fan Feifei | China Daily | Updated: 2019-07-11 07:35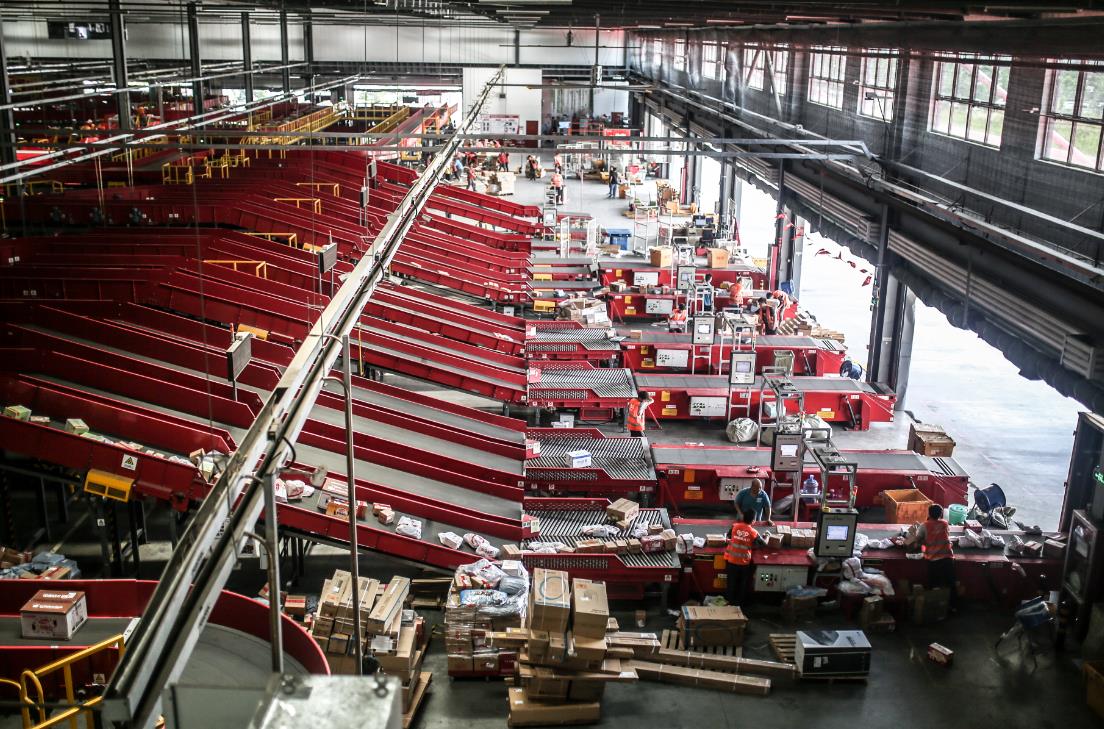 Industry giants step up efforts to strengthen capacity as increasing demand for commodities such as fresh food and medicine drive expansion of sector
China's cold chain logistics market is set to boom and is likely to become the most lucrative sub-industry in the logistics field thanks to the consumption upgrade and increasing demand for commodities like fresh food and medicine.
Major e-commerce players and logistics giants are accelerating efforts to establish self-operating cold chain warehouses and expand their cold chain delivery services in China.
Cold chain logistics refers to the use of temperature-controlled systems within an uninterrupted series of storage and distribution activities.
Recently, Chinese e-commerce giant JD teamed up with Mengniu Dairy Co Ltd, China's major dairy maker, in the cold chain logistics sector.
According to the agreement, JD's cold chain unit will make its network of cold chain warehouses across the nation available to Mengniu for its frozen products, as well as integrated industry solutions covering cold chain storage management, trunk line transportation and quality guarantee.
JD will offer the whole process of supply chain services, including warehousing, packaging, sorting and distribution, to reduce the frequency of transportation and minimize the risk of unfreezing.
Founded in 1999, Mengniu ranked among the top 20 in the global dairy industry for 10 consecutive years, with products including liquid milk, ice cream, milk powder and cheese.
Industry insiders said cold chain logistics was one of the difficulties that restricted the development of ice cream enterprises for a long time. In particular, high-quality ice cream has a high milk content, which melts easily.
Therefore, the scientific management of cold chain storage, the temperature in the transportation process and the integration degree of the supply chain are all crucial.
Depending on JD's self-developed intelligent temperature monitoring platform, the temperature and quality of the ice cream can be guaranteed. Automated sorting equipment has been employed in highly automated warehouses, and will increase efficiency by two to three times.
JD will also be responsible for transporting ice cream from 13 factories owned by Mengniu to dealers nationwide.
"With the upgrading of consumption, e-commerce has become an emerging channel for ice cream sales, which introduces higher requirements for the cold chain," said Lu Jianjun, a senior executive from Mengniu's frozen products division.
Lu said the cooperation with JD's cold chain unit will not only help improve the cold chain distribution level of Mengniu's frozen products, but also extend such services to third and fourth-tier cities and rural areas, bringing fresher ice cream products and more efficient logistics services to more consumers.
"The cold chain logistics industry is still in its infancy, and is highly fragmented and regional," said Li Xiuqiang, who is in charge of strategic planning for JD's cold chain unit.
In 2017, JD signed a memorandum of understanding with Japan's Yamato Group, one of Asia's leading logistics companies. The partnership focuses on enhancing operational efficiency, with a particular emphasis on building a cold chain logistics network in China.
China's fledgling cold chain logistics market is expected to reach 470 billion yuan ($68.5 billion) by 2020, with a compound annual growth rate surpassing 20 percent, according to the China Federation of Logistics and Purchasing.
CC Fresh, a cold chain logistics company under the e-commerce giant Alibaba Group Holding Ltd, is cooperating with Sino Australia Top Beef (Beijing) Co Ltd, a firm that mainly imports beef from Australia, to jointly develop the cold chain resources in the Beijing-Tianjin-Hebei region and speed up the construction of the national cold chain logistics network.
Fan Jiyuan, chairman of CC Fresh, said the company pays attention to data collection and analysis in managing the logistics network and makes use of big data to enhance efficiency.
Wang Xiaoping, associate dean of the logistics school at Beijing Wuzi University, said demand for fresh products from Chinese consumers is increasing, and e-commerce giants are gearing up to expand their presences in the cold chain field, which will drive the rapid growth of the industry.