My life journey with Suzhou Industrial Park: Dramatic and inspiring
By Tang Huan | chinadaily.com.cn | Updated: 2019-07-30 10:37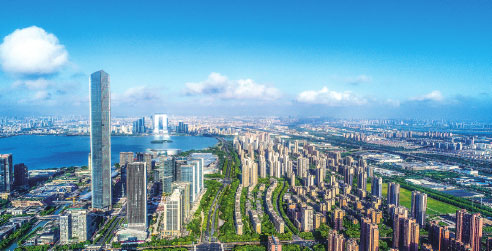 This year marks the 25th anniversary of Suzhou Industrial Park, a remarkable collaboration between China and Singapore since 1994. Now living in this wonderland, I look back at my past decades of life entwined with these two countries, and finally, here, at Suzhou Industrial Park. I feel all those ups and downs are dramatic while inspiring -- thanks to a series of reform and opening-up policies all along, we, as individuals, have been growing with our country and we all have benefited tremendously from those policies.
In 1994 when I was in kindergarten, a girl still living in Yangzhou, East China's Jiangsu province, the only impression I perceived of Suzhou was from a black and white photo, in which my mum, in her 20s, traveled in Suzhou and visited the famous Lion Grove Garden. That time, I learned from my mum's bedtime story that Suzhou was a small, scenic city with profound Chinese traditional culture. While a little girl in the early 90s from an ordinary family, how could I know that in fact China and Singapore had kicked off a joint development project at Suzhou Industrial Park in the same year!
In the following 10-plus years till 2005, I grew up a typical high school student. Though under pressure from schoolwork, I had a huge interest in the English language and read a number of English classics by referring to a dictionary as thick as a brick. Even now I am grateful for that period when I accumulated adequate knowledge and language skills, which further led to overseas study and job positions at foreign companies. On the other side, Suzhou Industrial Park had undergone rapid and significant economic development. With Singaporean expertise, Chinese governmental sectors initialized landscape and infrastructure constructions on the basis of sustainability. Gradually, those main functional districts we see now in Suzhou Industrial Park had all been set up by 2005, including the Jin Ji Lake Scenic Area, High Educational District, Science Park, Logistics Park and Export Processing Zones. A row of big names in fields of top-notched manufacturing, semi-conductors, and pharmaceutical companies were attracted to set roots in Suzhou Industrial Park, such as Bosch, Samsung and Lilly pharmaceutical. An open, friendly environment enabled many foreign companies to become the key economic drivers there. These 10 years have seen a foundation-laying course for both Suzhou Industrial Park and me.
In December 2006, when I was just 17 years old, I left my parents for university life in Singapore. After a five-hour plane journey, the moment I stepped out of the cabin door, I felt stifled by the hot, moist air, which was very contrary to the cold, dry winter season in China that time. Known for its clean streets, green plants and high GDP per capita, Singapore was totally new to me in all aspects. Cars ran swiftly on spacious highways. Massive skyscrapers in the CBD housed numerous financial institutions and trading companies. People made apologies by saying "excuse me" to those around when they were just about to get off the subway train into crowds. It took me a long time before adapting to "Singlish" and other accents due to the multi-cultural society.
Vegetables and fruits were well packed in fixed quantity or weight. Everything was so in order, reliable and dependable that you did not even have to give a second thought. While I was diligent to pursue my degree, I was unsure of something, something I was longing for. When I came to the Suzhou Industrial Park during winter break in 2010, I was struck by the beautiful night scenery of Jin Ji Lake with clusters of modern buildings around it. Local governments called for independent innovation, high-tech R&D and support from financial institutions. Incentive schemes had been deployed to attract high-level talents, and various cultural and community activities enriched people's spiritual lives. Then I realized, yes, it was passion that I was longing for and I felt it when I stood at the lakeside.
In 2015, with two years or so overseas working experience, I came back to China and started my working life in a foreign bank in the Suzhou Industrial Park. The bank itself, as one of the foreign corporations, has benefited from the opening-up policies and market liberalization promoted by the Chinese government. We have been gradually granted licenses to provide more types of credit and derivative product service to customers. We are proud that we have been serving many "big names" that in turn contributed their great performance to the local economy. This year as of June, seven well-known giants, including Huawei, Microsoft, Tencent and Siemens, set up AI innovation centers here. Jonson & Jonson, Emerson and Philips expanded their core businesses, such as new production lines and solution centers in the park. Not only did they bring 130 more investments sponsored by foreign capital, but also 363 new technological projects. With these boosters, the park has achieved gross regional product of 131.7 billion yuan ($19.1 billion) with year-on-year growth of 6.6 percent, according to comnews.cn. Throughout these years, government has put more focus on spurring industrial upgrading, technology innovation and AI application. Our bank also carried out rounds of self-review and processed re-engineering to better facilitate enterprises' needs in credit, payment and wealth management. Being a bank employee, I understand we are the ground implementer of macroeconomic policies. We are committed to provide financial support to domestic manufacturers adopting advanced technology, assisting them in taking up a strong market position. We aim to render convenient and rapid service to private enterprises, helping them realize their dreams and thus create more job positions to the workforce. Our tailor-made product solutions motivate high-tech start-ups and new energy firms to further produce and inject valuable intangible assets, such as patents, into commercial applications. Therefore, we have witnessed growing numbers of companies in various scales booming and expanding, in harmony with the local ecosystem and environment.
Now, as a "New Suzhounese", in my leisure time, I enjoy strolling along Dushu Lake with my little baby. I love the peaceful time reading books in the cozy library. These life moments become most precious as I get older and more sensible. One day during my lunch break, I came across a flash mob event celebrating the 25th anniversary of the Suzhou Industrial Park. There, people sang songs expressing their gratitude and respect to this amazing industrial park, to this dynamic city and to our grand China. That was a touching moment and I couldn't help bursting into tears. I'm looking forward to growing with my country with even more achievements and happiness!
Tang Huan is a native Chinese living in Suzhou city. She spent more than eight years in Singapore. Now she is working for a foreign bank in the China Singapore Suzhou Industrial Park.
The opinions expressed here are those of the writer and do not represent the views of China Daily and China Daily website.