Growing appeal raises bar for wine buffs in China
By Lesley Cosme | China Daily | Updated: 2019-08-09 07:55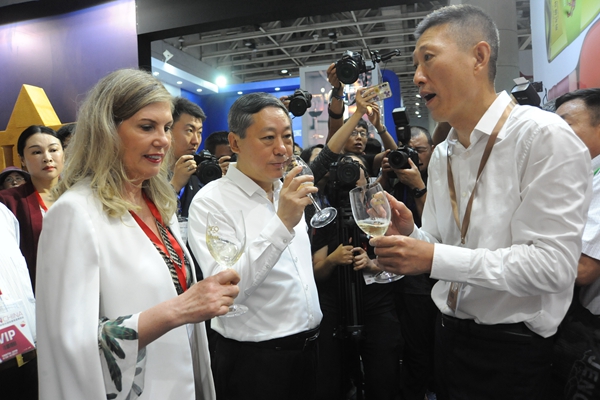 Pouring a glass of wine to have with dinner was once a rare sight in Chinese households, yet within the space of just 10 years, wine is now a popular evening tipple around the country.
During a recent livestream event organized by China Daily, four wine experts discussed China's rapidly changing attitudes toward alcohol and the domestic wine industry.
According to Claudia Masueger, CEO of China-based wine retailer Cheers, domestic consumers are becoming increasingly sophisticated and knowledgeable as the industry develops.
"Wine is now a huge subject in China," Masueger says. "It's a lifestyle. It's a fashion statement. And what the Chinese really love is that they can combine it with their local food."
China is the sixth-largest wine producer in the world, and currently makes more wine than Chile, Portugal and South Africa.
Yet until recently, most wine made in China was consumed domestically. Rarely exported, its appeal was limited to local drinkers who had already developed a taste for homegrown wine.
"Chinese wine used to be undrinkable. It has only improved in the last couple of years," says Masueger. "China now produces some very expensive, yet very nice wines. But the bad reputation remains. The Chinese should be able to enjoy good quality, affordable wine."
When Masueger first arrived in Beijing in 2008, she embarked on a mission to change the wine scene. Back then, the only good wine were the expensive imports served in five-star hotels.
In recent years, Chinese of all classes have started to drink alcohol more regularly, according to global consulting firm INS. No longer considered a niche product, wine enjoys widespread demand among Chinese consumers.
And with this more mainstream appeal, consumers are now more willing to try new wines-both local and imported-and incorporate them into their daily diets, says Masueger.
Wine is becoming a healthier alternative to baijiu, a liquor that used to be served with dinner. Now both drinks can be served with evening meals when paired with different types of foods.
"People now try to mix local dishes together with wine," says Masueger. "Riesling goes well with hotpot, as does moscato."
Masueger believes that once consumers are introduced to new types of wines-whether red, rose or white-they will start to incorporate them into their daily lives.