Expansion pays off for global consultancy
By Wang Ying in Shanghai | China Daily | Updated: 2019-08-09 10:07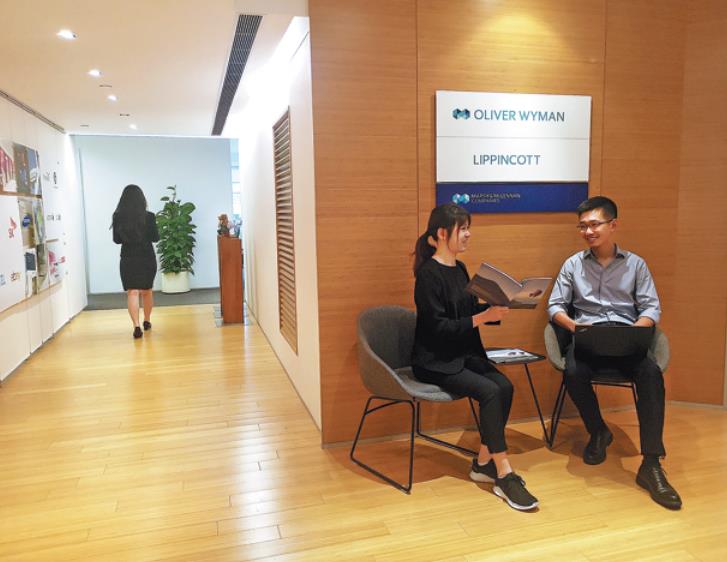 Domestic companies now account for nearly half of Oliver Wyman's customer portfolio in China
Four years ago, US-based global management consulting company Oliver Wyman launched an aggressive expansion into the Chinese market, including the manufacturing, aviation and energy sectors, with a particular focus on retail and consumer goods. The move has proved successful, as retail has become one of its biggest businesses in China.
Before the business expansion, Oliver Wyman's China business had a narrow focus including financial services and auto manufacturing.
Along with Chinese retailers overtaking their global peers on e-commerce and payment, Oliver Wyman has also witnessed a significant rise in the number of its local Chinese customers who now account for nearly half of its customer portfolio.
Viewing China as one of its biggest and most important markets, Oliver Wyman is now considering faster development.
In a recent interview, China Daily talked to Scott McDonald, president and CEO of Oliver Wyman, about the company's development in the Chinese market and its strategy for the future.
Please recall your first time in China and how things have changed since?
We've had our business in China for about 15 years. Our business has grown a lot over that period, but the market has changed enormously.
When I first came here, I saw the market just opening-up and hungry for information from the rest of the world. Over the period the market has grown and become more sophisticated, and more confident, and there is much more development of activity going on here now. And our business has changed accordingly.
Could you please briefly introduce Oliver Wyman?
Oliver Wyman is the management consulting arm of Marsh&McLennan. Marsh & McLennan is a company that has four professional services firms, Marsh, Mercer, Guy Carpenter, and Oliver Wyman. Oliver Wyman's business revenue is about $2 billion, 40 percent of which comes from the Americas, 40 percent from Europe, and 20 percent from Asia. We do strategic consulting across multiple industry sectors, and multiple functional capabilities.

I joined Oliver Wyman in 1995 and have seen the firm grow fifty-fold to more than 5,000 global employees.
Could you talk about your company's history in China and your strategy in the country in the next three to five years?
We are still, by Chinese standards, a relatively young company here, and we have a relatively modest presence. But I think we will be growing as fast as we can, and as aggressively as we can, as we can convince our clients that we have something good to sell.
We think the market is one of the biggest and most important markets of today, and perhaps the most important market of the future. It's big and growing fast. It's also a challenging competitive market, so you need to be really sharp and clear about what your differentiation is here because there are so many competitors.
How have the demands and attitudes of your Chinese customers changed in the past decade? Please give one specific example.
Initially, most of our clients were multinational firms who were trying to expand in China and trying to learn about the Chinese market. Now, I think there is far more interest from domestic companies. And domestic companies are also more global, doing things outside the Chinese market.
An even bigger change is that the Chinese retail market now, I think, leads the world in terms of thinking around how payments work, how stores are set up and the whole space around e-commerce. So we are now learning many things that can be used in the rest of the world.
What's the composition of your clients in China?
It's a real mix. There are still some multinational clients, but probably half of our portfolio now is made up of Chinese clients. And at the moment, the composition by sector is primarily financial services and retail, but there are bits in manufacturing, aviation and energy as well.
As the domestic companies become stronger, they potentially become bigger consulting buyers. It's been pretty steady over the past five years and it has accelerated every year.
I think our expectation is in almost every sector we work in, the local companies will become more successful, so our portfolio has to become bigger with them.
China is one of the fastest moving countries in areas such as digital, new retail, big data and AI. What opportunities and challenges will that bring to the consulting industry and Oliver Wyman?
Our business is always to be slightly ahead of where our clients are, in helping them learn from around the world, across sectors, or just new ideas that will be relevant for their businesses.
I think where these are the trends of the day, our business remains exactly the same. If we want to be able to provide advice around AI, we have to know the AI and machine learning space as well as or better than they do, to teach them things and help them think about what they could do. And that is what we are doing.
What are the biggest challenges facing the industry as a whole?
The challenge facing our clients in each industry is to evolve and change the way they are doing things, and become more digital. And our challenge is to make sure we can keep ahead of them and help them do that.
What advantages does Oliver Wyman have? How will you retain those advantages and differentiate yourself?
I think there are many opportunities for us. The more complex the world is, the more opportunities there are for us to offer advice. I am excited about the future of our business globally and in China just because there is so much complexity out there.
There are three things we need to do: have an impact on our clients all the time; be able to make everything work smoothly for our clients; and combine industry expertise with digital knowledge. The future of the China market is fast pace, getting bigger, and exciting.
Many multinational companies are facing more competition in China with the rise of tech giants like Alibaba and Tencent. How do you advise them to keep up the pace?
In each market there are some huge firms that have taken a big share and have enormous influence. You mentioned some here in China and there are similar companies in other markets. I think the response is similar in most markets: if you are not one of them, you need to figure out what your value proposition is, what your differentiation is, and make sure you know how you are going to coexist with them either by competing with them or cooperating with them. And I think the same advice applies here.
How will the China-US trade tensions affect your business?
I think the most likely outcome is that we will find a resolution and everyone can get on with doing business. If there is no resolution found and the conflict becomes severe, it would affect our business. And it will also affect everyone's business because everything would slow down. So we are all hoping that does not happen.
What's your take on China's continued reform and opening-up of its capital market?
In general, I welcome the opening-up of the market, because the more all countries have relatively open markets, especially in the capital market space, the more capital can flow freely and more efficiently around the world. So I think it's a welcome sign. And if things flow more freely, that's more business for us. So it's good for our businesses as well.