Disused electric car batteries to be repurposed for storage
By Li Fusheng | China Daily | Updated: 2019-08-12 11:08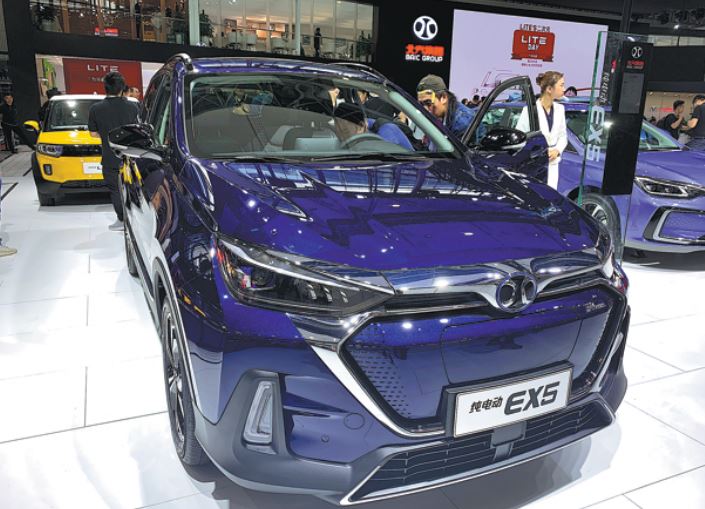 Ye Xiaohua, deputy general manager of BJEV, said electrified vehicles are more than vehicles and are becoming a new tool of energy management as well.
In 2016, the carmaker established Beijing Articore Battery to study the utilization of second-life batteries.
Beijing Articore Battery is working on how to utilize disused batteries for telecommunications base stations, highway renewable energy stations and mobile energy storage units.
It said research into micro-grid energy storage is also planned.
Battery makers are making inroads into the sector as well.
Two days ahead of BJEV and Daimler's statement, a power storage system started operation in Shenzhen, Guangdong province, after four months of construction.
It was co-built by Shenzhen Bak Battery and China Southern Power Grid using disused Bak batteries which were previously used to power electric vehicles.
Bak said the system will help reduce the fluctuation of power supplies between peak and trough periods.
The project was billed as a landmark in its energy storage business and the two companies said they will conduct further cooperation in this area.
Xiang Chaoyao, president of the energy storage business unit at Bak, said, "So far our storage products are sold to many countries in Asia, Europe and Africa, with the total capacity reaching around 200 MWh."
He said Bak's production capacity in this aspect will reach 1 GWh by 2020 because energy storage is one of three pillars of the company's business.
Svolt, a battery maker spun off from China's largest SUV maker Great Wall Motors, said utilization of disused batteries as well as energy storage would be one of its core businesses as well.
The Chinese authorities are also encouraging energy storage.
In a guideline issued in early July, the National Development and Reform Commission called for efforts to further promote the development of energy storage to make China a leading country in this aspect in five-to-10 years.
The guideline covers items from research and development to demonstration projects and formulating relevant standards.
Among others, it said the National Energy Administration will lead efforts to conduct studies on electric car charging facilities and the power grid. The commission itself will facilitate charging-while-parking programs to lay a foundation for energy storage in new energy vehicle batteries.