Ending confusion over a name
By Wang Kaihao | China Daily | Updated: 2019-08-13 08:13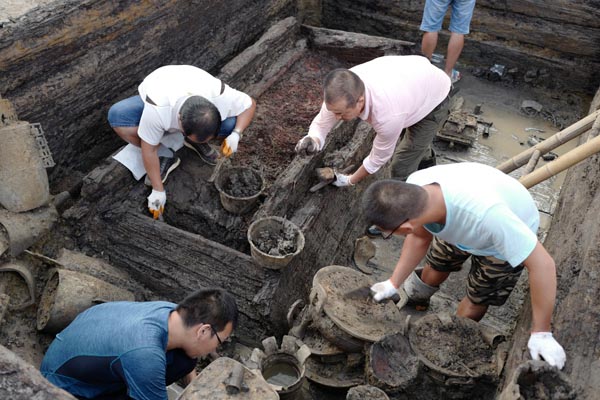 According to Fang Qin, director of the Hubei Provincial Museum, the findings fill a void in archaeological evidence of the Zeng state from the mid-Spring and Autumn Period.
Since Marquis Yi first got known in 1978, 13 Zeng rulers' tombs have been found, but the second peak of discoveries only came in the last decade. Archaeological evidence since 2009 have unveiled a brilliant bronze civilization with a complex system using ritual musical instruments and found where the original material for metallurgy came from.
"We've gradually built up a continuous chain of how the Zeng state formed and developed," Fang says. "It's like putting puzzles together. The forgotten state will lead us to a much bigger picture of how vassal states worked then."
In 2018, the State Administration of Cultural Heritage launched a program called Archaeology China for a comprehensive study of early Chinese history through well-planned excavations.
"Chinese archaeology has a tradition of attaching great importance to historical files," says Song Xinchao, deputy director of the administration. "It's a good thing to prove what is recorded through excavations."
But there are still many questions that the records fail to answer.
"That requires us to unveil a panorama of early-stage China through original work. Studies on the Zeng state can set an example for other projects to follow."
Contact the writer at wangkaihao@chinadaily.com.cn