Digital shift boosts transport services
By He Wei in Shanghai | China Daily | Updated: 2019-09-11 09:53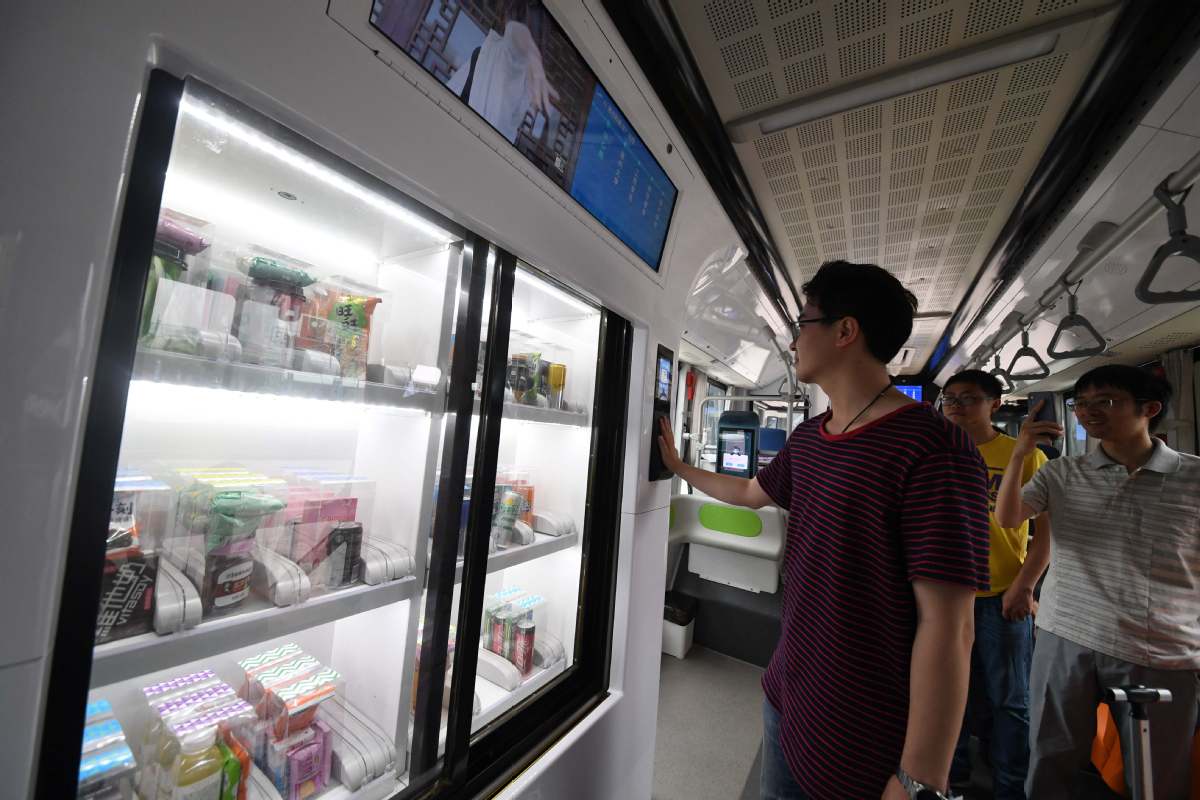 These include the installation of smart vending machines on buses and individual screens that entertain passengers with advertisements and other information.
"Commuters can also enjoy a better ride experience through personalized content and convenience," Chen said.
Chen cited tests, commuter feedback and market research saying that each bus can generate up to 30,000 yuan ($4,188) in retail sales every month.
"Adding in revenue from advertising content, bus providers can turn a traditionally loss-making venture into a profitable one, and that's where we believe the real innovation lies," he said.
Like DeepBlue, a growing number of AI firms are looking to improve the in-vehicle experience as technological upgrades continue to reshape future mobility thanks to 5G and autonomous driving technologies.
Autonomous driving will allow drivers to enjoy quality time by themselves or with fellow passengers. That means redefining the interior decoration of cars, replacing cumbersome dashboards with big screens and voice-recognition interactive bots.
This is exemplified by the latest smart cabin solution showcased by Banma Network Technology, an offshoot of Alibaba Group and automaker SAIC.
The Banma Me system uses facial recognition technologies to identify passengers in cars and voice command technology to make personalized adjustments to the temperature, music portfolio and seat positions, according to a company news release.
"The system can detect a person's emotions by capturing his or her facial expressions and make changes accordingly," said a Banma representative during the World Artificial Intelligence Conference last month in Shanghai.
Beyond in-car connected services, Banma continues to expand as a provider of broader mobility solutions, such as automotive insurance for individual trips and passengers, automatic payment services at fuel stations, parking facilities and highway toll gates.
Breakthroughs are also being extended to two-wheeled forms of transport. Inconsiderate and reckless parking has long plagued the shared bike industry. Now it is being addressed thanks to the adoption of AI.
Hellobike has launched a Bluetooth system that is designed to guide users to properly park bikes in designated areas. Unlike conventional Bluetooth solutions, algorithms are used to enhance geographic precision by narrowing the location down to one meter.
"This means even if riders park their bikes slightly beyond the designated area, they won't be able to lock them until they are placed in the right locations," said Ren Liangliang, vice-president for research and development at Hellobike.
Behind the scenes is Hellobike's latest smart transportation operation system dubbed Hello Brain 2.0, which also supports distant monitoring of parking areas through visual interaction.
According to Ren, the system detects real-time supply and demand of bike parking across multiple locations. If oversupply of bikes is spotted in a certain region, the system sends out automatic alerts, reminding personnel to relocate bikes to areas where they are in short supply.