HK tweet by Rockets exec denounced
By Sun Xiaochen in Shanghai and Heng Weili in New York | China Daily Global | Updated: 2019-10-08 10:44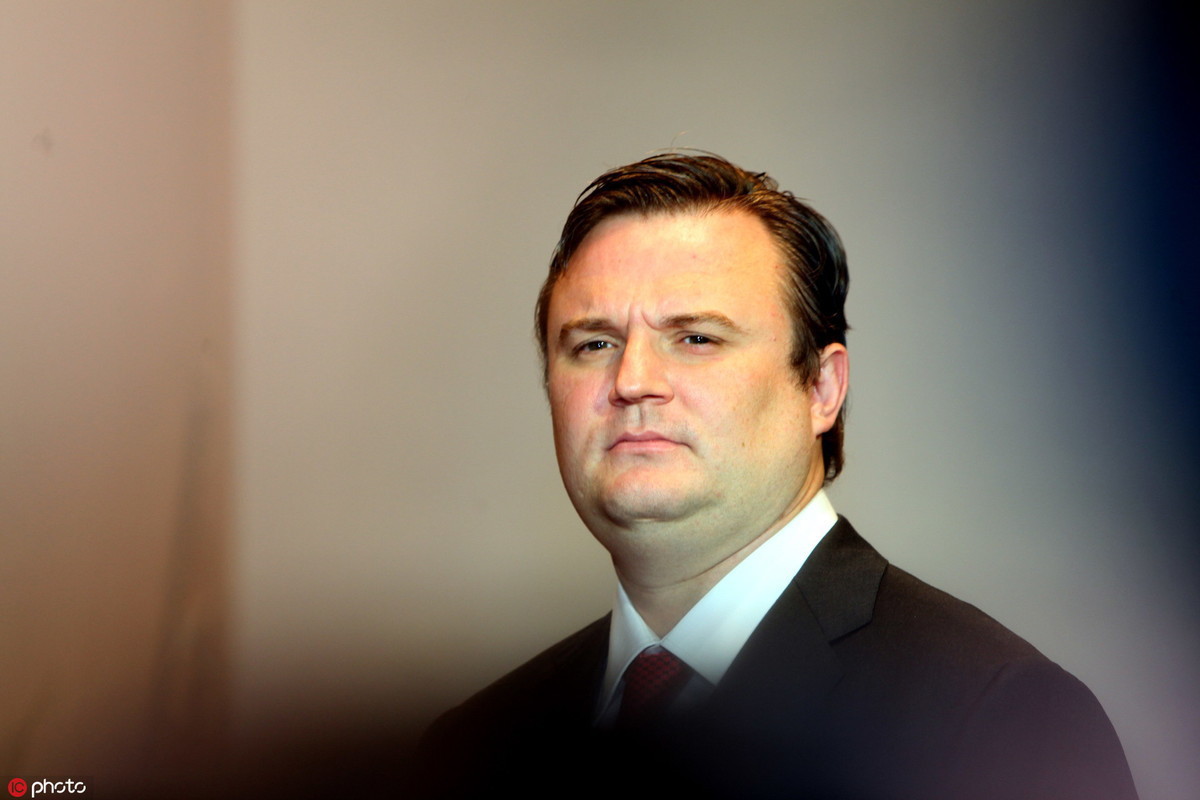 Chinese fans, organizations slam remark on protests by general manager of NBA team
Chinese basketball fans and organizations have taken a strong stance against Houston Rockets executive Daryl Morey's tweet backing violent protesters in Hong Kong.
Just days before the National Basketball Association is to tip off an overseas preseason game tour in Shanghai, Morey, the Rockets' general manager, infuriated Chinese fans by tweeting support for radical protesters in Hong Kong and sparked criticism beyond sports circles in China, as some organizations immediately cut ties with the franchise.
During the Rockets' preseason trip to Japan on Sunday, Morey tweeted an image that read "Fight for Freedom. Stand with Hong Kong," a slogan often shouted by rioters during months of protests in the Hong Kong Special Administrative Region. The protests, originally in response to a now withdrawn bill to amend the SAR's extradition law, have escalated into violence.
Morey deleted the post following Houston owner Tilman Fertitta's response to distance his organization from Morey's opinion, saying on Twitter that the general manager doesn't speak for the Rockets, a team that has had longstanding support from China for employing Basketball Hall of Famer Yao Ming from 2002-11. Fertitta, however, told ESPN later that "everything is fine with Daryl and me".
The Chinese Basketball Association, now chaired by Yao, had a swift response on Sunday, announcing that it has suspended any exchanges and cooperation with the Rockets while expressing its "strong opposition" to Morey's "improper remarks regarding Hong Kong". The Chinese league has also canceled its four preseason games against NBA development league teams, including Rockets affiliate the Rio Grande Valley Vipers, originally scheduled for Oct 19 and 20 in Suzhou, Jiangsu province.
The Chinese Consulate General in Houston issued a statement saying it was "deeply shocked" by Morey's "erroneous comments" and expressed "strong dissatisfaction". The consulate also urged the Rockets to "correct the error and take immediate concrete measures to eliminate the adverse impact".
Arguably the most-followed NBA franchise in China, the Rockets will be blocked off in the team's biggest overseas market in the new season, since both China Central Television and the league's digital partner Tencent announced the suspension of all broadcasting and livestreaming, as well as news coverage, of the franchise in protest of Morey's tweet.
Preparing for its preseason games between the Los Angeles Lakers and Brooklyn Nets in Shanghai on Oct 10 and Shenzhen two days later, the NBA issued a statement on Monday through Mike Bass, its chief communications officer.
Bass said in the statement that the league understands that Morey's views had "deeply offended many" in China and that the NBA was regretful.
"We have great respect for the history and culture of China and hope that sports and the NBA can be used as a unifying force to bridge cultural divides," said the statement, which was published right after Morey posted a followup tweet on Monday in an attempt to clarify his original post.
"I did not intend my tweet to cause any offense to Rockets fans and friends of mine in China," Morey said in the second tweet. "I was merely voicing one thought, based on one interpretation, of one complicated event."
Rockets' star guard James Harden apologized to Chinese fans for the general manager's original tweet when asked about the issue after a practice workout in Tokyo. "We apologize. We love China," he said.
Joseph Tsai, co-founder of Chinese e-commerce giant Alibaba Group and owner of the NBA's Brooklyn Nets, said in an open letter posted on social media: "The one thing that is terribly misunderstood, and often ignored, is that 1.4 billion Chinese citizens stand united when it comes to the territorial integrity of China and the country's sovereignty over her homeland. This issue is non-negotiable."
Tsai's comments came after multiple Chinese brands, including sports brand Li-Ning and Shanghai Pudong Development Bank, announced that they were pulling sponsorship deals with the Rockets.
China's biggest online shopping platform, Taobao, which is owned by Alibaba, removed all Rockets-related products from its e-commerce outlets on Monday afternoon.