Nobel Prize speculation mounts with Chinese writer among favorites
By Mei Jia | chinadaily.com.cn | Updated: 2019-10-09 22:21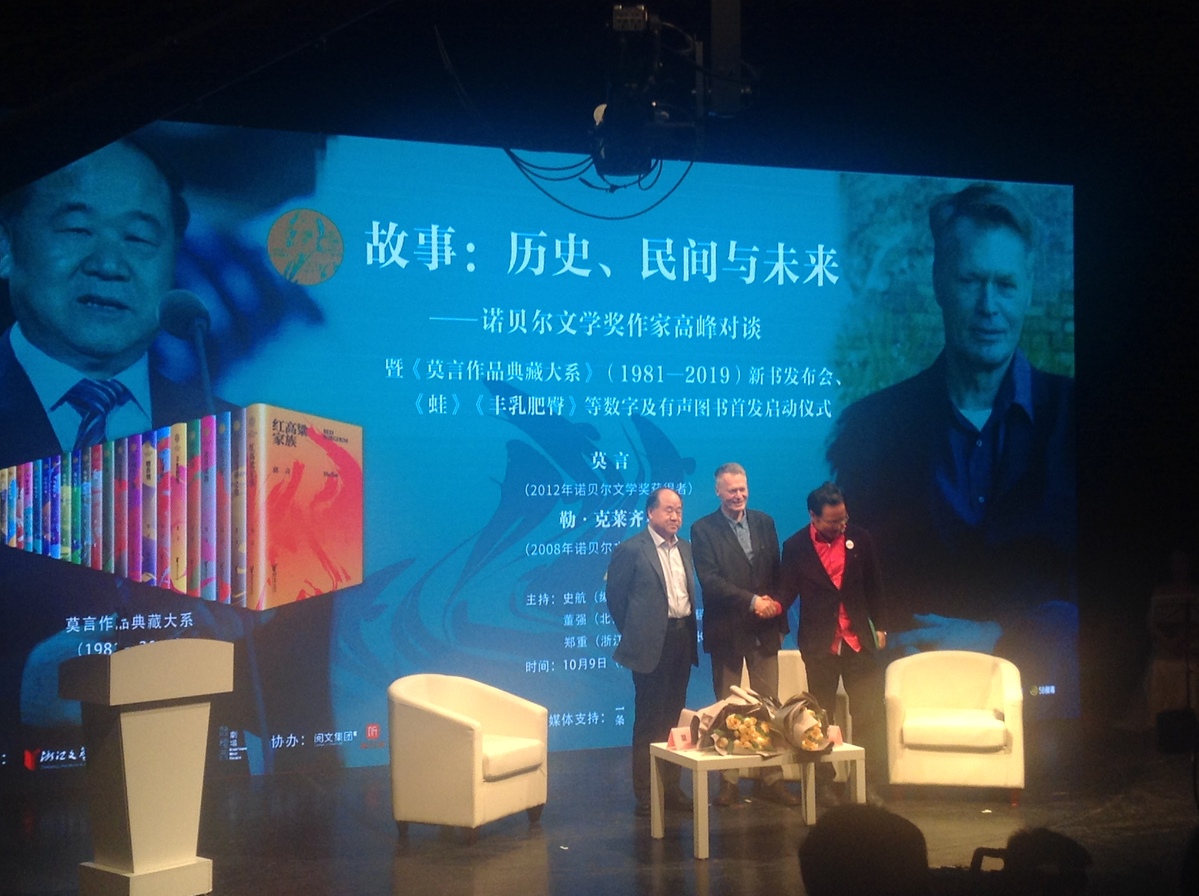 With the announcement of the Nobel Prize in Literature winners right around the corner – and with two laureates to be named for both 2018 and 2019's awards – Chinese people are getting involved in debates on and offline about who the recipients will be.
Two Nobel literature laureates on Oct 9, a day before the Swedish Academy makes its announcement, met in Beijing and shared their views on home, storytelling and history.
They witnessed the launch of a complete collection of writer Mo Yan's works by Zhejiang Literature and Art Publishing House.
Many Chinese people remember the excitement Mo Yan, a penname for Guan Moye, brought to them in 2012 when he was named a Nobel laurate.
French writer Jean-Marie Gustave Le Clezio, winner of the 2008 prize, said he shared the same happy mood that day and went to different bookstores to buy books written by Mo Yan to celebrate.
Speaking different languages, Le Clezio and Mo Yan understand each other well, "basically through careful reading of each other's literary works," said Mo Yan.
Le Clezio, 79, has had an affection and interest in Chinese culture for decades and 22 of his works have already been published in China.
Mo Yan invited him to visit his hometown in Gaomi, Shandong province in 2015.
"My eyes became moist once I stepped into the (small and simple) house where Mo Yan was born," Le Clezio said. "I could instantly associate the scene I saw to the words I've read from Mo Yan's stories."
"Mo Yan's works remind me of my childhood in a small farmers' village northern to my birthplace, Nice, where people could at least found some food amongst the bombs and fire of World War II," Le Clezio said.
He said he believes that besides official history's grand storytelling, there exists a minor history, told by farmers, women, and children.