Seniors search for second chance of love
Share - WeChat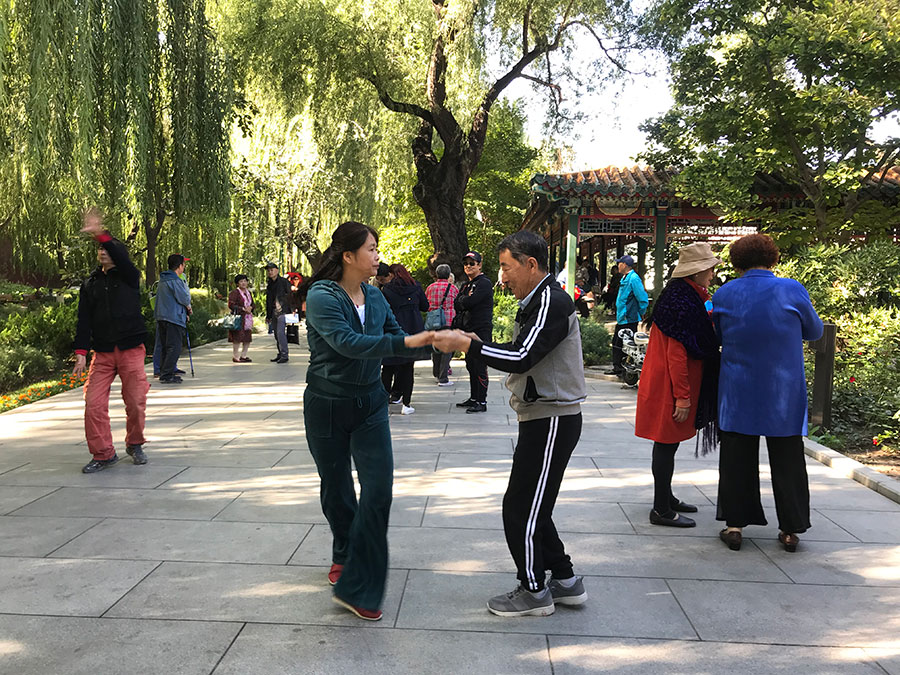 Companionship
Han Zhen, from Wuchang, Heilongjiang province, wants to find a husband who will understand her and provide companionship.
"It doesn't matter whether he has a house or a car, or where he comes from. As long as he is healthy, has a stable income and can provide a home for me, I will accept him," the 60-year-old said.
In 2005, Han and her family settled in Beijing's Tongzhou district, running a store that sold poultry. However, business was ruined by an outbreak of bird flu, so she closed her shop. At the same time, her husband sustained a blood clot in the brain, and she had to care for him until he died in 2012.
Han works as a cleaner, and her two unmarried sons have urged her to look for a new partner.
"My children think I have sacrificed too much for the family over the years, so they want me to find a partner who can share my life and provide companionship," she said.
Last year, a friend who lived alone died at home, but her body wasn't discovered for two days. The incident so shocked Han that she reconsidered her refusal to find a new husband.
"Older people are susceptible to health problems, including some emerging illnesses, so it's better to have someone around in case an emergency arises. It also reduces the impact on the children," she said.
At the end of 2013, China was home to 202.43 million people age 60 or older. By last year, the number had risen to 249.49 million, roughly half the population of the European Union.
Han thinks urban dwellers are more open-minded than their rural counterparts and don't gossip or make unpleasant comments about seniors who remarry.
"People in the countryside often think it's shameful if a senior remarries, and it also disgraces their children. They think seniors just need to follow their children's lives until they die. I don't agree," she said.
Fu, the Beijing native, lives alone on a fixed pension. He is looking for a wife who was born and raised in the capital. He has attended several matchmaking events organized by senior communities, but has not found anyone suitable.
"I hope to find a partner I can be with for the rest of my life. I think this is what most seniors need," he said, adding that a Beijing native would share his culture and habits, meaning he wouldn't have to adapt to her lifestyle.
"She would also be registered with the city's medical and social security system, so we wouldn't have problems with healthcare expenses."
He noted that many seniors remain single for fear of disturbing their children's lives, and when the children marry they help to look after the grandchildren.
"Few think about themselves, but now our circumstances and opinions have changed and the family is no longer a factor. It's time to plan for the rest of our lives," he said, adding that his son supports his decision, but some of his friends use the synonyms "nurse" or "dancing partner" at matchmaking events to forestall opposition from family members.
Seniors also have needs beyond simple companionship.
"We can't deny that some healthy seniors who have been single for years have sexual needs. They just cannot express that desire, so people automatically believe that they have no such requirements and think they just need to stay healthy," Fu said.
Chinese Sexuality 2000-2015, a study by Pan Suiming, a former professor of sexology research at Renmin University of China in Beijing, compared the sex lives of seniors. Pan found that in 2015, they had more than half the sexual activity they had in 2000, and they were all less sexually active than in their younger days.
Seniors have limited ways of finding new partners, so meetings through friends, blind dates or taking part in reality shows are common introductory channels.
Many local television channels have dating shows, and the ratings are usually quite high. Participants learn about prospective partners and then make a decision about who to date.
Choice, aimed at the middle-aged and seniors, topped the ratings for entertainment programs in the capital when it was launched by Beijing TV in 2009. Geng Ping's children are very supportive of her finding a new husband. They even signed her up for Choice, but the 63-year-old was too shy to appear on the show.
The Fushun, Liaoning province, native started visiting Changpuhe Park after a friend introduced her to the matchmaking events in 2013. Now she attends two or three times a year.