Epson steps up tech innovation efforts
By Fan Feifei | China Daily | Updated: 2019-10-23 11:18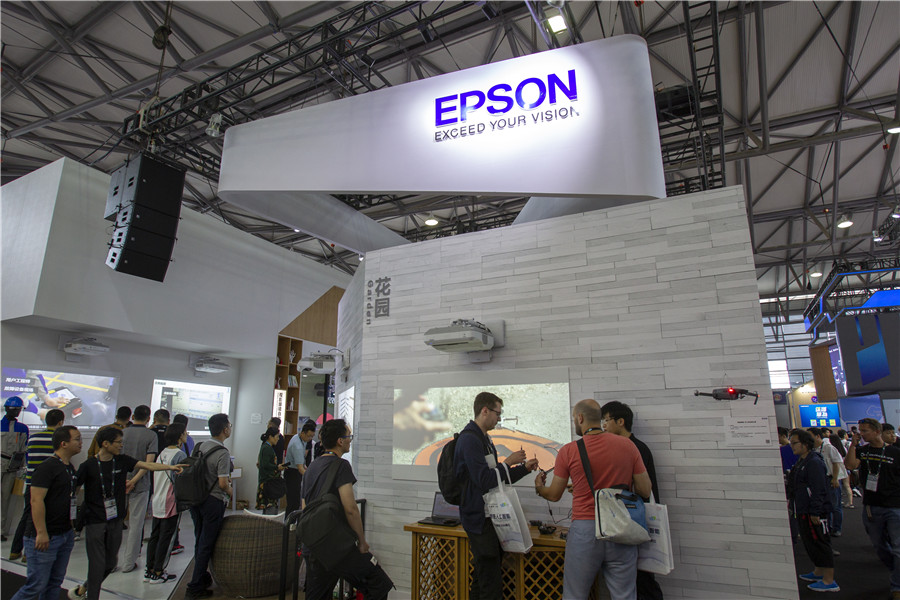 Japanese electronics company plans to focus on energy efficiency, miniaturization, precision and enhance its localization
Japanese electronics company Seiko Epson Corporation, commonly known as Epson, is stepping up efforts to innovate in the fields of inkjet printing, visual communications, wearables and robotics, and enhance its localization efforts in China.
Minoru Usui, president of Epson, emphasized that customers always come first for the company, which focuses on leveraging its efficient, compact and precision technology - to achieve energy efficiency, miniaturization, and precision and accuracy - to drive innovations.
He said the current business environment is complicated, and the speed of technological innovation, such as artificial intelligence and the internet of things, is very fast. Therefore, enterprises need to pay more attention to the fast-changing world, keep pace with change and seize opportunities.
After being appointed president in 2008, Usui began planning Epson's mid-and long-range growth strategy amid the harsh economic environment that followed the international financial crisis.
In an interview with China Daily, Usui elaborated on his vision and shared his thoughts on Epson's commitment to technological innovation and its development plan in the Chinese market.
Epson has some advantages in the fields of inkjet printers, visual communications, and wearable devices, and has accumulated a lot of experience in the robotics sector. What is your development plan for the robotics business in China?
We have been making robots since 1983. At that time, many Japanese companies moved their factories to China or Southeast Asia, where labor costs were relatively low. Faced with this situation, we hoped to create robots that could replicate the actions of human beings.
In addition, we have achieved automated production in the assembly of watches, and inkjet printers in our domestic factories. Through this work, we have accumulated a lot of technology experience in robotics. At present, our robots can move quickly, flexibly and precisely. In the process of robot manufacturing, the most important key component is the sensor, as it is necessary to use the sensor to grasp the action command accurately and quickly, and in this respect we have traditional competitive advantages, which come from the sensor technology in the manufacturing of quartz watches.
Apart from sensors, the robot also needs a control system, which is equivalent to an operating system or OS of a computer. We are constantly upgrading the software system that the robot is equipped with. At the same time, we are also cooperating with universities in Japan and abroad to accumulate artificial intelligence technology. With these advanced technologies, we can build robots that are more like human beings, which are fast, efficient and compact. These are the characteristics of the robots we produce.
Moreover, we can provide advice and consulting services to other factories on how to set up automatic production lines. We set up an office in China to conduct consulting work.
Epson entered the Chinese mainland market in 1997. Its business in China now accounts for 20 to 30 percent of Epson's total. How have your business partners and consumers in the Chinese market changed over the past 20 years? How have their ideas of consumption and doing business changed?
First of all, in the field of printing, China has developed rapidly in digitalization. The changes in China in recent years are amazing. I also found that Chinese people are increasingly environmentally conscious, and Chinese consumers want to buy more environmentally friendly products. For example, the popularity of new energy vehicles is quite high here, which indicates that China has made great progress in awareness of environmental protection in recent years. This might be influenced by the policies of the Chinese government, so we launched the corresponding EcoTank printers, which are suitable for their needs.
Epson announced its Epson 25 Corporate Vision (2016-25) in 2016. How do you think Epson should strengthen cooperation with the outside world?
We hope to carry out cooperation with more companies on the print heads of inkjet printers, including some Chinese companies. We have the technology, products and platforms that are involved in inkjet printers and inkjet print heads. We expect to make products in accordance with our users' needs, so we need to cooperate with partners who are closer to the markets, in a bid to speed up our work in this field.
For example, we hope to work with the companies that make POS (point of sale) terminal devices used in stores, to add some software to the devices and expand the sales in the Chinese market.
In terms of today's business environment, we think there are two serious problems. First, we are different from other companies in terms of consumables. We hope to reduce the use of consumables continuously. Second, the change of our business model is conducive to the economic development of emerging countries.
We have established certain business foundations in these countries, but our business is still facing great pressure and difficulties due to the exchange rate and the macroeconomic environment. However, I believe there is still huge growth potential in developing countries.
In recent years, the Chinese government has launched a series of measures to improve the business environment for foreign companies. How do you view these measures as a foreign company in China?
On one hand, I have just mentioned that there was nothing around our factories in China in the past. It was a remote place, but now has become a big city. On the other hand, I think the skills and preferences of the employees in China have changed, and now many of them are not willing to do too simple and boring work. We also know there are many highly educated talents in China, so we hope to change the factories in China into those that can provide added value in the future. They will attract more skilled talents, who can provide professional consulting advice to other companies or manufacturing factories. At the same time, we need to build a complete sales and service network.
Shenzhen, a high-tech hub known as China's Silicon Valley, has a unique environment in the field of hardware development. Does Epson have any development plans in this city?
I think Shenzhen is a city full of creativity, and we have two plans in Shenzhen. One is the change of our factory. At present, we have begun to adopt robots in our factory in Shenzhen, achieving a high degree of automation in the production process, and the products are also more complicated. Meanwhile, we can provide some value-added services. So we're going to gradually change the factory, which could attract more skilled people to enrich our products and services.
The second plan is that there are many partners in Shenzhen who want to use our print heads for cooperative production, so we are going to sell Epson's print heads to these partners and then collaborate with them to innovate.
Many young people prefer to work in big cities. How does Epson retain young people in Nagano (the headquarters of Epson), which is a relatively small city in Japan?
Some young Japanese want to live in big cities, but others want a challenging and attractive job. So although our company is headquartered in Nagano prefecture, we also provide some research and development jobs here, which is attractive. We will also move in a more creative direction and attract more young people who want to work for us.
I think what attracts young people more is that they can do their ideal jobs, so we have to do more creative work here than in big cities to attract young people.
We must give full play to our advantages, and at the same time we must think in the long term. Moreover, we must patiently continue to make contributions to social development and constantly improve our own technological and business capabilities.