I.M. Pei's New York home open to offers
By KONG WENZHENG and JUDY ZHU in New York | CHINA DAILY | Updated: 2019-12-06 09:59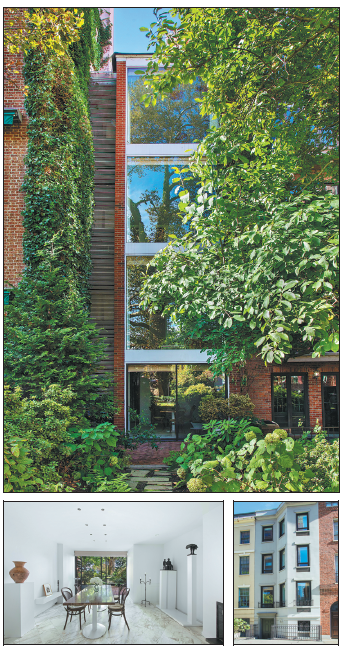 Edward Joseph, a broker from Christie's International Real Estate Group, which is handling the sale, said Pei also extended the rear of every floor and installed a wall of windows on the east side to "bring the garden into the home".
"That is a wonder to me-I have never seen anything like it," he said.
Pei had such windows in his office, the master bedroom-where he spent a lot of time in his final years-in the living room frequented by guests, and in the dining room, next to one of the few remaining private gardens in Manhattan.
Most of the art in the house was removed for auction or for preservation by the family. But several small pieces, including a small painting in a first-floor bathroom and a sketch by Pablo Picasso on the living room wall, are scattered throughout the premises, providing a glimpse of how the couple immersed themselves in art.
Cheng said the family acquired many of the pieces because the couple were friends of the artists. He said the family decided that selling many of them as collections would allow the world to learn more about the couple and "some pieces of Mr. Pei's memory".
Christie's handled the sale of the pieces at auctions in New York, Hong Kong and Paris. More than $20 million was fetched at the New York auction on Nov 13, according to Cheng.
Pei was always "a lovely and down-to-earth person", according to Cheng. The family lived modestly in the Sutton Place house, while many of the projects he worked on involved high-profile international landmarks, such as the glass pyramid in Paris and the Bank of China Tower in Hong Kong.
"If I have to summarize, I would say Mr. Pei was such a wonderful, wonderful individual," Cheng said.
Pei was involved in more than 60 projects worldwide, and in 1983, he won the Pritzker Prize-widely considered the highest honor for architects.
Born into a large, wealthy family in Guangzhou, Guangdong province, he was expected to become a banker, like his father who co-founded Bank of China, or a doctor, as his father had wished. But Pei's artist mother instilled in him an early interest in art and culture.
Pei moved to Shanghai with his parents when he was 10. The prosperous, Western-style buildings along the Bund inspired his dream of studying architecture. He once recalled that almost every day after school, he was drawn to construction of the Peace Hotel in 1929, which became the most luxurious building in the city at the time.