I.M. Pei's New York home open to offers
By KONG WENZHENG and JUDY ZHU in New York | CHINA DAILY | Updated: 2019-12-06 09:59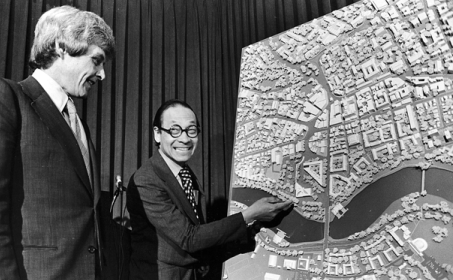 Shanghai is close to Suzhou, Jiangsu province, the location of the Pei family's ancestral home. Considered one of the four richest families in Suzhou during the Qing Dynasty (1644-1911), the Peis had lived in the city for 600 years.
In 1935, the 18-year-old Pei arrived in the United States to study architecture at the University of Pennsylvania, an Ivy League school in Philadelphia.
He was enthralled by the depictions of US college life that featured in films starring Bing Crosby.
"College life in the US seemed to me to be mostly fun and games," he said in 2000. "Since I was too young to be serious, I wanted to be part of it. Crosby's films, in particular, had a tremendous influence on my choosing the US instead of England to pursue my education."
Hu Shaoxue, a senior architect and professor with the Architectural Design and Research Institute at Tsinghua University in Beijing, recalled Pei discussing the Louvre Pyramid during a lecture at the university in 1994.
"He said people misunderstood him by relating the design to an Egyptian pyramid," Hu said. "He said he chose a pyramid shape because it was the smallest structure he could think of that would not disrupt the historic landscape of the Louvre whilst capturing as much light as possible."
Daniel M. Abramson, professor of the history of art and architecture at Boston University in the US, said, "In design, Pei's signature was the use of a few large-scale geometric shapes for building masses, both in combination (the National Gallery of Art East Wing in Washington) and standing alone (the Louvre Pyramid).
"Another signature was Pei's highly refined use of poured concrete. Both of these signatures-abstract shapes and attention to materials-made Pei a modernist architect, one interested in artistry, not standardization," Abramson said.
"Pei's refined restraint with the abstract vocabulary and materials of modern architecture-not to mention his acumen with clients and the public-made modern architecture not just acceptable but truly popular in the 1970s and '80s for monumental cultural and civic buildings."
Cheng, the family adviser, said: "Pei was such a well-known person, yet he was very down-to-earth. He always talked to me in a very nice way. Never for a second of my life dealing with him did I feel that he was looking down on me. He never did."
When they first met at the Sutton Place townhouse, Cheng was impressed by Pei's warm personality. Pei, then in his 80s, had long been a highly respected and award-winning architect, while Cheng, who was in his 30s, had been invited to visit by Pei's children-who were also his close friends-for a family dinner.
Feeling overwhelmed and honored, Cheng was greeted warmly by Pei.
"He said: 'Oh Kai, I heard a lot about you from Liane (Pei's daughter). I'm so glad you joined us for dinner here'," Cheng recalled.