More than just a picture
By Zhang Kun | CHINA DAILY | Updated: 2020-01-10 08:14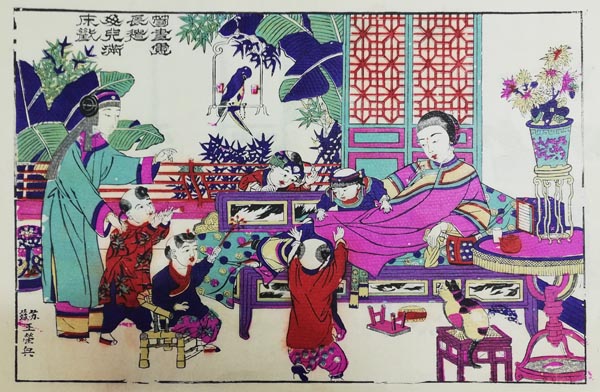 Four places in China have been recognized as the most famous centers for the creation of Lunar New Year prints: Yangliuqing in Tianjin, Yangjiabu in Weifang of Shandong province, Taohuawu in Suzhou of Jiangsu province, and Mianzhu of Sichuan province. Apart from these, China has nine other places that have been registered as venues for the intangible cultural heritage of Lunar New Year prints.
While each place features a distinctive style, some subjects are popular all over the country, such as gods and immortals, plants and animals that have auspicious meanings, scenes of children playing, as well as legends and historical stories.
Shanghai's own school of nianhua was established in the early 1700s when merchants used to showcase their prints at an old military complex in the old town of Shanghai. This school was later named Old Drill Ground Road.
Prints from the Old Drill Ground Road feature subjects from the local news and anecdotes of the city. One of the most famous pieces produced by the school was the Western Chiarini Circus, which depicts animal performances and Western acrobats performing stunts.
In the early 20th century, new print technology was adopted and Lunar New Year prints in Shanghai took on a new look. Landmark buildings, women in trendy clothes and other images reflecting the modern metropolis began to appear and soon won popularity all over the country.
After 1949, pictures related to the War of Resistance Against Japanese Aggression (1931-1945) started emerging, calling on Chinese people to unify and join the battle. Years later, prints portraying the urban lifestyle and the close ties between Chinese leaders and the people were created.