More than just a picture
By Zhang Kun | CHINA DAILY | Updated: 2020-01-10 08:14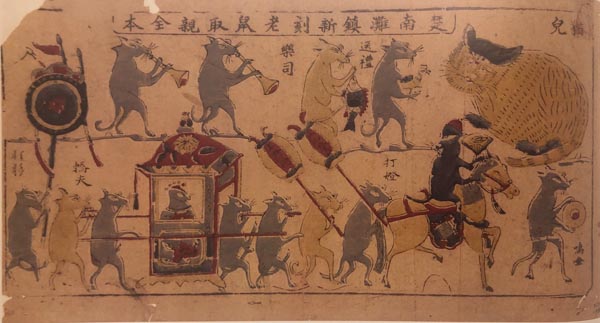 Lunar New Year prints make up an important section in the Shanghai History Museum's collection as they reflect the local heritage and culture of the city, says Shao Wenjing, curator of the exhibition and a researcher at the museum.
Some of the prints displayed at the ongoing exhibition were created in areas previously not known to have them, such as the Inner Mongolian autonomous region and the Xinjiang Uygur autonomous region. These pieces have come from the collection of the Three Gorges Museum in Chongqing.
It was Wei Juxian (1899-1989), a historian and archaeologist from Shanghai who donated the prints to the Chongqing government after the People's Liberation Army took over the city from the Japanese in 1949. He donated a total of 22,600 pieces from his collection to show his support and loyalty to the new government.
In the 1950s, the Chongqing Museum was built, and Wei's donation was merged with the new museum's collection. The same happened in 2000 when the Chongqing Museum was subsumed by the new Chongqing China Three Gorges Museum.
According to Zhang, Wei's donations have been an important asset for the museum.
"Researchers have made many discoveries and publications about these works, and more importantly we have shared the artworks with the public in Chongqing and other parts of China," Zhang says, adding that the Lunar New Year prints have been on exhibition frequently, especially during Spring Festival.
In ancient China, part of the tradition of printmaking was passed down within the intellectual circle. Craftsmen had books printed and masterpiece water-ink paintings copied by engraving the strokes and color-blocks intricately on wooden panels. Today, traditional printmaking for Chinese art is still alive due to the efforts of renowned studios like Rongbaozhai in Beijing and Duoyunxuan in Shanghai.
"The Lunar New Year prints represent the other side of the printmaking tradition in China," Shao says.
"It is more about grassroots culture and is very accessible to almost all the ordinary folks who used to put such prints up in the kitchen, on the walls and even on the gates of their pigsties."
To bring the exhibits closer to the public, the Shanghai History Museum has been encouraging visitors to try their hands at printmaking during the exhibition. The museum will also be organizing games and interactive events for visitors during Spring Festival.