Authorities pledge to bolster financial stability
By Chen Jia | China Daily | Updated: 2020-03-23 06:52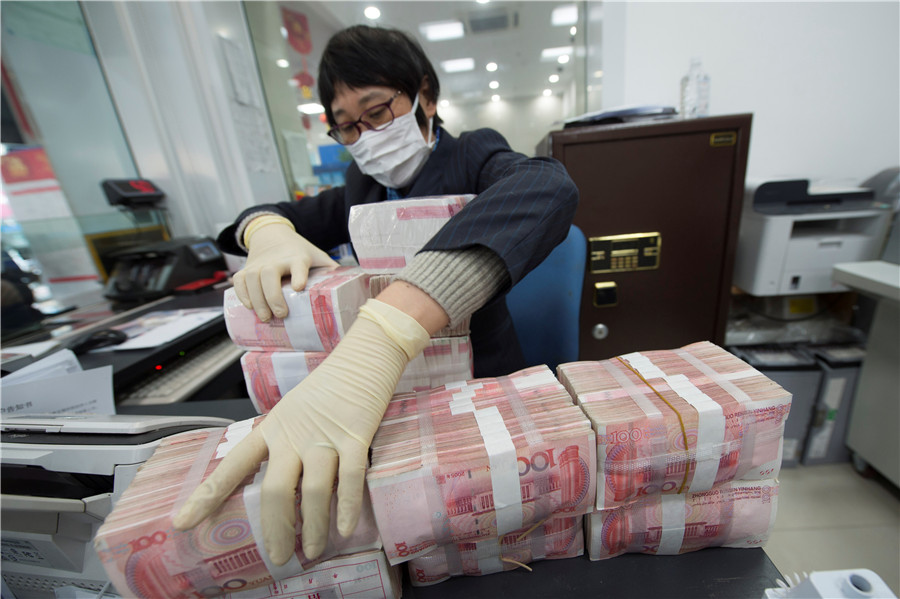 Chinese monetary authorities have vowed to safeguard financial stability, coordinate with multilateral mechanisms and keep the currency stable to offset global economic shocks, according to senior officials on Sunday.
Domestic capital and foreign exchange markets remain relatively stable amid the recent global financial turmoil, and China's economy is predicted to bounce back from the second quarter, with less inflation pressure, said Chen Yulu, vice-governor of the People's Bank of China, the central bank.
Chen said the priority of monetary policy is to maintain currency stability, which requires price and foreign exchange rate stability. The impact of the novel coronavirus epidemic on supply and prices may last for a short period, and consumer inflation will be gradually eased in the next three quarters, after its peak of 5.3 percent in January and February.
"It is too early to say that the global financial crisis has ended. It still needs time to see the effects of some countries' measures to contain the financial turbulence," he added.
"China's financial system maintained its resilience during the global market fluctuations, which was also a contribution to international financial stability."
An International Monetary Fund official said on Friday that China's experience so far shows that the right policies make a difference in fighting the disease and mitigating its impact, referring to the Chinese government's quick action to provide financial support to firms under pressure.
"Chinese policymakers will have to be ready to support growth and financial stability if needed. Given the global nature of the outbreak, many of these efforts will be most effective if coordinated internationally," said Helge Berger, assistant director of the IMF's Asia and Pacific Department.
Chen, vice-governor of the central bank, said, "China supports the G20, the IMF and other international multilateral platforms and institutions to continue to play an active role in policy coordination and crisis relief, effectively prevent and control the impact of international epidemics, and maintain the stability of the global economy and financial markets."
China's central bank has incentivized commercial lending to smaller firms via special funding and providing targeted cuts to reserve requirements for banks, and has forecast an obvious improvement in major economic indicators in the second quarter.
"The PBOC still has room for future monetary policy easing because interest rates and reserve requirement ratios can be lowered more," said Li Yan, an analyst at Moody's Investors Service.
"It also has other tools at its disposal to implement policy changes. We expect regulators to introduce additional supportive policies and measures as part of nationwide efforts to boost the economy as people return to work," according to Li.
Whether the central bank introduces additional measures depends on how quickly the epidemic can be controlled. The growth of broad money supply and aggregate financing should match, or be even faster than the growth rate of nominal GDP, said the central bank official.
Global stocks tanked last week at an alarming pace and financial losses have occurred from crude oil to equity trading, with large fluctuations in currencies.
"Multiple nations are still in the process of announcing more controls and restrictions that are clearly although put in place for very good reasons, creating anxiety for investors and the average person in the street trying to adapt to this environment," said Jameel Ahmad, global head of currency strategy and market research at FXTM, a global foreign exchange platform.
As of Friday, the onshore-traded renminbi had depreciated by 1.4 percent against the US dollar this year, compared with a 13.4 percent drop of the emerging market currency index. During the same period, the US dollar index rose by 5.2 percent, Xuan Changneng, deputy head of State Administration of Foreign Exchange, said on Sunday.
The rise of the US dollar index was mainly because of the US dollar liquidity crunch amid the stock sell-offs, not because of the deterioration of economic fundamentals, said Xuan.
The RMB exchange rate is expected to remain stable at around 7 yuan per dollar, fluctuating slightly around this point in the future, despite external financial fluctuations. RMB assets may be attractive for global investors as some major economies have introduced subzero policy rates, but China still maintains a conventional monetary policy, which has greater interest rate spreads, said Chinese financial regulators.