Knights at the museum
By Wang Kaihao | China Daily | Updated: 2020-03-26 07:44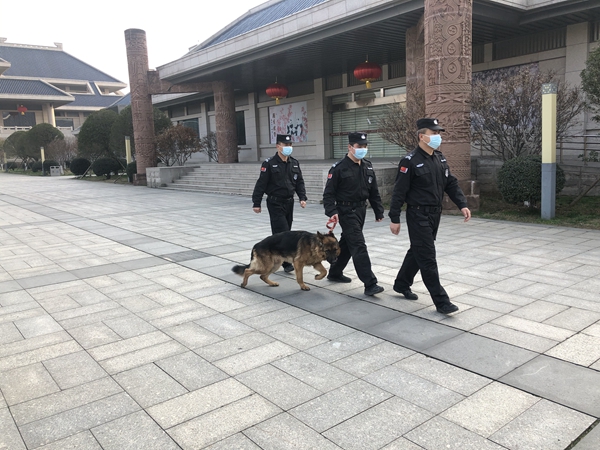 "Many employees live near the museum and go back home every day," Fang says. "It's too dangerous for so many people to be exposed to public spaces outside every day."
Consequently, after discussions with colleagues, he cut the number of essential overnight personnel down to 75 and declared a "total shutdown" on Jan 27, meaning not a single employee on duty was allowed to leave the museum and no one else was allowed in.
Fang calls them the"75 warriors".
Most of the "warriors" are voluntary, but some were reluctant at first.
"After all, people have their families to take care of," Fang says. "I am deeply touched that some employees said 'yes' when we asked for their help."
Xu Yong, for example, is one of three employees who are taking turns to watch over some of the museum's facilities at night. At the last moment, before the total shutdown went into effect, he decided to remain at his post without telling his family beforehand because he knew they would not agree.
Xu says his 18-year-old son seems to have grown up overnight, because the teenager, who had seldom done any housework, has begun cooking dinner and taking care of other family members during this crisis.
Fang could not join his colleagues during the earliest days of the shutdown because there was a confirmed case among the attendees of a conference he had attended. Staying at home for a 14-day quarantine period, he was always online to keep abreast of the goings-on at the museum.
However, once the two-week quarantine was lifted, a healthy Fang decided to return to the museum on Feb 13, becoming not just the only exception to his shutdown rule, but "the 76th warrior".
"It is the front line," he says. "Our museum is next to hospitals. Ambulance sirens keep roaring. For us, they sound like flying bullets, and we have to be like fighters."
Employees have to spray sanitizer all around the museum, especially the front doors, twice a day. Food bought from outside also requires disinfecting.
"The museum is a confined space," Fang explains. "We know that if one person should get infected, it would become an avalanche."
However, the "76 warriors" soon ran out of ammunition-masks and sanitizers. Fortunately, museums from across the nation, and even overseas, offered support to Fang.
For example, the National Museum of China in Beijing donated 5,000 masks, the Shanghai Museum offered 4,000 and the national council of museums in the Republic of Korea sent 1,000.
Fang recalls that he was saddened to hear that several of his employees outside the museum were suspected of contracting COVID-19, but, fortunately, tests found them all to be virus free.
"It seems easy for me to tell you now," Fang says. "But there were many such psychological challenges. We were on the edge of being crushed by bad emotions. The only way out was to just keep going."
About 60 of the employees, who were not part of the cadre inside the museum, took up voluntary roles in their own neighborhoods to help short-handed community workers.
Fang keeps a diary these days to carefully record every donation he receives during the crisis, noting that writing the entries about the status of the epidemic and the details of his daily work is a good way to avoid panic and keep confidence.
A sense of humor is probably his biggest source of optimism.
Bai Jie, head of the capital museum in Beijing, asked whether any help was needed, Fang records in his diary. Fang replied: "As someone living (by the Yangtze River), can you imagine how it feels that