Knights at the museum
By Wang Kaihao | China Daily | Updated: 2020-03-26 07:44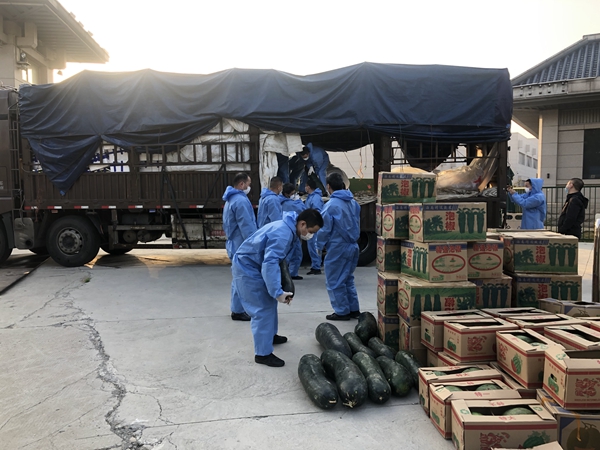 we haven't eaten fish for so many days?"
Nearly 800 tins of canned fish arrived shortly afterward, which Fang says "not only satisfied our cravings, but also cheered people up".
"We immediately gave every employee a tin," Fang writes. "We're so happy!"
Hainan Museum sent a cargo of vegetables and fruits.
"You know how difficult it is to drive such a long way just to provide us with nutrition?" Fang asks, rhetorically. "We are in a shutdown, but we're not alone in the war."
As more masks kept arriving at his museum, Fang says they had enough spare to support the other museums in Wuhan, where supplies were also lacking.
One day, Fang found it was too warm to still wear his down jacket when he stepped outdoors, so he went online and bought a lighter coat.
With the arrival of spring also comes the return of some online-shopping services and the turning point of the war against the virus.
On March 17, Day 50 of a total shutdown at the museum, no new case of COVID-19 was reported in the city. The rigid restrictions were partially lifted and some employees could return home.
It was then that Fang told his friends-the museum operators who offered him such great help-for the first time that he had locked himself down inside the museum for more than a month.
"If I had told anyone, many more phone calls would have followed and they would have worried about me," he explains. "But I needed to focus on doing my job."
Fang chooses to continue spending every day in the museum.
"I'll stay here until the day we open the doors again," he says.
No specific date has been set to reopen the Hubei Provincial Museum, but silver linings have appeared. Galleries of the museum, which had been immersed in darkness for two months, were lit up again on Sunday.
A livestreamed broadcast was shown on several online platforms that morning, offering a virtual tour of the national treasures housed at the museum. The chime bells of Marquis Yi, safe and sound, appeared to the public once more, albeit through a myriad of screens.
Fang tells China Daily that almost 8 million people tuned in to the livestream during the one-hour digital tour. In contrast, the museum attracted just 2 million visits in the whole of 2019.
"The only feedback we can give to people is to offer even better exhibitions and services in the future," he says, his voice cracking with emotion.
Hubei provincial authorities declared on Tuesday that Wuhan's lockdown will end on April 8.
Fang has already taken on a new mission, even before the all-clear is fully sounded.
On March 18, the National Cultural Heritage Administration released a notice guiding the nation's museums to collect artifacts related to the outbreak of COVID-19 as "representative witnesses" of history.
Fang has drafted a long list of the items that he wants to collect, including medications, testing kits, personal letters, mourning cards for the perished, pamphlets and public service posters and banners offering advice about how to stem the spread of the virus, among other varieties.
"Probably, many items we used during our shutdown can be collected as well," Fang says.
His diary, though not handwritten but in digital form, has already been received by a museum in Beijing, he reveals.