Najib's guilty verdict rocks Malaysia but gives PM Muhyiddin opening to shore up support
By PRIME SARMIENTO in Hong Kong | China Daily | Updated: 2020-07-31 17:00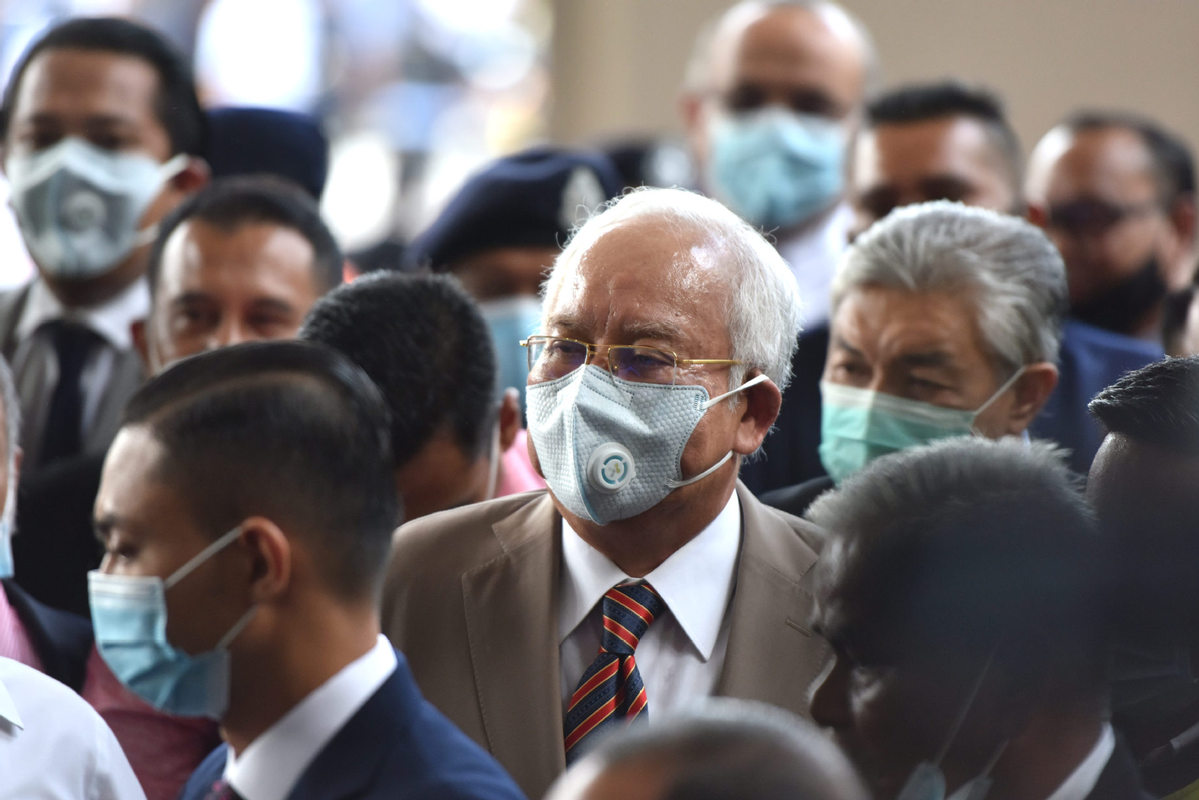 The conviction of former Malaysian leader Najib Razak has major political implications for the Southeast Asian country which has been in a state of flux in recent years, according to analysts.
Najib's conviction, they said, has given incumbent Prime Minister Muhyiddin Yassin some time to bolster his razor-thin majority in parliament and resolve the infighting within the ruling Perikatan Nasional (PN) coalition.
The Kuala Lumpur High Court on July 28 found the former prime minister guilty of corruption owing to his involvement in the multibillion scandal at state fund 1Malaysia Development Berhad (1MDB). Najib, who was released on bail pending his appeal to the Federal Court, was sentenced to 12 years imprisonment and fined 210 million ringgit ($49.52 million) though he could appeal his case.
Prior to this conviction, there was speculation that he would make a shock comeback if a snap election was held as he remained an influential member of the United Malays National Organization (UMNO) – one of the major parties behind PN.
UMNO president Ahmad Zahid Hamidi told a news conference the party would quit the Perikatan Nasional coalition and strengthen its partnership with the Islamic party PAS, also in the coalition. Though the party said it would continue to support the government in parliament, but its shift still undermines the current administration.
But with Najib sidelined, Muhyiddin can now have the space to build alliances and prevent the holding of a snap poll that threatens his shaky hold on power.
"He is only safe (in his position now) because he has a two-seat majority in the parliament. But Muhyiddin has very limited political capital," Mustafa Izzuddin, senior international affairs analyst at political consultancy firm Solaris Strategies Singapore, said.
Mustafa alluded to the July 13 opening session of the Malaysian Parliament which saw PN only winning by two votes in its move to oust the House Speaker installed by the previous administration of Mahathir Mohamad.
Muhyiddin is the president of Malaysian United Indigenous Party (Bersatu), which is part of the ruling coalition. But PN is dominated by larger parties such as UMNO and the Malaysian Islamic Party or PAS.
If UMNO leaves the coalition the incumbent PM will lose his thin majority in parliament. Muhyiddin will then be forced to call for snap elections and face difficulties retaining his post with less support.
Muhyiddin himself came into power on March 1 because of political infighting. On Feb 24, then Prime Minister Mahathir Mohamad resigned from his post following disagreements over the planned transfer of power to Anwar Ibrahim. The transition was part of Mahathir's promise to Anwar when they decided to form the Pakatan Harapan (PH) coalition that defeated the UMNO-backed Barisan National in the 2018 elections.
After Mahathir resigned, Bersatu president Muhyiddin said the party will be bolting out from PH. Without Bersatu, PH lost its majority in parliament and the then Mahathir-led government was dissolved. Bersatu would later join other parties including UMNO and PAS to form PN which endorsed Muhyiddin to the Malaysian monarch.
Bridget Welsh, honorary research fellow with the University of Nottingham Malaysia's Asia Research Institute, said there is strong pressure on Muhyiddin to hold snap elections as he came into power without the support of a popular vote. She said Muhyiddin might need to "focus on shoring up his position and settling conditions that are more favorable for him in an election – which is not yet there and will always be risky".
Wong Chin Huat, political scientist at the Jeffrey Cheah Institute on Southeast Asia in the Kuala Lumpur-based Sunway University, said that while snap polls will not benefit Muhyiddin, he actually got an unexpected reprieve from Najib's guilty verdict.
"He could claim that the anti-graft drive that started under (the Mahathir-led administration) is continuing under him," Wong said.
He added that this will allow Bersatu "to have product differentiation from UMNO". Wong said that both UMNO and Bersatu appeal to Malay voters – the majority ethnic group in the country's multicultural society – but Bersatu can now position itself as a party that is committed to good governance.
Najib is the first Malaysian leader to be criminally convicted. Analysts have praised the verdict handed down by judge Mohamad Nazlan as it has shown the independence and impartiality of the Malaysian judiciary.
"This decision is a good one for Malaysia, as it showcases the rule of law, separation of powers and anti-corruption efforts. It is a first step to address the serious problem of corruption caused by the world's largest kleptocracy scandal to date," University of Nottingham's Welsh said.
Awang Azman Awang Pawi, associate professor at the Academy of Malay Studies at the University of Malaya in Kuala Lumpur, said Najib's conviction also sent a message that everyone can enjoy the protection of the rule of law.
Wong said Najib's conviction is a time of soul-searching for UMNO, noting that not all party members support Najib.
"This may divide UMNO party members as those who are not implicated (in the 1MDB scandal) and those who hold senior positions in the current government may be happy for the party to move on and leave Najib and his allies behind," he said.
Awang Azman said that with Najib barred from running for any elective post, UMNO has lost one of its popular leaders.
"UMNO will move on without Najib," he said. Still, he does not see this as the end of Najib's political career as he remains popular among conservative Malays.
"Najib is still appealing his case. Anything can happen in politics," Awang Azman said.