Music fans head for breath of fresh air
By Chen Nan | China Daily | Updated: 2020-08-10 07:16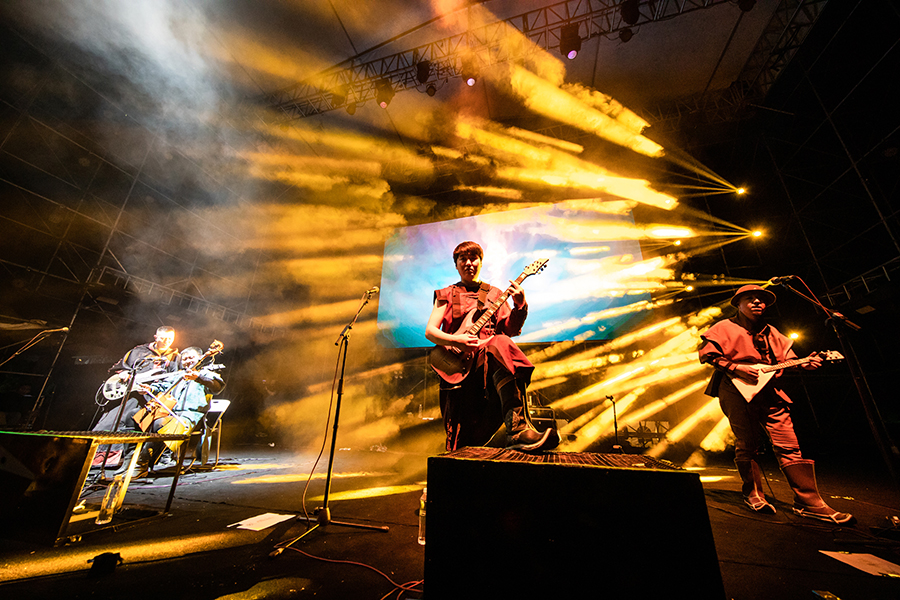 Askhan, lead vocalist and guitarist with the folk metal band Nine Treasures, from Inner Mongolia autonomous region, said: "Since the onset of the pandemic, it's been difficult to make a living. It is hard to plan for the future."
Founded in 2011, the band, which also comprises bassist Orgil, drummer Namra, morin khuur (horse-headed fiddle) player Tsog and stringed instrumentalist Saina, gained a following overseas after making a European tour in 2015. Fans have been attracted by the band's traditional instruments and its interpretation of hard rock.
Before the pandemic, Nine Treasures was touring the world and also staging at least two shows in China every month.
"It's not easy to build a connection with our fans. In the absence of live shows, we could only reach them through online events, which was very disappointing," Askhan said. "While uncertainties still surround the return of live performances, we're happy to be able to work again."
The band will give its first live show this year at the festival in Chongli, which will also feature Hedgehog, a rock outfit based in Beijing.
When the event was officially confirmed, Hedgehog's lead vocalist and guitarist Zhao Zijian posted on Sina Weibo: "Finally, we can play for you in person. The summer is complete with rock music."
Founded in 2005, Hedgehog comprises Zhao, drummer Shi Lu and bassist He Yifan. It is one of the country's most popular bands, performing during festivals at home and overseas, including shows in New York and Helsinki, the Finnish capital.
As it has been unable to perform live due to the pandemic, the group has been busy with its latest album, A Newborn White Immortal, which features 12 original songs and was released on July 13.
Last summer, the group took part in the reality show The Big Band, which saw the emergence of many Chinese indie rock acts.
On July 25, the second season of the show premiered on iQiyi, one of the country's major online streaming platforms, with 33 indie rock bands competing.
While creating an online buzz with performances by established bands, such as Re-Tros and Muma, and newcomers, including Fulushou and Mandarine, the show has reignited fans' passion for live music.