Starbucks doubles down on China play
By WANG ZHUOQIONG | CHINA DAILY | Updated: 2020-08-11 08:51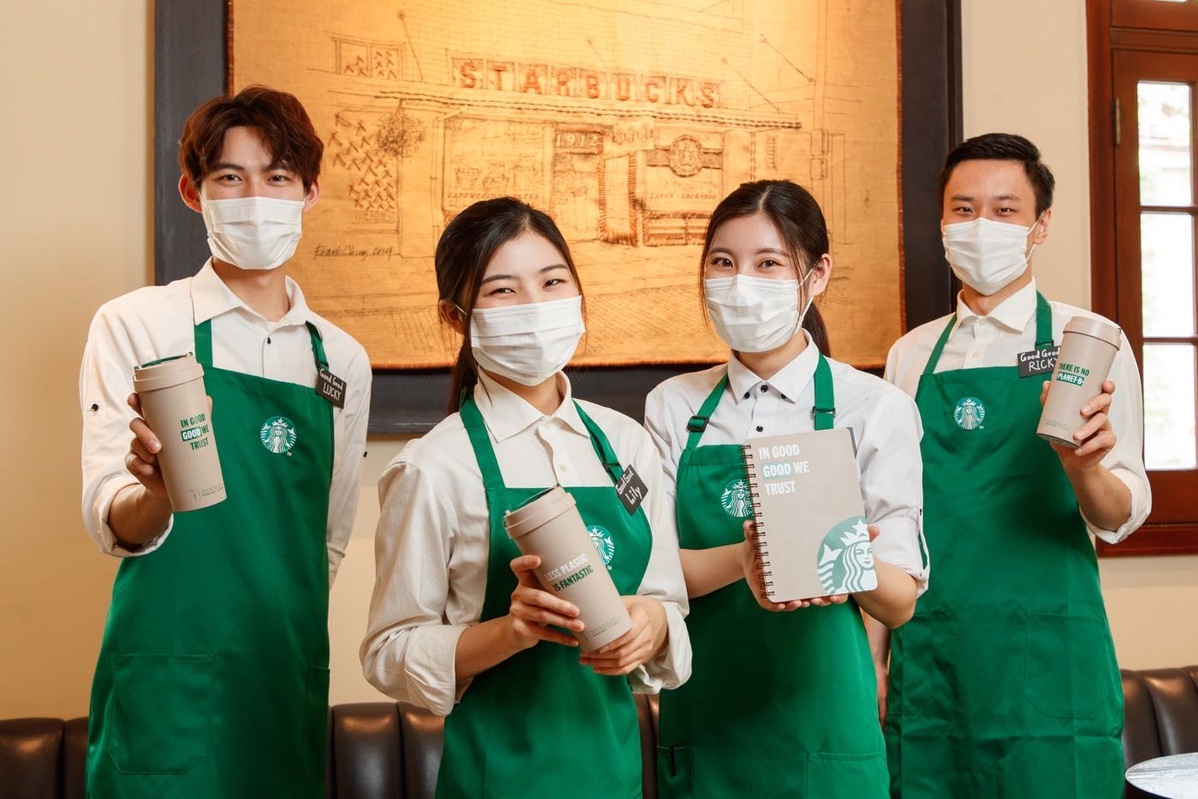 Starbucks Corp, the world's largest coffee house chain by annual sales revenue, has doubled down on its commitment to the China market by reopening its renovated flagship store in Beijing's upscale commercial and lifestyle hub of Sanlitun.
Company executives said the coffee chain is also on track to open 500 new stores by the end of this fiscal year, despite the temporary setback from COVID-19.
Leo Tsoi, chief operating officer and president of Starbucks China Retail, the local unit, said the firm's long-term development strategy in China remains firm despite the challenges and difficulties posed by COVID-19.
"We will continue to increase our investment in the country, making efforts to bring top-level coffee and continuous innovations."
Opened seven years back, the Sanlitun store was the coffee chain's first flagship outlet on the Chinese mainland. It received a major renovation that introduced the firm's signature Reserve coffee and Bar Mixato, which integrates modern cafe and bar experiences for the benefit of younger consumers.
This move is expected to increase nighttime footfalls as well, in line with the growing summer trend of night economy in China.
Starbucks in China has been innovating its in-store experiences, expanding its presence by adding more stores, and diversifying outlet formats, in an effort to deepen its connect with local communities.
Last week, it introduced a group order function on its mobile app as well as WeChat. This feature targets groups of consumers at workplaces or at meeting and conference venues, allowing them to customize their preferences, thus making bulk deliveries quick and convenient.
By the end of May, Starbucks boasted more than 4,400 stores on the Chinese mainland, including 281 that were added this year. So far, about 99 percent of its stores in China are open and serving their respective local communities. About 90 percent of Starbucks stores in China have returned to pre-pandemic operating hours.
Starbucks had paused new store openings in China in the first quarter of this year due to the pandemic. But, store development activities resumed toward the end of March.
Between April and June-it is Starbucks' fiscal third quarter-nearly 100 new stores were opened across China, including some debuts in two cities.
At the end of June, there were 15 Starbucks Now stores, which provide consumers the convenience of mobile ordering for pickup and delivery in six cities. The company has plans to introduce such innovative stores in several tier-two cities in the coming months.
In April, Starbucks announced a strategic partnership with Sequoia Capital China, an investment firm, to tap into the country's growing technological landscape, and to further digitalize its retail experiences and optimize operations.
In the same month, the company joined hands with plant-based innovators Beyond Meat Inc and Oatly to launch new plant-based choices at its stores across China.
In March, Starbucks unveiled plans to build a Coffee Innovation Park in China to extend its global roasting network and lay a solid foundation for continued business growth and development.
According to the On-Premise Coffee Consumption report published by Mintel Group Ltd, a research firm, in December 2019, the on-premise coffee market's sales reached 42.6 billion yuan ($6.07 billion) in 2019 and will grow at 15.6 percent annually from 2020 to 2024.