Chinese broaden their horizons at UN
By LIU XUAN | China Daily Global | Updated: 2020-09-15 09:13
Younger generation gains valuable experience working for global body
Editor's note: As the UN celebrates its 75th birthday, young Chinese working at its headquarters in New York or in the field share their stories.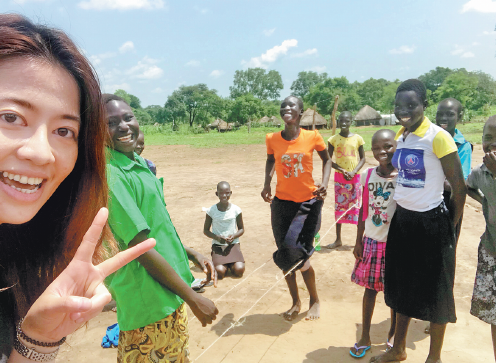 Since mid-March, Ge Xinyi has been working from home in New York City due to the COVID-19 pandemic, only recently planning to return to the office occasionally after restrictions were eased.
Ge, who will be 28 this year and is from Wuhan, the capital of Hubei province, has spent four years at the headquarters of the United Nations Children's Fund, or UNICEF, where she works as an officer responsible for planning, monitoring and evaluating organizational communication and advocacy-related activities.
"We (UNICEF) have a lot of short-, medium-and long-term strategic plans, and my job is to make sure the plans are on track," Ge said, adding that this is her third role in the UNICEF office.
During the pandemic, she has focused on the agency's COVID-19 global communication plan, such as monthly priorities. She also provides updates twice a week on work and campaigns related to the disease.
In May, she also took on the task of working out ways to better implement UNICEF's programs through publicity and communication during the pandemic.
"Through the dissemination of information, we want to advocate changes in behavior and let the programs help local people," she said.
The agency has long encouraged hand-washing, but the pandemic has given Ge and her colleagues a chance to further raise awareness of the importance of this to help contain the virus.
"It is also an opportunity to push governments to invest more on improving water sanitation, which will result in improvements to child health," she said.
Before taking on her current role, Ge worked for UNICEF's Office of Emergency Programmes. Her duties included monitoring humanitarian assistance in emergencies caused by wars, natural disasters, public health issues and political conflicts, and providing guidance for member states' offices.
Working in a fast-paced department is not easy, but Ge said she enjoys setting herself challenges.
"I started my previous job in September last year, and we were scheduled to launch a flagship report in early December. That meant I had to familiarize myself with the entire working process as soon as possible, and I had to take immediate action," she said.
Ge's boss once told her that the job was like throwing someone who can't swim into a pool and getting them to learn how to swim by themselves.
"It can be a painful process, but you feel a great sense of achievement once you succeed," Ge said.
Ge's passion for the UN was likely ignited years ago when a "Model United Nations" event was held at her high school.
"I was unfamiliar with the UN, but I met lots of friends and really enjoyed the whole process. I was even presented with an award, which was completely unexpected," she said.
In her freshman year, Ge traveled alone to the Czech Republic for an internship sponsored by a European Union foundation. She also attended the 2012 United Nations Climate Change Conference in Doha, Qatar.
"I found I wanted to do something related to public affairs and to work in the UN system, so I applied to take a master's on social policy in the United States," she said.
After graduating from the University of Pennsylvania, Ge spent almost two years as an intern and later as a consultant in the Department of Economic and Social Affairs at UN headquarters.
In 2016, after completing several interviews and examinations, she finally became an official UNICEF employee.
"Working in the UN system is a particularly good learning process because you meet people from different countries with different backgrounds," she said.
Ge has also had the chance to experience problems and situations she is unfamiliar with, but which are prevalent in some countries. This has given her a more comprehensive understanding of the world.
"Working here allows you to keep an open mind on different views," she said. "This is a process of continuously broadening the way you think."
Ge said she would like to do frontline work or relocate to a UNICEF office in Southeast Asia or Africa to access more on-the-ground projects.
"The work at (UNICEF) headquarters is very important, but I also want to get involved in the implementation of the policies we generate. I want to do some specific things that can help me better understand the meaning and importance of my job," she said.