Sea Burials given a sense of dignity
Share - WeChat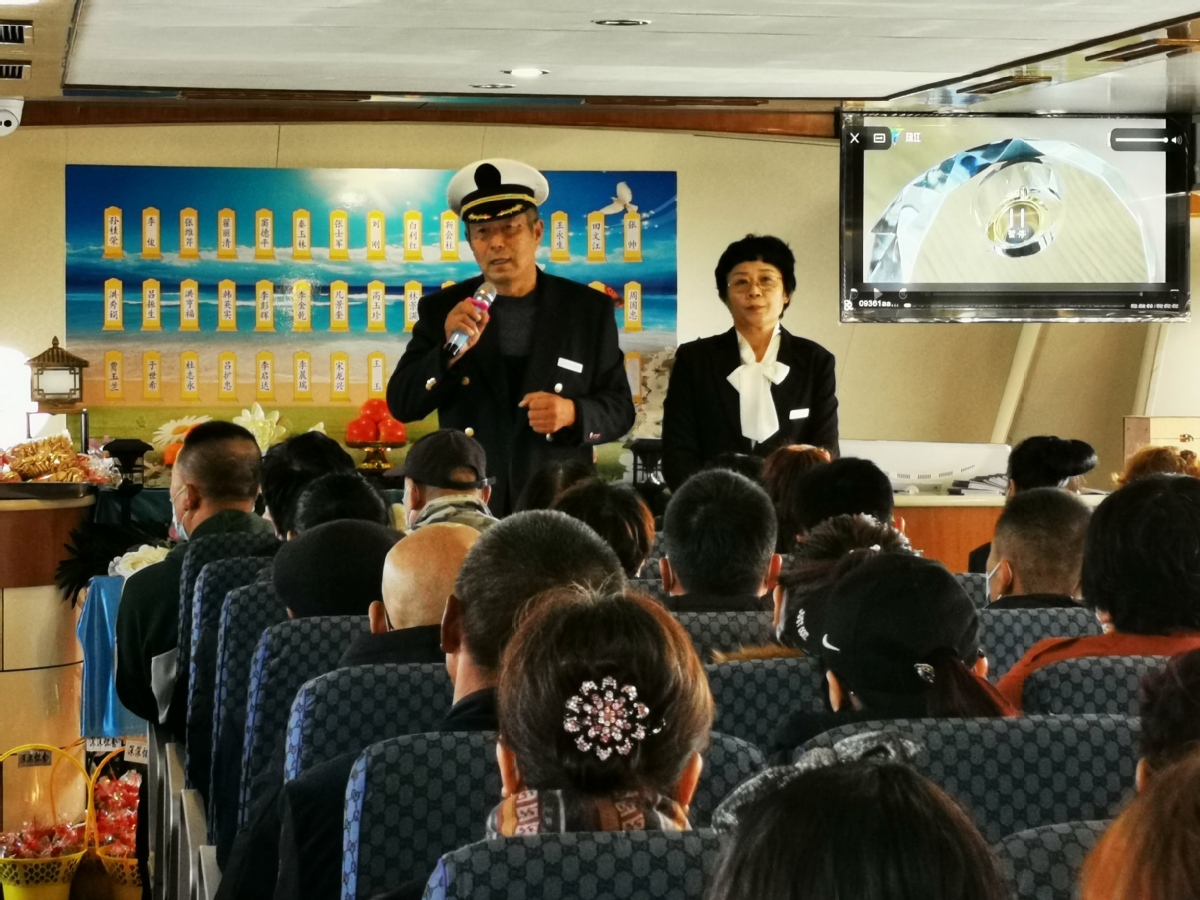 Better service
Chen tends to work all year round, except for Lunar New Year's Day.
It takes about 30 minutes to sail from the berth in Dalian to reach the 1.86-square-kilometer site designated for sea burials. There, marine clay urns containing the ashes of the deceased are ceremonially lowered into the ocean.
"The urns sink to the bottom. Within three days, they disintegrate in the water, while the ashes sometimes mix with the marine clay. It brings another kind of peace to the deceased," Chen said.
The urns are made from biodegradable material, including pottery clay, marine clay and kaolin, which is used to make porcelain.
Chen owns a factory that produces the urns.
"At the start, when we had no containers, people just spilled the ashes into the sea. The urns are environmentally friendly, add a ceremonial touch to the funerals and prevent the ashes being scattered all over the deck," Chen said.
This year, due to the coronavirus pandemic, relatives were unable to travel to Dalian at the start of April to pay their respects to the dead during Qingming Festival, or Tomb Sweeping Day.
Chen and his team aired a 10-hour livestream broadcast of the memorial they produced for the relatives. They read elegies, bought gifts, scattered ashes in the sea, and shot videos for clients.
He said he wants to visit countries such as Singapore and the Netherlands to learn more from insiders about sea burials and provide a better service.
He has been thinking of ways to make such burials more acceptable in China.
"They should be more ceremonial. People need to express their love and gratitude to the deceased for the last time and allow them to leave the world in a dignified way," he said.
He has persuaded his wife Li Donglan, to speak at the burials. "She is approachable and can counsel the bereaved in a good way," he said.
Chen only told his family after several years that he was involved in sea burials.
To his surprise, there was no particularly strong reaction, but his wife did ask, "Why are you doing this?"
As Chen's business expanded, Li joined him at sea, followed later by their son, Chen Jin.
Unlike Chen, Li was reluctant to clear rubbish left by bereaved families, let alone any ashes that leaked from urns.
But when everyone else on board was busy, she had to perform such tasks.
Now, such duties come naturally to her.
A long table aboard one of the vessels, from which the Chen family and employees have meals every day, is also used by bereaved families to place ashes in the ceremonial marine clay urns.
Li said: "Leaks happen all the time. We just clear them away."