Texas' planned reopening gets mixed reaction
By MAY ZHOU in Houston | China Daily Global | Updated: 2021-03-04 12:45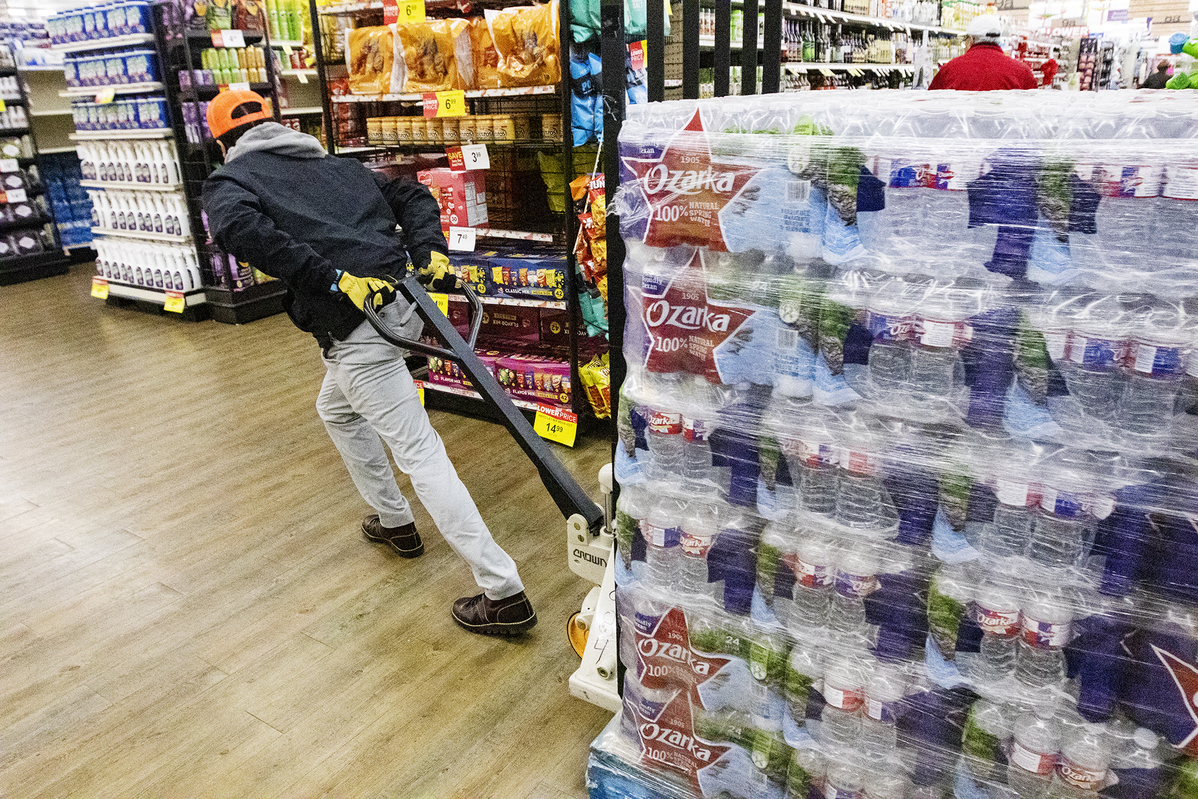 Almost one year since Texas went into a lockdown to fight COVID-19, the Lone Star State will be putting out the "open for business'' sign statewide and ending mandatory mask wearing.
Reaction to Governor Greg Abbott's announcement on Tuesday that on March 10 businesses will be allowed to reopen 100 percent, and the statewide mask-wearing will end ranged from "Neanderthal thinking'' by President Joe Biden to "Love our governor!''
Biden told reporters at the White House on Wednesday that Texas and Mississippi lifting their mask mandates was "a big mistake".
"The last thing we need is Neanderthal thinking that in the meantime, everything's fine, take off your mask and forget it," Biden said. "It's critical, critical, critical, critical that they follow the science. Wash your hands, hot water. Do it frequently, wear a mask and stay socially distanced. And I know you all know that. I wish the heck some of our elected officials knew it."
Mississippi Governor Tate Reeves on Tuesday said that as of Wednesday, he was getting rid of most mask mandates and is also lifting most other restrictions, including limits on seating in restaurants. Reeves said that the number of people hospitalized because of the virus has decreased in recent weeks, and vaccination numbers are increasing. On Tuesday, Reeves lifted the state's county-specific mask mandates after ending the state order in September.
While COVID-19 infection and death numbers in Texas have dropped sharply from their peak, the trend is edging upward again, and only about 6.5 percent of Texas residents have received the COVID-19 vaccine.
According to covidtracking.com, the state's daily new cases of COVID-19 infections jumped to 7,747 on Tuesday from a low point of 4,484 on Feb 21. The number of related new deaths went up to 271 from 130 on the same dates.
So far, Texas has had more than 2.6 million coronavirus cases throughout the pandemic, second only to California, and more than 43,000 related deaths. Nationwide, the US sees around 70,000 new cases and 2,000 new deaths a day.
Dr Irwin Redlener, a pediatrician and head of Columbia University's National Center for Disaster Preparedness, told Sirius XM Doctor Radio Reports that he was "mortified and disgusted" by the move.
"It's not only reckless for the citizens of Texas, it's reckless for all of us," he said. "If we don't have consistent policies around mass business openings, school openings, that means that there's going to be hideaways for the virus to start replicating even quicker, and that will spread to other communities that are being more responsible."
The Dallas-Fort Worth Hospital Council issued a statement that Abbott's decision to remove the mask mandate "is very unfortunate and could increase community spread of COVID-19 and potentially cause mutations called variants".
Abbot's executive order also removes the ability of local authorities to impose a mask mandate. As a result, Tarrant County Judge Glen Whitely immediately issued a statement to rescind his own "executive order requiring face coverings on businesses and their patrons". The Fort Worth-area county has a population of a little more than 2 million.
"If he's going to lift the mask mandate, why did he wait until next Wednesday?" Whitley said. "What's going to happen between now and next Wednesday except that people are going to be mad?"
Judge Clay Jerkins of neighboring Dallas County — population 2.6 million — urged the public to listen to science and experts, not the governor.
"But for us here in North Texas, and for all Texans, we need to focus not on what the governor tells you the law allows, but on what doctors and the facts and the science that we all know well at this point tell us is necessary to keep us safe and give us our best chance of reaching herd immunity as quickly as possible," he said at a virtual news conference on Tuesday.
Houston Mayor Sylvester Turner was more direct to criticize Abbott: "The governor is wrong to roll back the statewide mask order. The decision is not supported by most medical professionals, science and data. The Texas Legislature must speak up, and the people of Texas must hold their leaders accountable," he said in a statement.
Texas businesses reacted differently to Abbott's order.
Hyatt Hotels Corp, Target, Kroger's grocery store chain, Starbucks and CVS Health are among the major corporations saying they have no plans to drop mask requirements.
Grocery chain H-E-B, which was much praised for its supply availability throughout the COVID-19 pandemic, said in a statement that customers will be encouraged but not required to wear masks in its stores, but it will require employees and vendors to wear masks.
The Texas Classroom Teachers Association (TCTA) called for enforcement of current health measures.
"In the absence of widespread availability of vaccines, and given the state's refusal to prioritize school employees for vaccination, the removal of statewide health protocols is premature and will undo the progress that we have been making in getting the virus under control," TCTA Executive Director Jeri Stone said in a statement. "We call on the TEA [Texas Education Agency] commissioner and school districts across the state to continue to enforce best practice recommendations from health experts and the CDC to better ensure the health and safety of their students, teachers and communities."
Among individual Texans, some supported while others opposed Abbott's order.
"Love our governor! People need to get back to work and school. Time for government to stop handicapping businesses and families for their own personal profits. Governor Abbott puts Texas first above leftists' crazy ideas," said San Antonio resident Jana Galloway.
"My heart hurts! Ironically, today we received my brother's death certificates. It states the cause of death: pneumonia due to COVID-19. The same day Governor Abbott announcing 100 percent opening and ending the statewide mask mandate! My heart hurts, how many more lives will be lost in order for people to rush to feel 'normal again?'" Facebook user Lillie Lopez posted.
While some said that Abbott's order was an attempt to deflect public attention on his handling of the recent Texas freezing disaster that left millions of people in the dark for days, some said that the governor is trying to take credit for the future.
"Let's face it, the governor is being calculating. This will not necessarily kill Texas because President Biden is trying his best to have everyone vaccinated as quickly as possible. The situation may not turn out to be as bad as people fear. Abbott will just claim credit to any improvement in the Texas economy," said Houston resident Isabella Jones.