A rendezvous with actress Tong Liya
By Li Wenrui | chinadaily.com.cn | Updated: 2021-05-11 13:11
We may still be charmed by the presence of Tong Liya among the Spring Festival Gala hosts. Her career took off as her character, Shen Bing, in the wildly popular 2014 TV drama Beijing Love Story, made her a household name. The dancer-turned- actress has been active both on the big and small screen ever since.
This year, Tong has been appointed as ambassador of the year for the Festival Croisements 2021 – an annual French cultural festival - after it was suspended for a year due to the COVID-19 pandemic. It resumed on April 21 this year.
In this interview with China Daily Website, she talks about her love for French cinema and her pride in Chinese culture. To raise people's awareness in intercultural understanding, the actress believes films are the most comprehensive way.
"We understand each other through motion pictures. That means to understand a culture, its history, or how people lead their lives. Films and TV works visualize all these things," she said.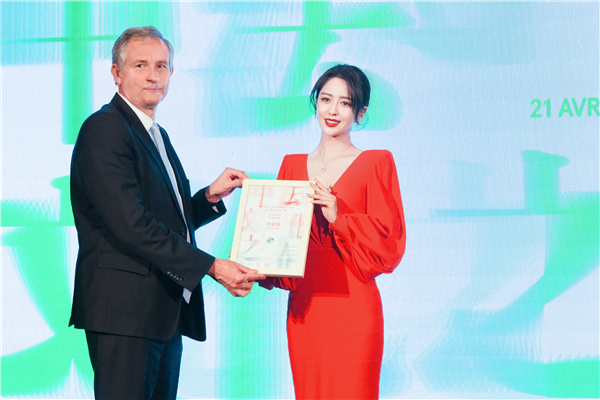 Tong expresses great joy introducing her home – Northwest China's Xinjiang Uygur autonomous region. "I think Xinjiang is a place you must visit," she said. "It boasts a variety of landforms and is rich in delicious food. All these things attract people to Xinjiang."
"I enjoy being a tour guide very much. Every year, I would take many friends to travel around Xinjiang, so they can appreciate the charm of my home," she added.
The year 2021 marks the 100th anniversary of the founding of the CPC. On July 1, a new production, The Pioneer, featuring the story of CPC co-founder Li Dazhao, is set to be released. Tong plays the role of Zhao Renlan, Li's wife, in the film.
"She is a very down-to-earth, working-class woman. While acting, I myself was also deeply moved by the stories. This film helps us to review this period of history. It brings us back to this very passionate and hot-blooded time – a great deal of inspiration for young people today," she said.
Explore more exciting topics from Easy Talk, a cultural interview series by China Daily.
Guest: Tong Liya
Reporter: Li Wenrui
Camera: Fu Rui
Lighting: Zhou Bing
Editing: Li Wenrui
Copy Editors: Faisal Kidwai; Anne Marie Ruisi
Subtitles: Sun Jiao; Fu Rui
Producer: Li Wenrui
Executive Producer: Feng Minghui
Contact the producer at liwenrui@chinadaily.com.cn