Forest fires a reminder of climate crisis
Share - WeChat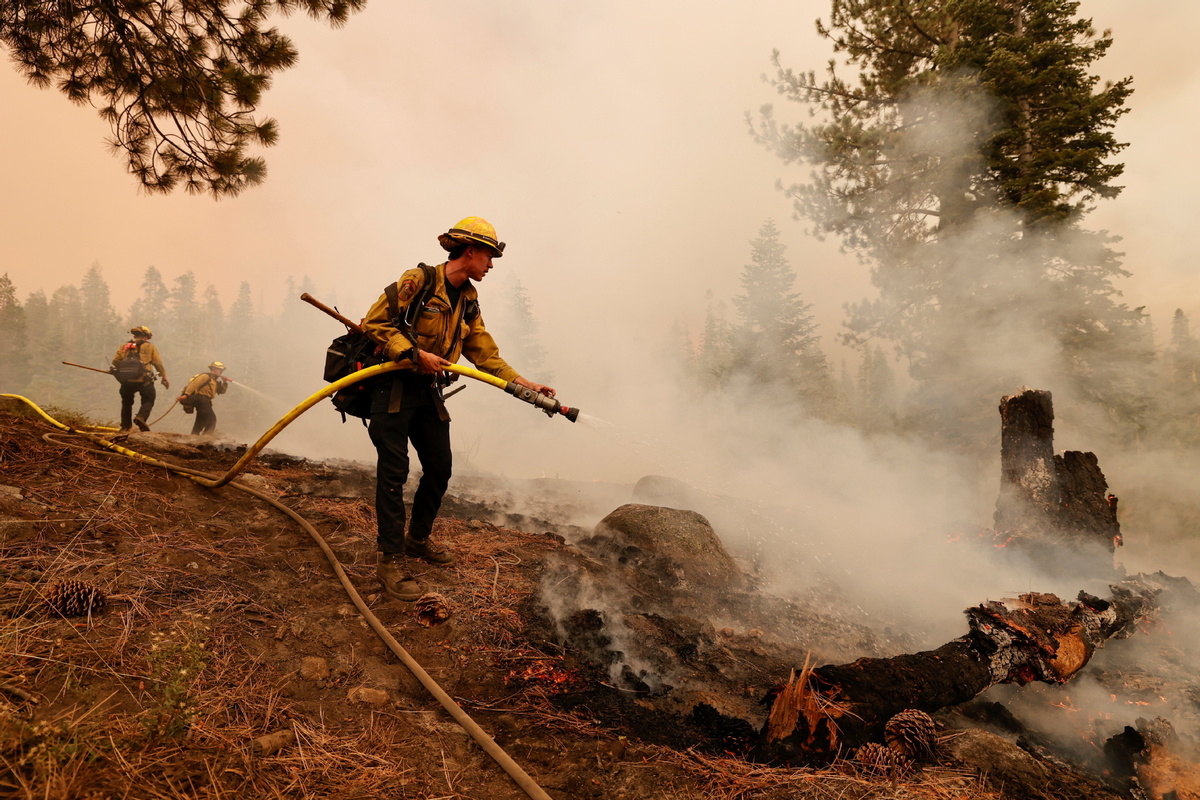 The ground is burning in vast swaths of North America, Europe and Africa, while fires are expected in Latin America and Asia over the next few weeks. Fires are burning as much or more than ever before.
While it is difficult to offer definitive proof that climate change causes giant wildfires, it is also impossible to ignore the direct line that can be drawn between climate change, record heat waves and massive wildfires. The flames are visible and palpable evidence of climate change, the dangers it poses and the need to immediately push remedial action much higher up on the priority list.
The evidence pointing to climate change as the ultimate culprit behind the unprecedented destruction that the world is now watching is circumstantial but overwhelming. Climate change is creating extreme weather patterns that manifest themselves as heat waves and droughts, which make the fires much worse.
In Canada, for example, annual forest fires are usually kept in check by rain and cold weather. Unfortunately, through June, July and August, barely a drop fell, and a deep layer of dryness has helped fuel the fires.
In the United States, 94 fires burning across 12 states have consumed more than 970,000 hectares.
There are also fires burning in Turkey, Greece and Italy. Sicily recently recorded its highest temperature ever -48.8 C. In France, thousands of people were moved out of the French Riviera within minutes as a fire broke out during an intense heat wave.
In Algeria, fires in recent weeks have devastated the region of Tizi Ouzou. The Amazon fire season in Latin America is now getting underway, and already 267 major fires have been noted across 105,000 hectares.
There is little reason to think that next year will be better, or the year after that.
Global warming is getting out of control, according to the latest report from the United Nations' Intergovernmental Panel on Climate Change. The report, released on Aug 9, makes it clear that the world is now at a point at which some of the impacts of climate change are locked in and that the ultimate culprit is human activity.
The question is not whether we can prevent future deadly heat waves, outsized hurricanes and extreme weather, but how we will live with them. Heat waves that once happened a couple of times a century now happen every decade. Hurricanes are getting stronger and cold spells colder. And droughts are becoming more intense.
More and drastic action is needed.
China has taken on a leadership role globally with an ambitious environmental agenda.
Speaking at the Climate Ambition Summit in December, President Xi Jinping announced aggressive targets for emissions reductions. He pledged that China will peak carbon dioxide emissions before 2030 and achieve carbon neutrality before 2060.
China, which signed the Paris climate agreement in 2015, wants a quarter of the energy it produces to come from renewable sources by 2030. It also wants to install 1.2 billion kilowatts of solar and wind power generators over the next decade and to boost forest coverage by 6 billion cubic meters.
There is more work to be done-not just by China, but by every country. The US was missing in action for about four years but is now moving climate up its priority list. The issue has long been a significant one in Canada and for the European Union.
Unfortunately, the issue of climate change is not yet the top priority for any country. Jobs are higher up on the list. Economic development is higher up on the list. Selling more cars, faster computers, cooler video games, new and more efficient appliances and better mobile phones are all higher on the priority list.
That line between climate change and the fires that are burning right now also stretches the other way to all those cars, smartphones and water bottles.
Those fires are impossible to ignore. The world is burning because of climate change. Denials are a threat to us all.
The author is managing director of Bahati, an editorial services agency based in Hong Kong.