Accomplished seniors tell stories of their lives on new talk show
By Wang Kaihao | China Daily | Updated: 2021-10-14 09:04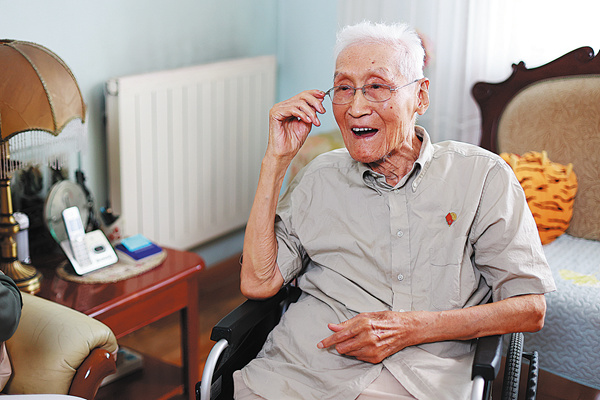 They are octogenarians, nonagenarians, and even centenarians, but age does not seem to be the threshold for them to have emotional resonance among TV viewers from younger generations.
As this year marks the monumental centennial of the founding of the Communist Party of China, Pillars of China, a new talk show from China Central Television which premiered on Sept 30, seeks to show how the destinies of individuals are closely linked to that of the country through the touching stories of older members of society.
They are all stars in fields to which they have devoted their lives, including China's leading astronautical engineers Lu Yuanjiu, 101, and Luan Enjie, 81. The widely acclaimed gurus of the humanities also participate in the program-including 92-year-old Zheng Xiaoying, China's first female orchestra conductor, 90-year-old Yue Daiyun, a pioneer of Chinese comparative literature study, and Chang Shana, also aged 90 and the artist renowned for her studies of the Mogao Caves and design of the ceiling in the Great Hall of the People.
They talk about their lives and work and, no matter how established they are, producers of the program intended to make the dialogue "warm and sincere".
"When you go deep into the inner world of these senior citizens and hear them talk about their glory days, you also share their lifetime of wisdom and experience," Wang Ning, presenter of the program, says. "Their ambition is still burning."
Wang says there is no complicated criteria for choosing interviewees for the show.
"The only one being that they've made a great contribution to our republic," Wang says. "They're the founders of their respective fields, but perhaps they're not household names because their expertise sometimes seems unrelated to people's daily lives. So, this show is like a visualized chronicle of our country."
As might be expected, the crew encountered some difficulties. Being focused on their own specialized fields for so long, many interviewees had deliberately distanced themselves from the media and public exposure.