Accomplished seniors tell stories of their lives on new talk show
By Wang Kaihao | China Daily | Updated: 2021-10-14 09:04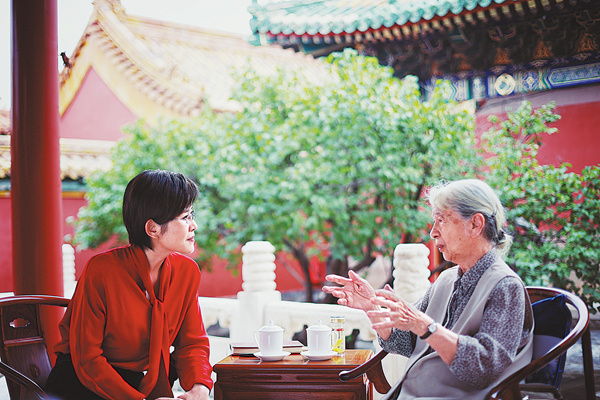 "No matter how much energy and time it has taken to find and record them, it's been worthwhile," Wang recalls. "I think the show will be one that continues, because what we are doing is racing against time."
Time is probably their biggest enemy, leaving the showrunners with many regrets. During preparation and production, some names at the top of their list of intended interviewees, which included around 120 people, were lost forever. For example, the agricultural scientist Yuan Longping and the translator Xu Yuanchong both passed away this year.
Nevertheless, in the show, producers also endeavor to blur the passing of time.
"We like to encourage the interviewees to recall their younger days," Wang says. "Time is changing, but every generation of young people experiences similar pain and confusion, and also shares the spirit to explore and dream. Inspired by their stories to fight, today's young people can think about their own lives.
"People pursue diverse personalities now. However, for us, the ultimate goal, one generation after another, is to realize our value."
Consequently, when several interviewees mention their bad days and failures, Wang considers them to be encouragement for the audience and a precious opportunity to reflect on their own setbacks.
"When stepping into their home, it is obvious how simple their lives are," Shen Gongfu, director of the program, recalls. "But their rooms are full of memories, and the support from family in their successful careers that served the country is evident."
This also explains two key themes of the program-home and country.
According to Shen, the upcoming list of interviewees will cover a wide spectrum, ranging from ecologists and archaeologists to writers and artists, among others.
"It's like building a database," he says. "These video clips, in cooperation with museums and libraries, can be exhibited in the future."