Beijing hits road to becoming international consumption hub
By DU JUAN | China Daily | Updated: 2021-10-21 07:41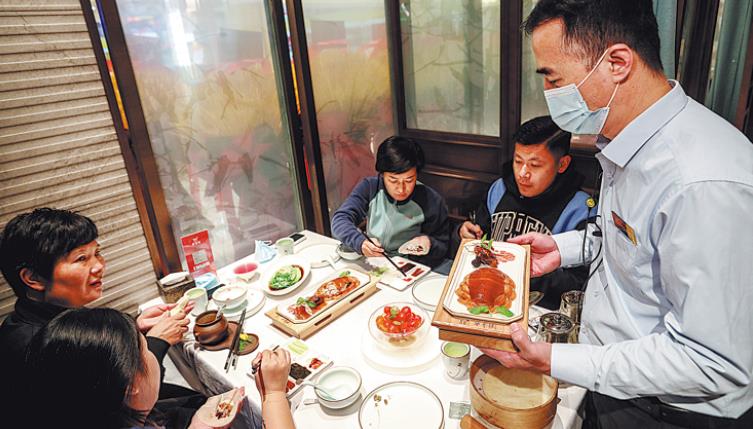 Local boom
As more international brands set up shop in Beijing, domestic ones have found new opportunities, thanks to local government support and incentives.
According to the Beijing Municipal Government, brands that have recently opened or are opening their first stores in the city are eligible for subsidies of up to 5 million yuan as part of the capital's efforts to become an international consumption hub.
More subsidies are available for stores that are the first on the Chinese mainland or in Asia.
Beijing also supports first flagship bricks-and-mortar stores introduced by intermediary agencies, the owners of commercial compounds, as well as internet platforms. The subsidies must be used to build, decorate and rent stores.
This policy has achieved notable results. According to the commerce bureau, 696 first stores, including flagship outlets, opened in Beijing in the first three quarters of this year-513 more than the total number of such stores that opened in the city last year.
Of the 696 stores, 588 are occupied by domestic brands, accounting for nearly 85 percent of the total, and the remainder are from overseas-including 19 from Italy, 18 from the United States and 15 from France.
FAO Schwarz, one of the world's oldest toy companies, opened a first store at the China World Mall in Guomao in May 2019. The company has benefited from the capital's policies, receiving 5 million yuan in subsidies from the local government.
Kidsland International Holdings, a toy retailer with headquarters in Beijing, has introduced its products to China.
Zhong Mei, managing director of Kidsland China, said the group has great confidence in the Chinese economy and market development in Beijing.
"The municipal government has acted quickly and firmly," she said. "I got to know about the policy from news reports and asked a colleague to find out the details. Several months later, we received the subsidies and a lot of other support from the local authorities."
Cao Xiang, executive director of China Nobleness International and founder of Choo Noble Art Interactive Cafe, said Beijing residents have huge consumption power, which led her to open a store at the China World Mall.
The store offers a space for customers to draw with crayons imported from Switzerland while enjoying a cup of coffee or tea.
"It's all about experiences. People are now wealthier than they were, but also more stressed. They sometimes need a place to slow down and enjoy their time by quietly doing some art," Cao said.
As the city modernizes, it is integrating its modes of business with innovation.
For example, Choo Noble is a mix of art room and cafe, while Be Gallery in Sanlitun is a combination of photo studio and select outlet.
A large retail space displaying artworks and offering photographic services, Be Gallery opened a first store in Sanlitun at the start of this year.
Jiang Lin, 40, co-founder of the brand, which is headquartered in Shanghai, said the Beijing store launched with a totally new concept tailored for local residents.
"We are cooperating with more than 130 overseas brands in an attempt to introduce fine art from around the world to our customers," Jiang said.
Every two months, the store holds art exhibitions with different themes.
"Beijing has a much more mature market than we thought, and people here have a big interest and curiosity about the quality of life, which is good news for our business," Jiang said.
He added that revenue growth at the store has been higher than expected in recent months and predicted that it could recover its costs in two years-less time than previously estimated.
By 2025, Beijing aims to attract more than 3,000 first stores to the city and to launch more than 100 consumption brands, according to the local government's plan.