Cars of the future await clearance for takeoff
Share - WeChat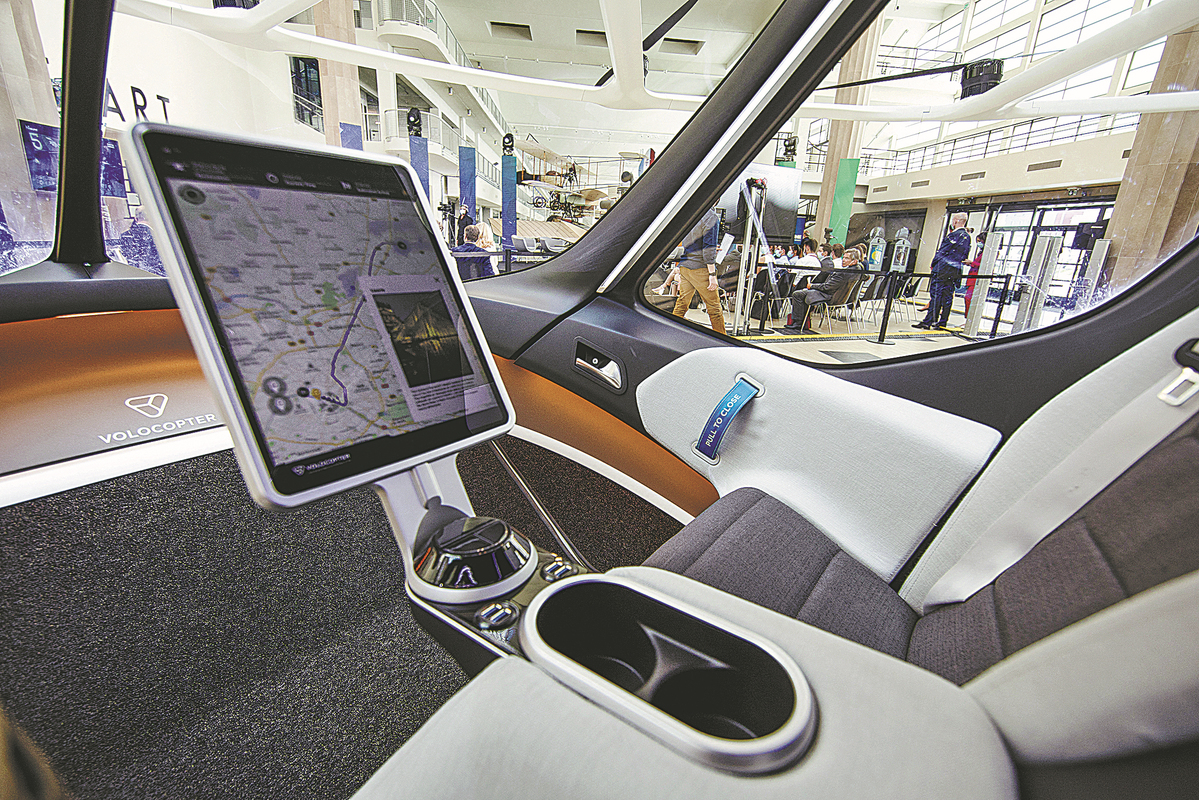 Joint venture
Established in 2011, Volocopter is one of the world's first flying vehicle companies. In 2019, Chinese carmaker Geely, Mercedes's parent company Daimler and others invested 500 million euros ($564.8 million) in the startup in an effort to bring its flying cars to China.
In September, Volocopter and Geely built a joint venture in Chengdu, capital of Sichuan province, to produce flying vehicles and parts.
Volocopter said the joint venture has also signed a deal to buy 150 flying vehicles from the company.
The partnership is aimed at bringing urban air mobility to China in the next three to five years, which Volocopter CEO Florian Reuter views as "the biggest single market opportunity for the urban air mobility industry".
No details have been given on how the Chinese market will be explored, but Volocopter has already worked out a schedule for Rome, the Italian capital, with the support of local airport operator Aeroporti di Roma and its main shareholder Atlantia.
This month, the startup said that by 2025 it would offer a 20-minute flying taxi service between Rome's Fiumicino airport and the city center.
The company said it still needs to finalize related flight regulations and develop "vertiports" for air taxis to take off and land vertically.
The flying taxi to be used in Rome, the VoloCity, has 18 independent rotors and can travel at a maximum speed of 110 kph for 35 minutes.
Initially, the vehicle will carry the pilot and one passenger, but will take two passengers when it can fly autonomously.
It has a payload of 200 kilograms, including passengers and luggage. Once a flight is completed, the lithium-ion batteries can be replaced within five minutes, allowing for a quick turnaround.
According to local news reports, the planned 20-minute flying taxi ride from Fiumicino airport to the city center will cost 140 euros, compared with a taxi fare of 48 euros, or 14 euros for the 32-minute train journey.
In addition to startups, established car giants are getting serious about the market in the sky.
South Korean carmaker Hyundai Motor is developing a flying car with Uber. Powered by batteries, it will carry up to six people to and from airports from highly congested urban centers.
Jose Munoz, the company's global chief operating officer, said urban air taxis would be operating at major airports in the US by 2025.
"We see this market as a significant growth opportunity," Munoz said, adding that he is highly confident about development of the technology.