Tibetan soccer has goal of success
By Zhang Lei | China Daily | Updated: 2021-12-18 09:46
In the past years, they continued to search for, and cultivate contacts by visiting many places. From being at a loss at the beginning when an interviewee turned away, and suffering a lot in the early stages, to being understood and treated with enthusiasm in the follow-up, his team gained a lot of valuable information for the content of the account. They have also collected and sorted out many stories related to Tibetan soccer. After a year of data collection, in-depth interviews, translation issues, creating a layout design and text proofreading, the Phorpa account was born.
"Phorpa refers to trophy in Tibetan. It is not only a simple noun, but also a symbol of honor in the eyes of the players, and it is also the cornerstone of expressing the emotions of players. All the love and cheers, sadness and tears, regrets and misses in the football world are related to it," he says.
"We hope to build a common and linked green highland for all the fans on the plateau."
Currently, only the Tibetan version is introduced. Namlha and his team have plans to launch a Tibetan-Mandarin bilingual version.
"We will work harder for this beautiful wish, a motivation for us. We know it is difficult and there is a bumpy road ahead of us, as long as we don't give up, we believe that we will be able to realize it," he says.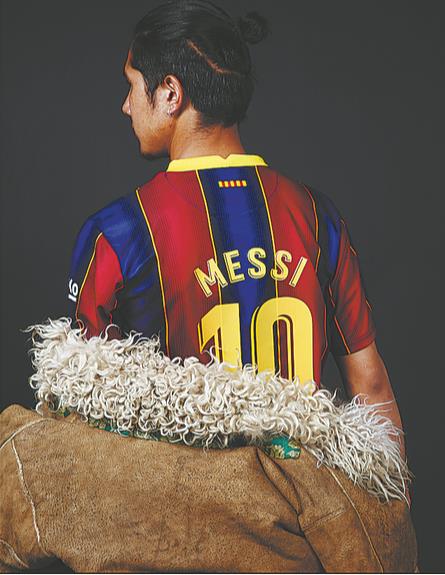 The magazine Season Zine founded in London in 2016 inspired Namlha. With just two issues a year, it covers the sport from a female perspective and interprets soccer as a fan. It was named in 2019 as one of the best indie soccer magazines in the United Kingdom.
"When we read Season Zine, we were attracted by its core content which gave us great encouragement. This magazine touches me not only for the typography style and the visual sense of surprise, but also the diversity and inclusiveness of the content. Creating this account is not only to record and share what we love, but also to build a belief worthy of people's trust," Namlha says.
"I think Phorpa may also have such potential. Because most of the people who love soccer in Tibet are fans, enthusiasts, and even amateurs. In structuring the account, we also start content creation with fans as the core. The emergence of Season Zine has proved many possibilities we envisioned at the beginning."