Home appliances on steady growth track despite COVID
By FAN FEIFEI | China Daily | Updated: 2022-01-04 09:11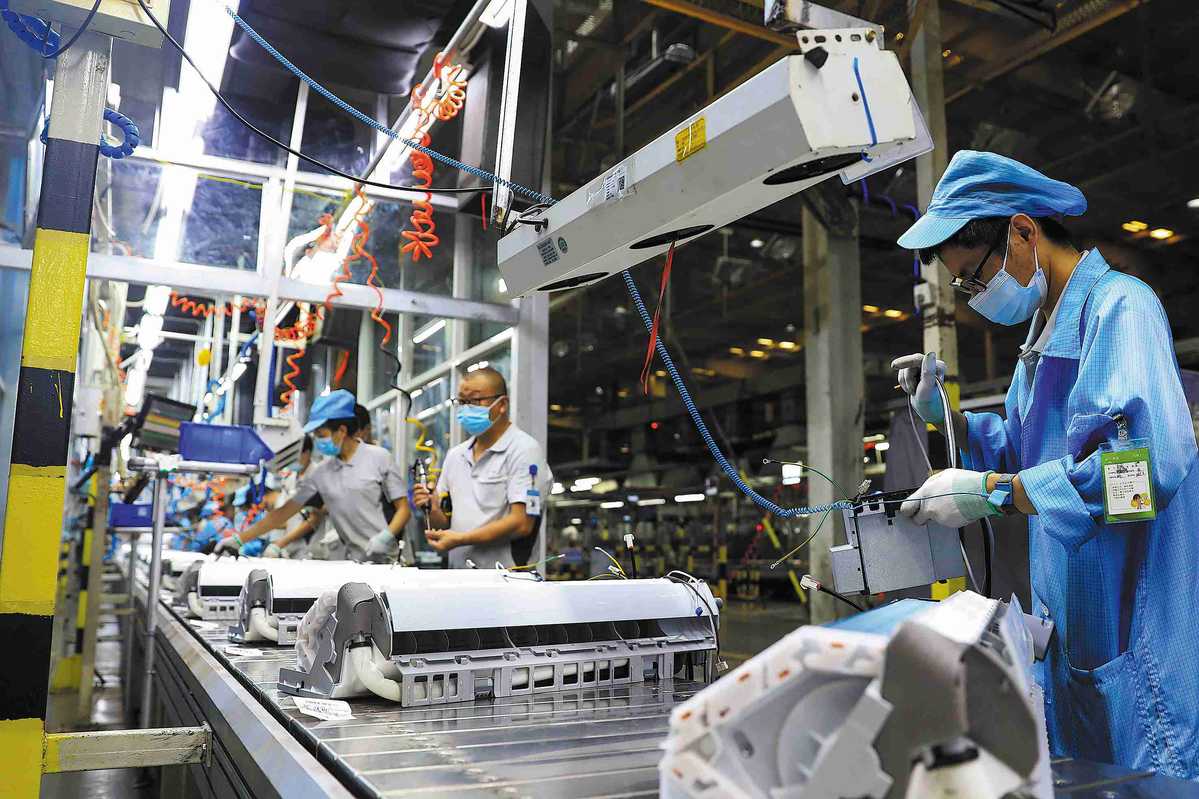 Report finds players more competitive globally due to strong expansion efforts
China's home appliance industry has become globally competitive in production scale and export volume despite the challenges posed by the COVID-19 pandemic, an industry report said.
Revenue of China's home appliance sector reached 606.5 billion yuan ($95.3 billion) in the first 10 months, up 7.1 percent compared with the same period of 2020, said a report released by All View Cloud, a Beijing-based consultancy specializing in home appliances. The figure is expected to hit 752.8 billion yuan by the end of 2021, an increase of 3.8 percent on a yearly basis, the report said.
It noted that China has become the world's largest manufacturing base for home appliance products, accounting for 60 to 70 percent of global production capacity. Air conditioners stand at 80 percent of that capacity, with refrigerators and small home appliances at about 60 percent and 50 percent, respectively.
Chinese home appliance makers witnessed steady growth in exports in the first three quarters of 2021, the report added. Accumulative exports of air conditioners rose 11 percent year-on-year to 46.11 million units during the period, refrigerators 7.2 percent to 60.02 million units and washing machines 4.5 percent to 18.37 million units.
The Chinese companies have accelerated efforts to boost footprints, market roles and brand influence in global markets, especially self-owned brands, which have been gradually improving in recent years.
China has become one of the few countries to have complete industrial chains, and is capable of handling large-scale orders from overseas amid the pandemic, said Li Ting, research director of AVC's kitchen appliances department.
Li said with the rapid growth of the home appliance industry over the past decade, China has already become a major global manufacturer of such products. She is bullish on prospects for Chinese home appliance makers in the future.
The domestic home appliance market is almost saturated and companies need to find new growth drivers, said Dong Min, an independent researcher in the home appliance sector.
"Expansion into overseas markets could not only relieve the pressure of high inventories in the domestic market but also increase the international influence of Chinese home appliance companies," Dong said.
Guangdong Bear Electric Co Ltd, a maker of small home appliances, said it has seen rapid growth of sales in Southeast Asia, Japan, South Korea, Europe and the United States. The best performers are meat grinders, eggbeaters and humidifiers.
Founded in 2006, Bear Electric develops and produces a series of unique and creative small household electrical appliances mainly for kitchen use, which are increasingly popular among young consumers.
In addition, domestic consumers have shown growing demand for diversified, personalized and customized home appliance products amid a consumption upgrade, and are keen on buying intelligent and high-quality goods, the report said.
Domestic TV sales reached 29.27 million units during the January-October period, down 14.3 percent on a yearly basis, while related sales revenue stood at 98 billion yuan, an increase of 10.3 percent year-on-year, it added.
Chinese consumers have also turned to online shopping during the pandemic, as online sales revenue of refrigerators and washing machines accounted for more than 60 percent of total sales via retail channels from January to October. Online sales of small household appliances such as rice cookers and air purifiers made up over 80 percent.
It is noteworthy that merchants are willing to sell home appliances via social e-commerce websites and livestreaming platforms, said Li of AVC. "Online shopping habits of consumers will be cultivated further and we will see another increase in the proportion of online sales of home appliances."
Liu Buchen, an independent researcher in the home appliance sector, said China's small household appliance enterprises should abandon the low-quality and low-price competition strategy as soon as possible, and make continuous innovations in the areas of technology, quality and design.