Glossy outfit of democracy
By Su Rui | chinadaily.com.cn | Updated: 2022-01-04 10:46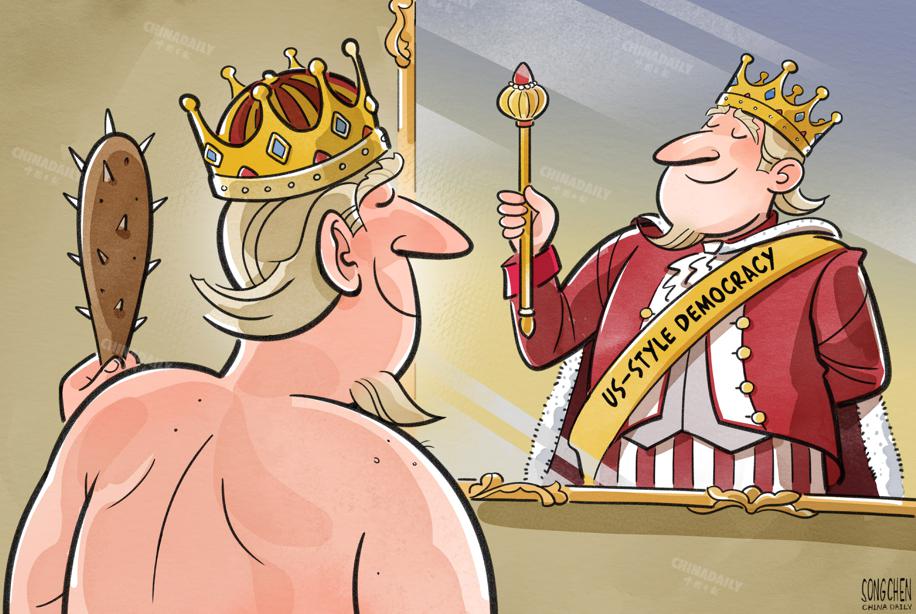 They used to say America was a democracy; now it may have become a "democrazy". It is not the democracy itself that went crazy, but the American politicians who hold the democracy in their hands as an AK-47 rifle strafing wildly at illusory enemies.
Recently, Western media has wantonly vilified the new electoral system in Hong Kong according to their own definition of democracy. Even under the circumstance of democracy regression globally, they are still extremely proud of their political values and expect to "continue to lead the world with our values," as President Joe Biden said on the latest International Day of Democracy.
But does the right of interpretation of democracy truly belong to the Western countries as if it is a proprietary technology endowed with a patent number?
Absolutely not. Democracy should be a collection of various forms of democracy, not an isolated and manipulated tool. If you are wondering how democracy can be used as a tool, please take a look at the conferees' list at the Summit for Democracy, in which the participating countries were chosen according to America's own global strategies.
As I write this article with a hamburger at hand, it comes to me that Western-style liberal democracy has much in common with this fast-food transnational corporation. For the global expansion of McDonald's, the corporation laid down strict regulations on food preparation, which is timed to the second to maintain its standardized taste. Similarly, liberal democracy has prescriptive standards—multiple distinct political parties, a market economy, universal suffrage and separation of powers. Like employees are graded at McDonald's, many Western organizations score countries on how democratic they are by the prescriptive standards.
Like McDonald's spending tons of dollars on marketing and advertising, spreading "our values" of the West around the globe is also costly. For example, the National Endowment for Democracy funds separatist movements in Hong Kong at least $10 million dollars a year in order to "promote liberal democracy" in this area. Spreading "our values" is exorbitant, sometimes even at the cost of lives. If you stepped into a newly decorated McDonald's, which stood alone in a landscape of scorched earth and ruins, and almost slipped on the "oily" floor of the restaurant, I would not be surprised, because America has invaded it to "spread democracy".
In recent years, a budding fast-food corporation named "Tasting" emerged in the Chinese market, whose featured product is Chinese-style hamburgers.
Unlike McDonald's, its enterprise positioning is a Chinese local restaurant and thus its hamburgers cater only to the Chinese taste. It reminds me of the Chinese-style People's Democracy, which is rooted in Chinese history and culture, conforms to the national conditions and accords with the unique philosophy of China. Chinese-style People's Democracy is a whole-process democracy, as President Xi Jinping stated on Oct 13, which differs intentionally from a Western democracy. The whole-process democracy emphasizes that people not only have the right to elect but also have the right to be broadly involved in the whole process of decision-making, consultation, and supervision. Ambition can be read between the lines, for this form of democracy doesn't yield to the cliché of liberal democracy. On the contrary, it is trying to resolve the endogenous defects in Western democracy that people have the democratic right only at the moment of voting.
Some may argue that people's democracy is not democracy and that only liberal democracy is the real democracy. Although this is a common view, it is not true. As Giovanni Sartori pointed out in his well-known book—The Theory of Democracy Revisited, "Defining democracy has a twofold content—a descriptive and a prescriptive definition." The descriptive definition is that the power belongs to the people, and the prescriptive definition is consistent with how people practice the descriptive definition of democracy in reality. In other words, though the descriptive definition is natural and legitimate, the prescriptive definition is man-made and open to different interpretations. That is the core reason it is wrong to equate democracy with liberal democracy.
Western countries absolutely have the right to define liberal democracy and claim that people's democracy is not liberal democracy, but they have no right to claim other kinds of democracy do not belong to the category of democracy.
Don't dress the kid—liberal democracy—in the glossy outfit of the "democracy" brand, or else, history will tell you it's the emperor's new clothes.
The author is a student majored in English at Tsinghua University.
The opinions expressed here are those of the writer and do not necessarily represent the views of China Daily and China Daily website.
If you have a specific expertise, or would like to share your thought about our stories, then send us your writings at opinion@chinadaily.com.cn, and comment@chinadaily.com.cn.