Sound of Tang music
By Zhang Kun | China Daily | Updated: 2022-01-14 08:23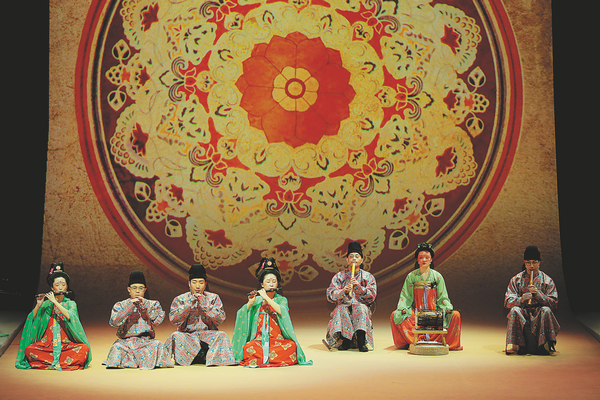 A concert of dynasty melodies becomes a hit in Shanghai, Zhang Kun reports.
Musicians and historians have for the past century been trying to figure out what ancient Chinese music sounded like. The concert, Music Along the Silk Road-Echo of the Tang Dynasty, which took place at the Shangyin Opera House in Shanghai on Jan 6, was one of the most extensive re-creations of the sounds and colors of the Tang Dynasty (618-907) that historians and musicians have achieved on a stage.
To prepare for the concert, Zhao Weiping, a professor at the Shanghai Conservatory of Music, and his team re-created more than 30 musical instruments from the collection of Shosoin, the treasure house of the Todai-ji Temple in Nara, Japan, where many Chinese cultural relics have kept since they were brought by Japanese envoys in the Tang Dynasty.
"We had the instruments made based on their actual size, form and material," Zhao told the media backstage before the show. "It was a long and difficult process that took many years. We use mainly steel strings in music-making today, but the sound is just not right for ancient Chinese music.
"I went to many workshops that make traditional silk strings in Kyoto and eventually found strings that are slim and firm enough to be bound tightly on instruments such as the pipa."
In the 20th century, music books from the Tang Dynasty were found in the Buddhist caves of Dunhuang in Gansu province. Since then musicians have translated the sounds, melodies and rhythms to bring the music back to life.
According to Jing Zuoren, a Beijing-based music critic, public interest in traditional culture has been growing rapidly, as evidenced by the numerous video clips of Chinese music, costumes and other cultural expressions online.
"We are intrigued by the width of Chinese culture and glad to see that the passion has been passed down to younger generations," he says.