Cultural trip
By Cheng Yuezhu | China Daily | Updated: 2022-01-26 08:24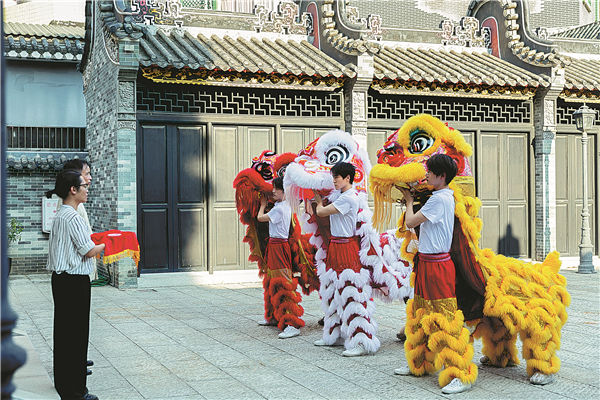 The next day, the team arrived at a lion dance training base for teenagers, met with He Diqiang, a provincial-level inheritor of the art form, and started learning lion dance from the teachers there.
The operation of a lion usually involves two dancers, one acting as the front legs of the lion, also responsible for controlling the lion head and facial expressions, and the other acting as the hind legs and supporting his teammate to realize difficult moves, such as jumping.
Apart from practicing the lion dance, the team also learned how to beat the drums that accompanied the performance, which also became an inspiration for their final music creation.
Different from the exhilaration of the lion dance performance, the second team of band members, comprising Liu Yu, Kornchid Boonsathitpakdee (better known as Nine), Lin Mo and Zhang Jiayuan, went on a journey to find "the tears of Western Xia". The search began in the tranquil desert of Ningxia, where local people have been making ceramics for centuries.
According to Yang An, an inheritor of the northwestern region's ceramic art, shards of ceramics can still be found in the ground there, and when the sun shines, they reflect the light, hence the expression.
Yang says he started learning ceramic craft from his father, who told him about the worrying trend that the number of inheritors is shrinking. He says he hopes that more young people will get to know about local ceramics. In his workshop, the team members learned to make a piece of ceramic vessel from scratch, including shaping the clay with a pottery wheel into shapes of their liking.