Veteran diplomat: Steady ties essential
China Daily | Updated: 2022-01-28 10:46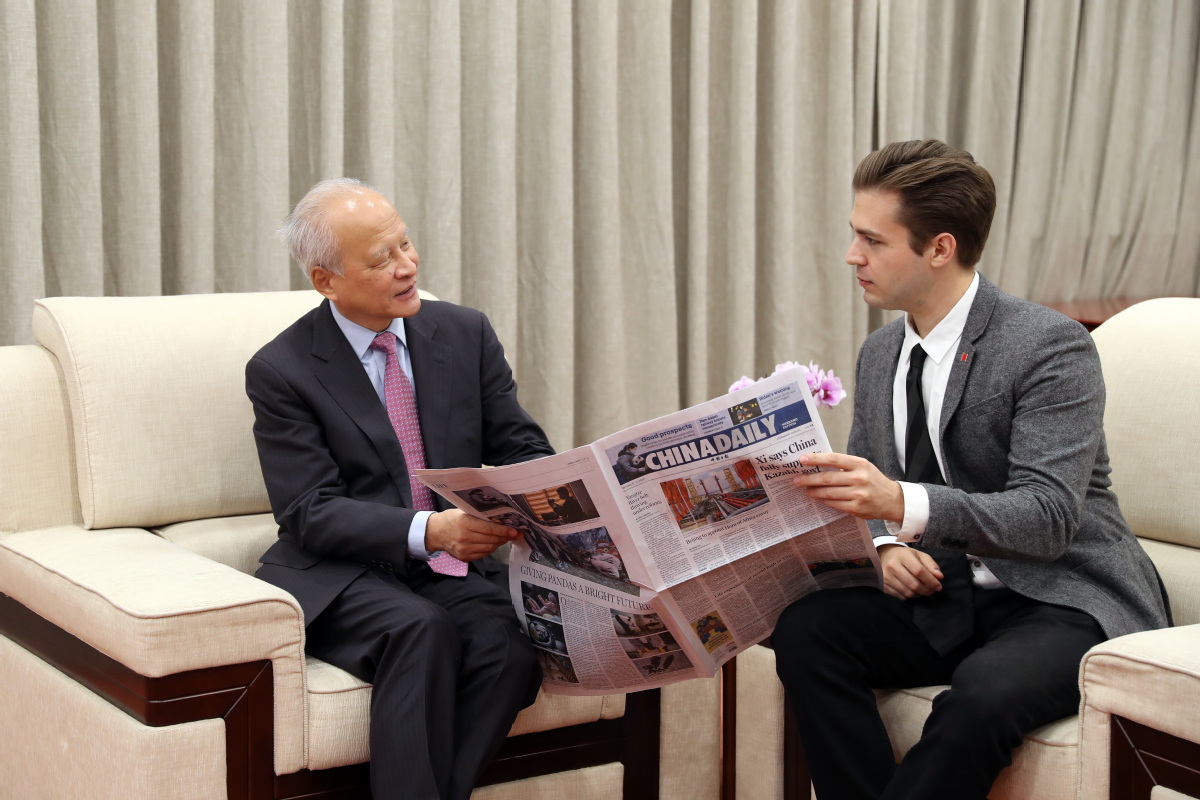 Editor's Note: Ahead of the 50th anniversary of the signing of the China-US Joint Communique-an important diplomatic document issued by China and the US on Feb 28, 1972, to work toward the normalization of their relations, Cui Tiankai, who served as Chinese ambassador to the US from 2013 to 2021, has a conversation with China Daily reporter Ian Goodrum, also a member of China Daily's Edgar Snow Newsroom. Here are the excerpts:
Q: It's a great honor to be able to speak to you today and we appreciate you taking the time to share your thoughts and expertise with us. You spent over eight years as ambassador to the US, which I believe is the longest tenure of anyone. What are some of your strongest or most striking memories from your service over that period?
Cui: These eight years are not just an ordinary eight years, a lot has happened during these years. A lot has happened in the world, and in both our countries.
Relations between China and the United States have also undergone a lot of major changes. And for these changes, I'm quite involved, trying my best to help to keep relations on the steady track and to shape the future framework for this important relationship.
Q: What are some of those changes that you witnessed firsthand in your time?
Cui: For instance, we have both faced the changing international order, financial crisis and emerging global challenges like climate change, like the fight against terrorism and the challenges faced by the global system, the multilateral system, and by both our countries.
I think maybe for all countries, but in particular, for countries like China and the US, throughout these years, the most important challenge is still domestic governance.
Because we are facing so many new challenges. We are trying our best to respond to the opportunities and challenges posed by globalization or the attempts to re-globalize or de-globalize.
But of course, we are living in a globalized world. We need multilateral and global cooperation on shared prosperity, financial stability, economic growth, and addressing the issues of poverty, climate change, terrorism, so many of them.
Q: I think in your time you saw three US presidents. So were there differences in administrations when it came to these things that we're talking about, especially as it relates to US-China relations?
Cui: First of all, I think for all these three presidents, I could see, as far as the domestic policies are concerned, the pendulum swings to the left and to the right. I don't know how and when it will come to the middle. This is America's problem.
For the relations between China and the US, I think basically they have tried to manage it. They have tried to move it in a way that will serve American global strategy. So on that, I don't think there are substantive differences. Of course, they use different tactics, and they follow different approaches, so there are also differences.
Q: I saw a report from Newsweek last month that quoted you, that there is a "strong element of racism" in US policy toward China and you said the US would "spare no effort" to "suppress, contain, divide and encircle" China. Would you be able to elaborate on this a little further?
Cui: I was talking about American policy toward China. Certainly I have made so many friends in America. They have friendly sentiments toward the Chinese people. And the same is true on this side.
But as for American policies toward China, you could see some of them, politicians, some of the think tanks or even media people. They are not ready to face a growing and developing China because China belongs to a very different civilization.
So you can really have a sense of such racist elements in the policy. Remember what happened in the last few years during the previous administration, such hate crimes against not only Chinese but also Asians.