Games and sights
By Yang Feiyue | China Daily | Updated: 2022-02-21 10:27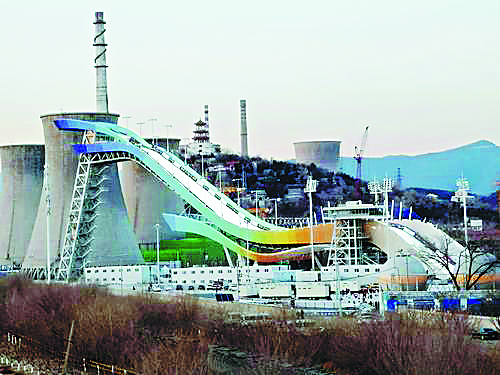 An eight-minute drive away, the Shougang Big Air venue is part of an urban rejuvenation project where the 100-year-old Shougang steel plant is located.
A five-minute drive away, Shang Brew boasts magnificent views of both Xiuchi Lake and Shijingshan Hill. Visitors can enjoy an array of craft beers and culinary creations. Installations and components from the old plant area greet visitors at the entrance, and the stage in the lounge area is used for live performances. The Shougang No 3 Blast Furnace Museum is in the northwest of Shougang Park and is home to examples of old iron-making equipment. It is within walking distance of Shang Brew.
Kappa Shougang Infinite Park is a two-minute walk away and is a venue for extreme sports. The park's design retains the style of the old industrial site while integrating fashionable sports elements to become a big draw for skateboarders.
Snow, lanterns and more
Yongning ancient town, Qingshan Park Happy Ice and Snow Season and Longqing Gorge Ice Lantern Art Festival
Travelers can go on a guided tour of the town founded in the Tang Dynasty (618-907) in Yongning of Yanqing district. The resort has signed agreements with folk artists who practice over 20 art forms, including ceramics, pyrography, straw braiding, leather carving and paper-cutting. Visitors can learn about local intangible heritage history and techniques, and make folk items guided by artisans.
Qingshan Park in Yanqing, a 15-minute drive from Yongning, is often clad in winter white. It is an ideal getaway for families, who can ski and engage in all the fun that snow can bring. There are also farm animals in the park.
Another 30 minutes' drive will reward visitors with views of ice lanterns of various sizes and shapes at Longqing Gorge. This year, advanced laser projection lights up the mountains, with Olympics-themed ice sculptures.