Resolute China sharpens focus on innovation
By CHENG YU | CHINA DAILY | Updated: 2022-03-21 07:09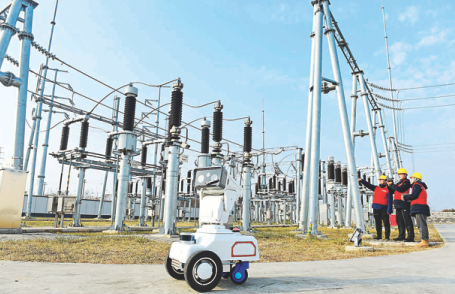 This year's Government Work Report also highlighted the efforts of developing digital economy, building more digital information infrastructure, applying 5G technology on a larger scale and advancing digitalization of industries.
Accelerated efforts will also be made for the development of fields like the industrial internet, artificial intelligence, key software and critical hardware, the report said.
As digital technology has become a focus area, Lu Jin, chairman of China National Gold Group Co, said in an interview with China Media Group that the company will beef up technology development and plans to invest about 300 million yuan ($47.24 million) this year to build "digital mines" to promote the digital management and control of mining, so as to further improve mining quality and efficiency.
In one of the companies' gold mines in China's Inner Mongolia autonomous region, unmanned vehicles and drones, rather than human workers, did all transportation and inspection work, which greatly improved mining efficiency and production safety.
"It is the continuous research and development on forefront digital technologies that brought about 1.4 billion yuan to 1.5 billion yuan of profit from this mining area alone last year," Lu said.
According to the China Academy of Information and Communications Technology, a government think tank, China's digital economy reached $5.4 trillion in 2020 in terms of market size, which grew 9.6 percent year-on-year, the fastest worldwide.
"China's digital economy, which is indeed in the fast lane, has become a new driver of the country's economic growth amid the COVID-19 pandemic. It has and will play an important role in driving economic recovery globally," said Gong Ke, former president of the World Federation of Engineering Organizations and executive director of the Chinese Institute of New Generation Artificial Intelligence Development Strategies.
According to China's 14th Five-Year Plan (2021-25), the country will scale up spending on research and development by more than 7 percent annually during the period to drive more technological breakthroughs.
Consulting firm McKinsey &Company said in a report that 7 percent annual growth in R&D spending will set the country on the path to becoming the world's largest spender on R&D.
Peng Wensheng, chief economist and head of research at China International Capital Corp, said: "As demographic dividends gradually decrease, China's economy will rely more on technological innovations in the future. To achieve such technological progress, continuous R&D investment is the key."
However, Peng said China still has a long way to go to bridge the gap with developed countries like the US, both in R&D investment in basic research and R&D investment as a proportion of GDP.
"China's R&D investment must be increased 'substantially' in the coming decades to get rid of what we call the late-mover disadvantage," he said.