Delayed action by police in Texas shooting called 'wrong decision'
By MAY ZHOU in Houston | China Daily Global | Updated: 2022-05-30 09:10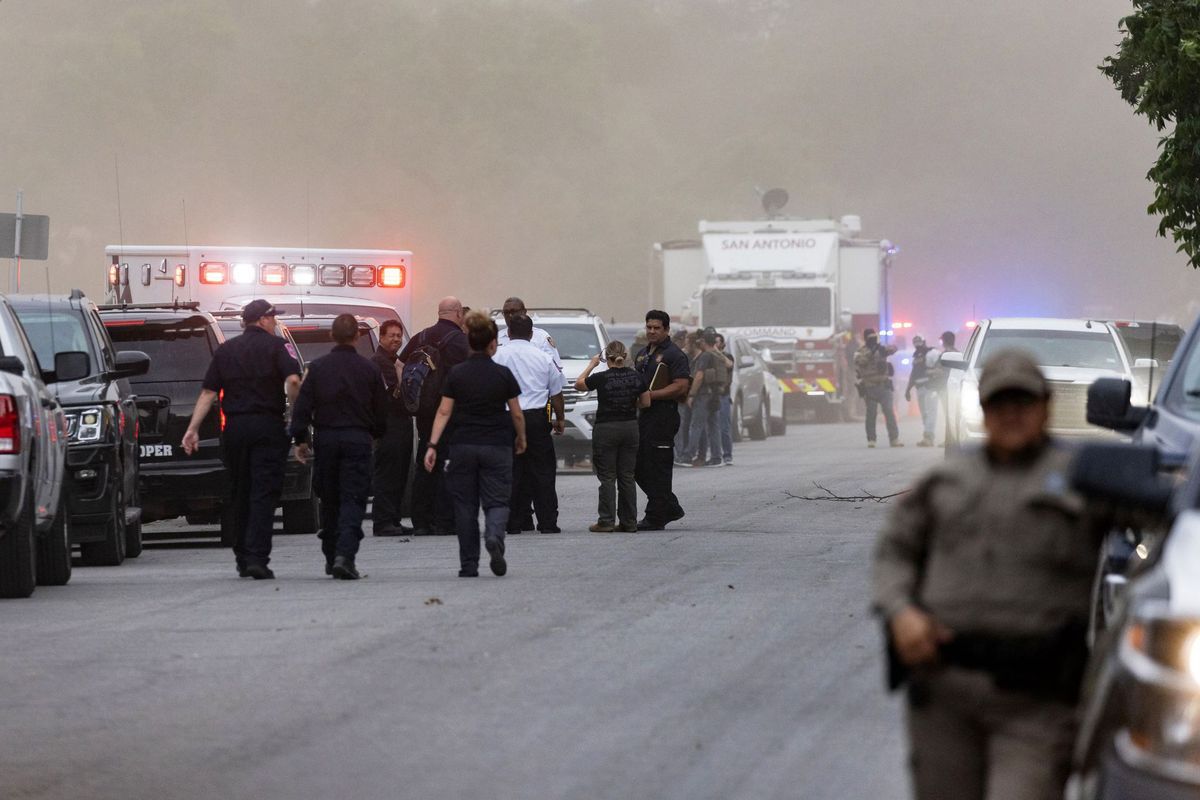 As officials pieced together the timeline of the shooting in a Texas elementary school last week that left 22 people dead, including the gunman, the Texas Department of Public Safety said local police made the "wrong decision" by not taking action for more than an hour after the 18-year-old gunman entered the school.
In a news conference on Friday, Texas Department of Public Safety Director Steven McCraw said that the school district police chief made the decision to wait for tactical gear and backup instead of taking action.
When a special federal team arrived on the scene, they had to get keys from a janitor to open the locked classroom doors.
"From the benefit of hindsight, where I'm sitting now, of course it was not the right decision," McCraw said. "It was the wrong decision, period. There's no excuse for that."
"When it comes to an active shooter, you don't have to wait on tactical gear, plain and simple," he said.
McCraw said the first 911 call came in at 11:30 am. Between 12:03 pm and 12:43 pm, numerous 911 calls for help came from the two connected classrooms in which the gunman had barricaded himself. Meanwhile, 19 police officers were waiting in the hallway because the district police chief thought it was better to wait for a tactical team.
Some parents said they were shocked with a stun gun or handcuffed by officers when they tried to go into school to help their children after begging the police to confront the gunman. A Department of Public Safety staff member said state troopers did so to keep the parents safe and were following the direction of the local police command.
Texas Governor Greg Abbott, who had praised local police in the event, said he was "misled" in a law enforcement briefing.
"I am livid about what happened," said Abbott, adding that state and federal officials will investigate the matter further.
Abbott, a gun rights advocate who signed legislation in September that allows Texas residents to legally carry a handgun in public without a permit, chose to abandon his original plan to attend the National Rifle Association's three-day annual meeting, which started on Friday in Houston. A few other politicians, including Senator John Cornyn from Texas, also canceled their plans to attend.
At least four musicians who were set to sing in a concert at the NRA meeting canceled their performances in the wake of the school shooting, CNN reported.
Don McLean, best known for his 1970s hit songs American Pie and Vincent, said in a statement on Thursday: "In light of the recent events in Texas, I have decided it would be disrespectful and hurtful for me to perform for the NRA at their convention in Houston this week."
Former president Donald Trump and US Senator Ted Cruz of Texas said gun control measures won't prevent such tragedies.
"The existence of evil in our world is not a reason to disarm law-abiding citizens," Trump said in a speech at the NRA meeting. "The existence of evil is one of the very best reasons to arm law-abiding citizens.
"When Joe Biden blamed the gun lobby, he was talking about Americans like you," Trump said, referring to Biden's remarks in a national address about the Uvalde shooting.
Trump called for overhauling school security and the nation's approach to mental health.
He and Cruz argued for a single point of entry at schools, strong exterior fencing, metal detectors and armed police officers on site, as well as teachers trained to carry concealed weapons in the classroom.
Cruz opposed calls for universal background checks for gun purchases and bans of assault weapons. He said broken families, declining church attendance, social media bullying and video games are among problems that lead to mass shootings.
"Tragedies like the event of this week are a mirror forcing us to ask hard questions, demanding that we see where our culture is failing," he said. "We must not react to evil and tragedy by abandoning the Constitution or infringing on the rights of our law-abiding citizens."
While the NRA annual meeting was being held, thousands of people gathered outside the venue in downtown Houston to denounce the NRA and demand some type of gun control.
Congresswoman Sheila Jackson Lee, former congressman and Democratic candidate for Texas governor Beto O'Rourke and other officials attended the rally.
David Hogg, a Parkland shooting survivor and co-founder of March for Our Lives, called for people to join the planned nationwide march against guns on June 11.
In the Parkland shooting in February 2018, a 19-year-old gunman opened fire on students and staff members at Marjory Stoneman Douglas High School in Parkland, Florida, killing 17 people and injuring 17.
"Mark my words. We will outlive the NRA," Hogg said at the rally. "We have the most valuable thing on our side that anyone can have in politics, even more so than money-time. We will definitely outlive the people in power right now."
Lee said that she has been trying to put gun control legislation on the floor in the US House of Representatives but has been blocked every time. She encouraged people to vote out those who are against gun control, and promised that Democrats will again work on gun-related legislation.
O'Rourke called for those attending the NRA meeting to join the fight against gun violence.
"You are not our enemies. We are not yours," O'Rourke said. "We extend our hand open and unarmed in a gesture of peace and fellowship to welcome you to join us to make sure that this no longer happens in this country."