Mainland chipmakers among world's top 10
By MA SI | China Daily | Updated: 2022-06-28 08:56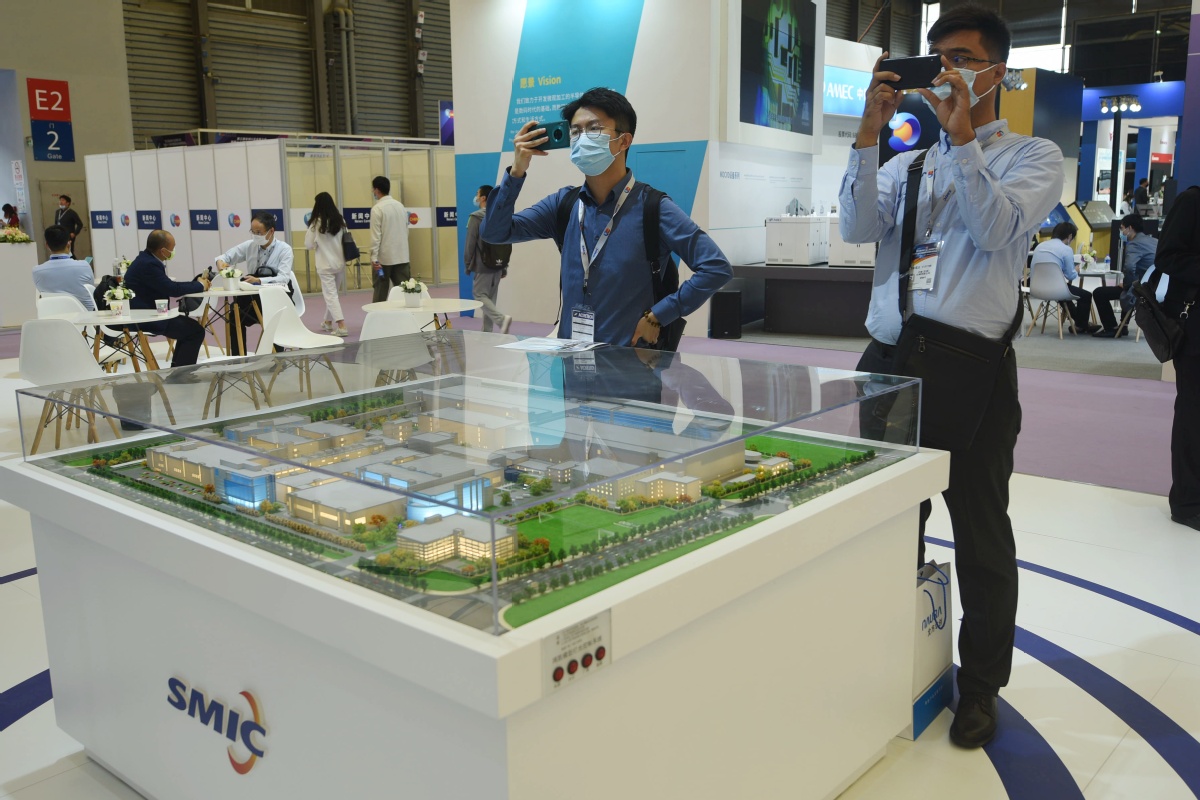 SMIC, HuaHong and Nexchip promise supply chain security
The Chinese mainland is making fresh progress in manufacturing semiconductors.
For the first time, three Chinese mainland chipmakers accounted for more than 10 percent of the global foundry revenue in the first quarter of this year, a new report has stated.
Foundry is industry parlance for contract chipmaking. Data from TrendForce, a market research and intelligence provider, showed China's Semiconductor Manufacturing International Corp ranked fifth among the top 10 global foundry revenue earners in the January-March quarter, with a market share of 5.6 percent.
Shanghai-based HuaHong Group, another major Chinese semiconductor maker, ranked sixth with a market share of 3.2 percent.
Nexchip, based in Hefei, Anhui province, took ninth place, with a market share of 1.4 percent.
"Although demand for consumer electronics remains weak, structural demand growth in the semiconductor industry, including for servers, high-performance computing, automotive and industrial equipment, has not flagged, becoming a key driver for medium- and long-term foundry growth," TrendForce said.
At the same time, due to robust wafer production at higher pricing in the first quarter, quarterly output value reached $31.96 billion, up 8.2 percent quarter-on-quarter, a new high for the 11th consecutive quarter. The rise, however, was marginally less than that seen in the previous quarter.
In terms of ranking, the biggest highlight is that Nexchip surpassed Tower, an Israeli chip company acquired by Intel, for the ninth position, TrendForce said.
The progress came as Chinese mainland chip companies are making a bigger push to accelerate development after the United States government imposed sanctions on a string of local tech heavyweights such as Huawei Technologies Co.
Nineteen of the world's 20 fastest-growing chip industry firms over the past four quarters, on average, are from the Chinese mainland, according to data compiled by Bloomberg. That compared with just eight firms at the same point in time last year.
Xiang Ligang, director-general of the Information Consumption Alliance, a telecom industry association, said the Chinese mainland companies have realized the importance of safeguarding supply chain security. And amid uncertainties, they have also become more eager to cultivate a range of suppliers.
That is not all. The Chinese mainland chipmakers are increasingly relying on domestic suppliers of crucial components.
The Chinese mainland accounted for 11 percent of worldwide semiconductor fabrication capacity in 2019, and the number is forecast to reach 18 percent in 2025 and nearly 19 percent in 2030, according to the Semiconductor Industry Association, a Washington-based group that represents the US semiconductor industry.
Roger Sheng, vice-president of research at Gartner, a market research firm, said as the world's largest chip market, the Chinese mainland has made tremendous progress in developing its semiconductor industry in recent years.
But there is still a big technical gap between local chipmakers and their foreign peers, especially in high-end chipmaking equipment and fundamental chip materials, Sheng said.
The Chinese mainland, for instance, relies heavily on import of lithography machines that play a crucial role in chip production.
To achieve breakthroughs in these areas, money is not enough. "Talent and time are key," Sheng said.
In 2021, for the first time, the sales revenue of the integrated circuit or IC industry in the Chinese mainland exceeded 1 trillion yuan ($157.3 billion), up 18 percent year-on-year, the China Semiconductor Industry Association said.
In comparison, global semiconductor revenue grew at a compound annual growth rate of 25.6 percent to $552.9 billion last year.