Beijing cyclists take to the road in numbers
Share - WeChat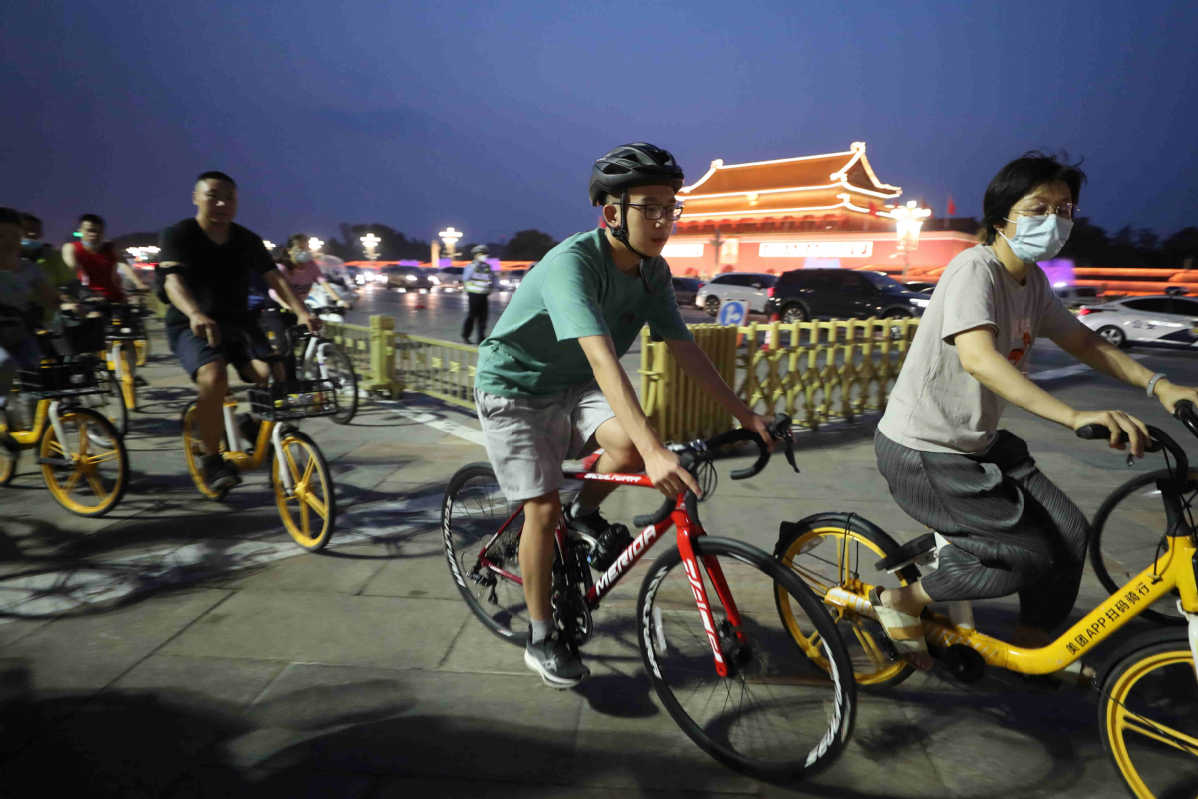 New measures make life safer for those pedaling in the capital
Qian Jiaqi, 39, who took up cycling in Beijing as a hobby when he was a teenager, has seen a well-known route he often takes after work become increasingly crowded with fellow cyclists during evenings and weekends.
"This summer on Chang'an Avenue, it's like the Tour de France every night as cyclists on a wide range of bikes constantly try to overtake each other," Qian said. "On the avenue, traffic jams are now forming in bike lanes, as well as in those designated for motor vehicles. It's quite funny in a way."
According to business insiders and experienced cyclists such as Qian, cycling in urban areas has become increasingly popular over the past two years in China, which was known as the "Kingdom of Bicycles" in the 1980s and early 1990s.
The emergence of COVID-19, the introduction of cycle lanes, and the pursuit of healthier lifestyles have helped reignite the nation's passion for cycling.
Chang'an Avenue is arguably the most popular route for cyclists in Beijing, with its two cycle lanes positioned alongside those for motor vehicles. Motorcycles were banned from the cycle lanes on May 9 last year, providing a safer and smoother experience for those turning the pedals. Chinese scholar trees planted alongside the bike lanes shade cyclists from the summer heat.
The avenue is also the perfect place to observe different types of leisure cyclists. Those such as Qian always attempt to improve their times, so it's easy to sense their frustration when they have to stop at red lights. Others prefer to ride at a slower pace, never missing the opportunity to take photos of Tian'anmen Square at sunset on their phones.
Cyclists using shared bikes may decide to venture somewhere on the spur of the moment. They relish the joy of traveling along a cycle lane adorned with fragrant scholar trees in summer.
Qian said: "Many people have discovered the therapeutic benefits of cycling during the COVID-19 epidemic. The measures taken to control outbreaks of the disease have resulted in the public yearning for activities that give them the feeling of freedom and which are good for their health. Cycling ticks all the boxes."
There is no need to show a health code or wear a face mask while cycling, and Qian said that instead of relying on gyms that can be closed suddenly to contain outbreaks, people can cycle at any time to wherever they want to go-getting all the exercise they need in the process.
"The epidemic has had little effect on cycling. Furthermore, as they cruise the city on bikes, cyclists experience a taste of life before COVID-19 emerged," he added.
Qian and many others find cycling a great way to relieve stress, which has become an issue of concern for many people during the epidemic.
"When I ride, I only focus on the road ahead. All the concerns about work and family are put on hold. It's like a mini escape," said Qian, who often cycles around the 65.3-kilometer Fourth Ring Road in Beijing after work, reaching an average speed of 26.3 km/h.
In 2018, a study of more than 1 million people in The Lancet medical journal confirmed that cycling is one of the top activities to relieve stress. According to the study, cyclists experience 21.6 percent fewer days of poor mental health compared with those who don't take to the saddle, as the activity helps create positive endorphins in the brain.
Qian said cycling is also an ideal outdoor activity for families, as parents and children obviously cannot use their phones and digital tablets when they are on bikes. As a result, they enjoy quality time together.
It is no surprise that there has been a clear rise in the number of leisure cyclists in the past year, Qian said. He has also noticed that many newcomers to cycling are willing to spend large amounts on premium bikes, clothing and accessories-a reflection of rising income levels and living standards in the pursuit of healthier lifestyles.
"There are all sorts of premium road and mountain bikes on the roads of Beijing. Influenced by social media posts, many people choose to buy premium cycles as starter bikes simply because these machines look good and they can afford them," Qian said.